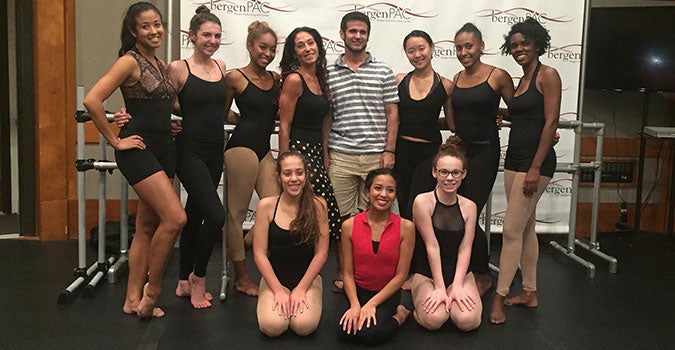 The Performing Arts School at bergenPAC welcomes So You Think You Can Dance choreographer Tyce Diorio
The Performing Arts School at bergenPAC located at 1 Depot Square in Englewood NJ welcomes So You Think You Can Dance choreographer Tyce Diorio.

beyondDANCE students from the Performing Arts School at bergenPAC welcomed celebrity choreographer Tyce Diorio of the hit show So You Think You Can Dance (SYTYCD). Mr. Diorio was a guest teacher for his long-time friend, Roberta Mathes, Artistic Director of beyondDANCE. "This class was such an uplifting and enriching experience for our teen/adult advanced dancers. A fresh voice always provides a new perspective and a renewed spirit," said Ms. Mathes.
Mr. Diorio had such a wonderful experience working with the beyondDANCE students that he has returned to choreograph an original number for the ensemble dancers which will be showcased at bergenPAC's annual fundraising gala and presented on bergenPAC's mainstage in 2017.
Classes will be held on November 15 and 22, 2016 7PM-9:30PM and are open to the public for viewing. Cost is $35 and pre-registration is required. For more information or to pre-register call (201) 482-8194, email [email protected] or visit www.bergenpac.org/education.

About Tyce Diorio
Tyce Diorio, born and raised in Brooklyn, NY, has been bicoastal for years and works in TV and film. He has appeared in such films as Showgirls, Starsky and Hutch, 13 going on 30, and Mr. and Mrs. Smith starring Angelina Jolie and Brad Pitt. He was featured in the iPod commercial with U2 for their hit song "Vertigo," and appeared in a layout for InStyle Magazine alongside Jennifer Lopez for her film Shall We Dance.
He is best known for his work on So You Think You Can Dance, appearing in 13 seasons and winning an Emmy. Credits include Taylor Swifts RED and 1989 World Tours (including her music video "Shake It Off"), working with The Weekend on his "Can't Feel My Face" music video. He has also danced with Janet Jackson on her Velvet Rope World Tour. Tyce appeared on the American Music Awards, The Oprah Winfrey Show, Saturday Night Live (SNL). He has danced extensively for Paula Abdul (Under My Spell World Tour), Jennifer Lopez (On the 6, Let's Get Loud NBC special from Puerto Rico), Ricky Martin (Livin La Vida Loca Tour), and Samantha Mumba (with *NYSNC Pop Odyssey Tour).
Tyce Diorio has had the privilege of working one on one with Twyla Tharp. He was a featured lead in the Broadway show Fosse dancing the Percussion 4 and Mr. Bojangles solos. He appeared in the workshop of All Shook Up in its pre-Broadway run.

Tyce is on faculty with the newest dance convention on the scene called RADIX and has worked with celebrities such as Katie Holmes, Megan Mullally, Cameron Diaz, Matthew Morrison, and Tom Cruise. His choreography can also be seen on Greys Anatomy on ABC Network.

Photo credit: Bergen Performing Arts Center:
Pictured:
BACK ROW LEFT TO RIGHT: Christine Sawyer (Hackensack, NJ), Kelly King (Teaneck, NJ), Chenoa Cunningham (New Milford, NJ), Artistic Director, Roberta Mathes, Guest choreographer, Tyce Diorio, Julie Shin (Tenafly,NJ), Marlowe Mcgee (North Bergen, NJ), La Reina Smith (Bogota, NJ)
FRONT ROW LEFT TO RIGHT: Eden Litvin (Tenafly, NJ), Grace Mark (Hackensack, NJ), Hailey Ryan (Tenafly, NJ).

Tickets available at: www.ticketmaster.com or Box Office (201) 227-1030.

About bergenPAC Performing Arts School
The Education program at bergenPAC features a series of classes, school residencies, workshops, live performances, student productions and ensemble groups in the performing arts for students ages 2 1/2 months to 21 years old.

The program provides students with unique and "hands-on" arts training by industry professionals that allow them to gain real world experience and enhance academic achievement through the arts. bergenPAC's arts education initiatives occur on-site at our new Performing Arts School building at 1 Depot Square, Englewood, NJ or off-site at other schools. The school reaches more than 30,000 students annually.

The Performing Arts School offers basic and professional level performing arts classes and ensemble groups and productions in theater, dance, and music for students of all ages. The school also offers beyond bergenPAC, a school Partnership Program with school districts throughout the area.

To enroll now or for more information contact 201.503.8326 or [email protected].

About bergenPAC
Founded in 2003, the 1,367-seat Bergen Performing Arts Center, or bergenPAC, is the area's cultural mecca. Housed in a historic Art Deco-style theater boasting one of the finest acoustic halls in the United States, bergenPAC attracts a stellar roster of world-class entertainment. The jewel in our crown is The Performing Arts School at bergenPAC – the innovative, educational performing arts initiative that, through programs, classes, outreach, school shows, and main theater presented shows, reach more than 30,000 students and community youth annually. The Performing Arts School provides community youth, age 2 months to 21 years, with unique, "hands-on" training in music, dance and theater by industry professionals. It is through the ongoing generosity of sponsors, donors, members, and patrons that the not-for-profit 501 (c)(3) corporation bergenPAC and The Performing Arts School are able to thrive and enrich our community.

For updates, "Like" bergenPAC on Facebook (facebook.com/#!/bergenpacfan), follow @bergenPAC on Twitter, follow us on LinkedIn and visit our website at www.bergenpac.org.