Auditions
bergenPAC offers a number of opportunities for students to perform live at bergenPAC or in the surrounding community. Don't see an audition coming up? Call (201) 482-8194 to find out how you can join one of our ensemble groups or live productions.
PAS Competition Team Auditions *
The Performing Arts School at bergenPAC is currently holding auditions for the award-winning Competition Team for the 2016/2017 school year.
AUDITIONS
Saturday, January 28, 2017 (2:30-4:00)
AUDITION REQUIREMENTS
Be prepared to learn combinations in ballet, contemporary, jazz, theater dancer, tap, and hip hop.
Wear proper dance attire with hair neatly secured in a bun.
PARTICIPATION REQUIREMENTS
All Competition Team members must take technique clases at The Performing Arts School during the 2016/2017 school year.
Click here, to Pre-Register!
Please call (201) 482-8194 or email [email protected] for more information.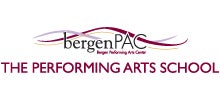 The Performing Arts School provides arts education to students age 3 months to 21 years throughout Northern New Jersey. With classes in all types of performing arts, outreach programs throughout the state, and programming for children with special needs, every donation helps create more opportunities for new artists.