Auditions
bergenPAC offers a number of opportunities for students to perform live at bergenPAC or in the surrounding community. Don't see an audition coming up? Call (201) 482-8194 to find out how you can join one of our ensemble groups or live productions.
Keep an eye out for more information on upcoming auditions! *
Please call (201) 482-8194 or email [email protected] for more information.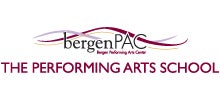 The Performing Arts School provides arts education to students age 3 months to 21 years throughout Northern New Jersey. With classes in all types of performing arts, outreach programs throughout the state, and programming for children with special needs, every donation helps create more opportunities for new artists.