Auditions
The Performing Arts School at bergenPAC offers a number of opportunities for students to perform live on the Taub stage at bergenPAC or in the surrounding community. Don't see an audition coming up? Call (201) 482-8194 to find out how you can join one of our ensemble groups or live productions.
Each year The Performing Arts School at bergenPAC presents their annual summer musical featuring an all student cast, technical crew and orchestra. Working alongside bergenPAC staff, students gain greater self confidence and teamwork skills, and receive professional level experience that they can use in their future endeavors. Past musicals include: FAME, Children of Eden, 42nd Street, CATS, AIDA, Les Misèrables School Edition, West Side Story and Disney's Beauty and The Beast.
This year, The Performing Arts School at bergenPAC presents
The Producers
Auditions:
Saturday, April 13 • 12PM-4PM
Sunday, April 14 • 1:30PM-4:30PM
Sunday, April 28 • 1:30PM-4:30PM
Sunday, May 5 • 1:30PM-4:30PM (Dance call backs for all)
Callbacks:
Monday, May 13 • 4PM-8PM
Tuesday, May 14 • 4PM-8PM
College Student Auditions/Callbacks Vocal & Dance:
Monday, May 20 • 4PM-8PM
(Please note this audition will take place in the Drapkin Cabaret and Lounge located in the bergenPAC theater at 30 North Van Brunt Street.)
Please wear dance attire or comfortable clothing you can move in. No jeans.
Women bring character heels and tap shoes if you have them
Men bring jazz shoes and tap shoes if you have them.
(Auditions will be held at The Performing Arts School at bergenPAC)
Audition Requirements:
Ages 13-23. Please prepare a 32 bar selection from The Producers and a 1 minute monologue. A piano accompanist will be provided - bring sheet music in a binder. Bring a headshot and resume. Auditions by appointment only!
Register for an audition appointment here.
Final Perfomances:
Friday, August 2 • 8PM
Saturday, August 3 • 3PM & 8PM
Sunday, August 4 • 3PM
For more information contact an education associate at [email protected] or call 201-482-8194.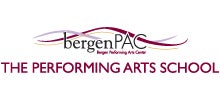 The Performing Arts School provides arts education to students age 3 months to 21 years throughout Northern New Jersey. With classes in all types of performing arts, outreach programs throughout the state, and programming for children with special needs, every donation helps create more opportunities for new artists.