Education Updates
Get information about class cancellations, schedule changes, announcements and highlights from past and current events.
---
Don't forget to check out our Newest Blog Series, below!
Curated and written by our Education, Outreach & Social Media Manager, Ashley Tobias, or you may know her as, THATGIRLTOBI.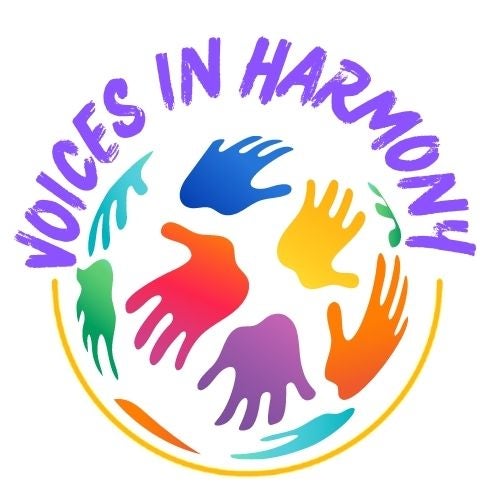 Written by Ashley Tobias
Welcome bergenPAC family to our new blog series
Highlighting co-productions, original show events, and just all around exciting news alerts and recaps here within our education department.
To introduce myself, I am the new education outreach and community engagement manager, Ashley Tobias.
After being here for just four short months, I can honestly say, it is never a dull moment here at the PAS. Today I'm here to recap and highlight one of our most recent programs/shows, Voices in harmony.
What is Voices in Harmony? Well it was a live showcase representing and highlighting our neurodivergent communities here in NJ …A program that was created prior to the pandemic, and re-launched for the first time this past May 7th.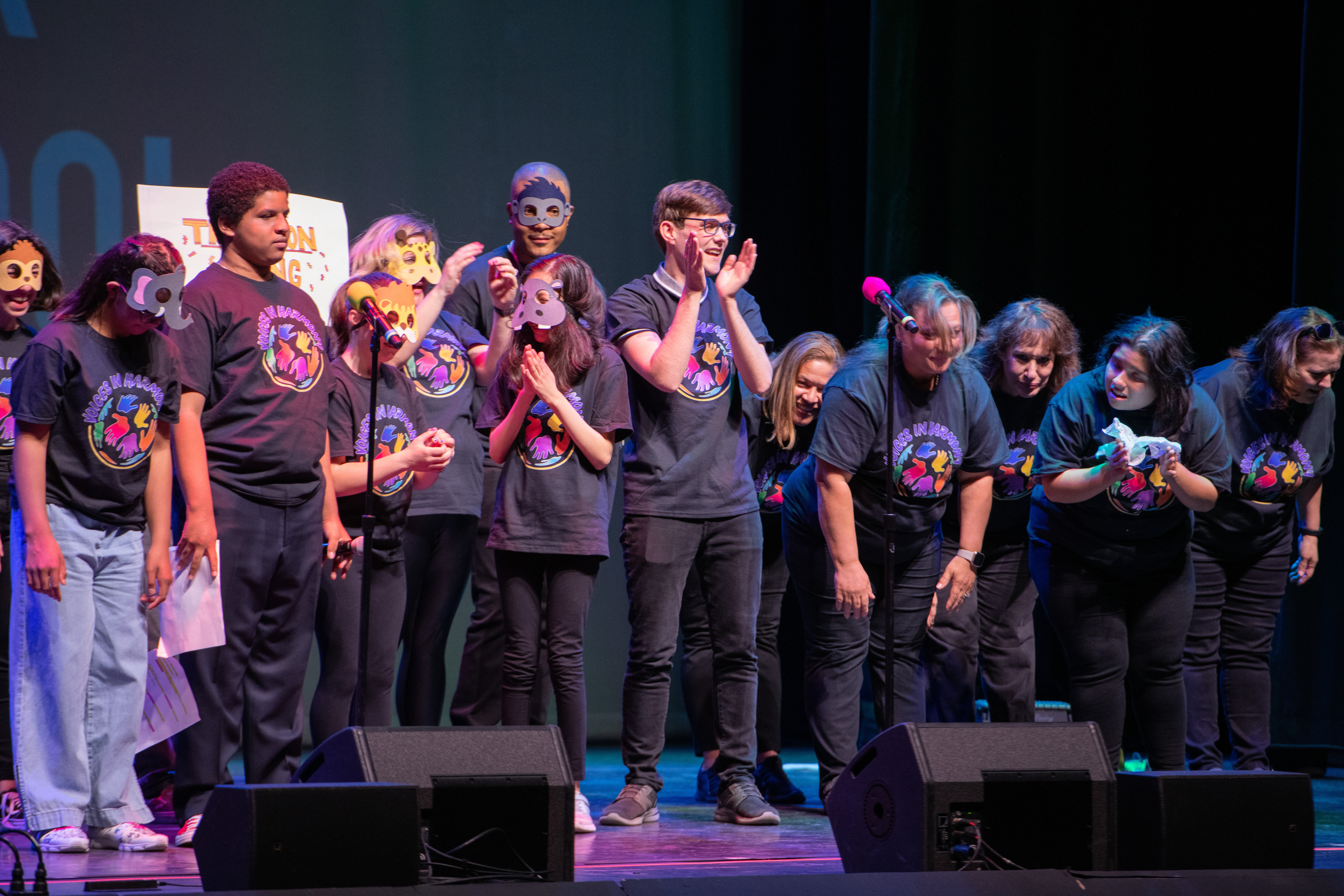 What started out as a 12-week residency program, accumulated into one big EPIC event. Schools had the option of participating in different disciples over the course of these 12 weeks taught by a bergenPAC teaching artist.
This year's past disciplines: singing, theater, dance. This years theme, highlighting theater and music through the ages.
…And boy did we ever!
From presenting acting tableaus, hip-hop dancing to trendy pop songs, performing and interacting with the crowd with classics such as YMCA, artist Q & A's and more, we showcased an array of talents on our stage!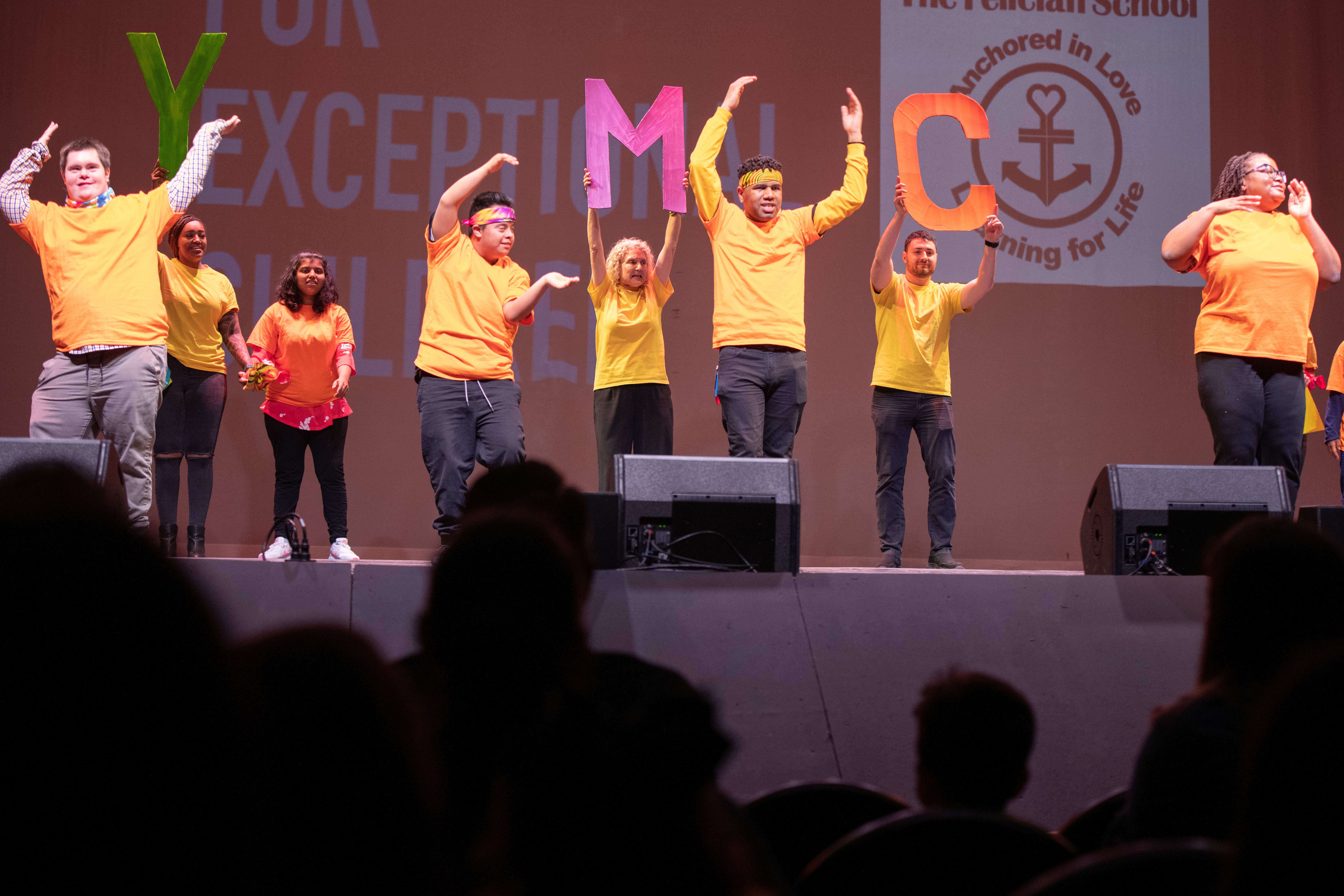 For me personally, as the host and director of this past years event, it was important that I create a fun, safe, engaging environment for the entire family.
Throughout the show, and especially for an audience with special needs and disabilities, I wanted to make it a point to have several interactive moments. Keeping energies high, and minds and energies fulfilled and relaxed.
Some of these moments included: group meditation breathing exercises- meant to refocus our minds and bodies, improvisational acting exercises- getting the entire audience involved and showcasing the type of exercises a student may participate in when signed up for a residency program, and group seated stretches- again with the purpose of re- focusing and checking in with our bodies.
In addition to showcasing our participating students, our own school choir and dance troupe performed a number and collaborated with all students on our finale number, "this is me", from the greatest showman, followed by an audience full of all ages singing along.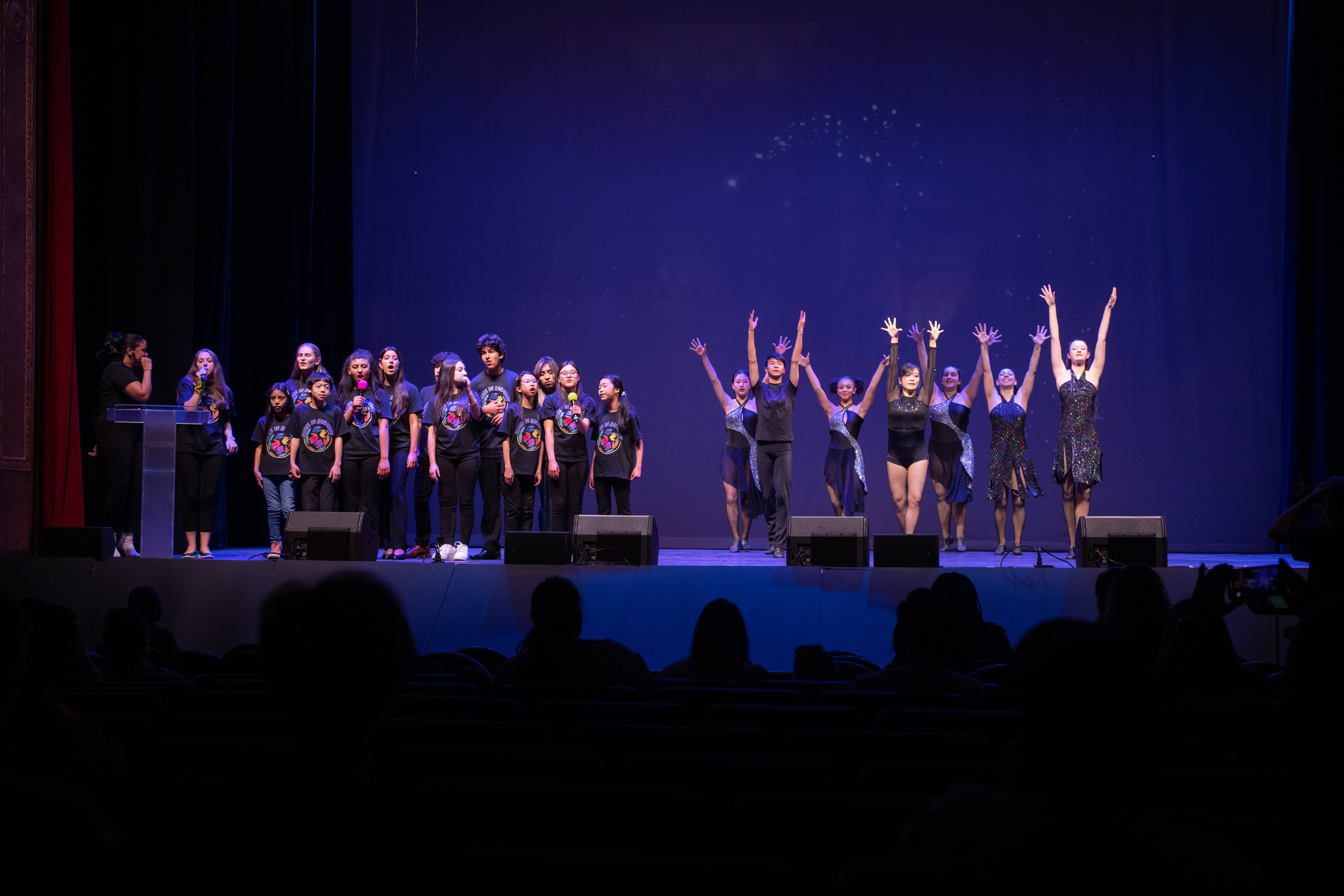 The event was a spectacular for sure and now that the pandemic is behind us, we canNOT wait to continue forward and start planning this program for next year.
Here at bergenPAC's PAS we are always looking for new ways to improve and have a greater impact within our surrounding communities. With that being said, we already have ideas for next year's programming! So, whether you have participated before, or would like to be involved next year, please contact me at: atobias@bergenpac.org for all details!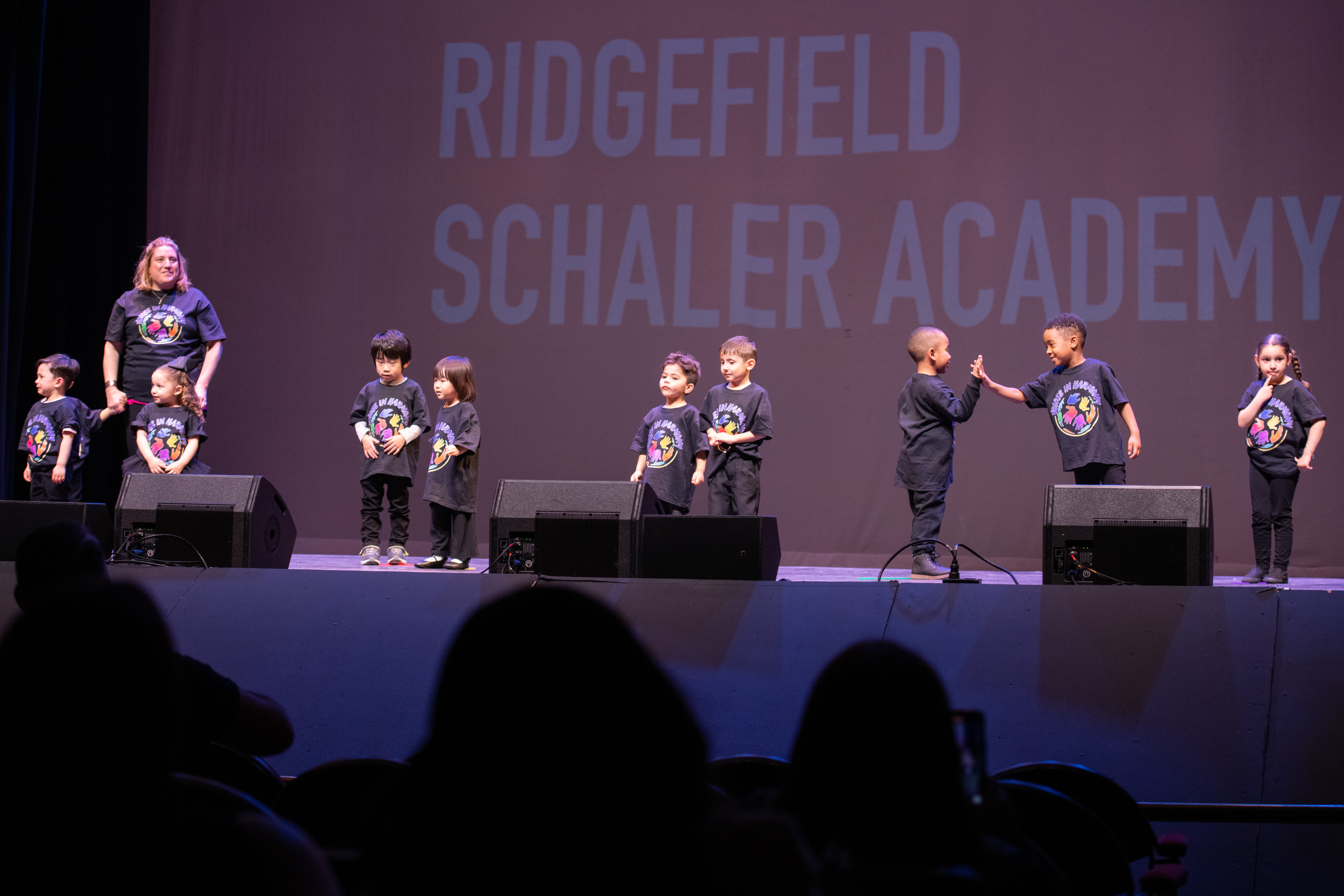 We can't wait to see you all shine on our big stage!! Until next time… Our home is your home. So be[e] sure to stop on by and catch a performance or two at the theater!
-------------
Thank you to our particpating schools!
Bergen Boulevard School (Ridgefield)
Bergenfield High School
Felician School for Exceptional Children
Garfield High School
Lindbergh Elementary School
Lyndhurst High School
Lyndhurst Middle School
Palisades Park JR/ SR High School
Pompton Lakes High School
Ridgefield Memorial High School
Ridgefield Park High School
Shaler Academy (Ridgefield)
Slocum Skewes (Ridgefield)
Teaneck High School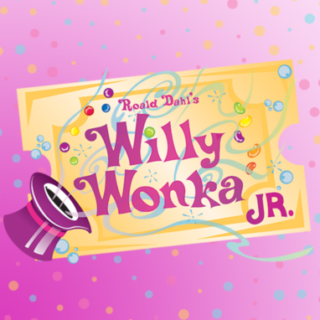 Written by Ashley Tobias
Hello my bergenPAC hive!
Today I wanted to take this time to recap our latest Showtime Jr. Series show, Willy Wonka, directed by our very own Rebecca Sonia with Musical Direction by Samantha Colon.
I don't know about you, but I've personally never seen the musical adaptation of this show before. My only knowledge of Willy Wonka was the classic 1971 Gene Wilder version, and the 2005 Johnny Depp version after that. So to say I was excited to see this musical production, was an understatement.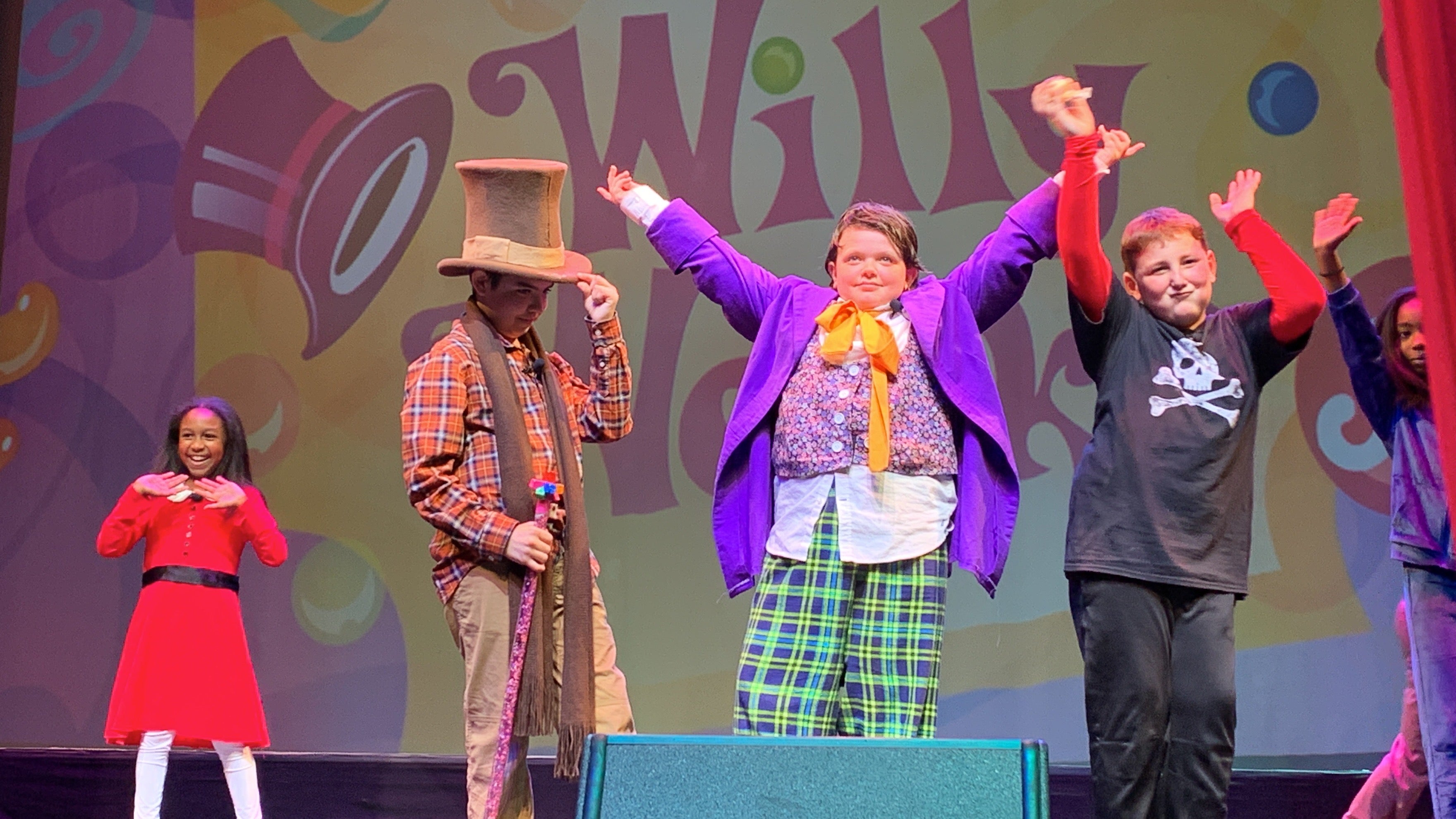 This show was SUCH a delight to watch!
From the lighting, to the sound effects, and projection screens, this adaption covered all the famous and classic moments.
The world of Wonka is a beautifully strange, and quite complex universe. I mean, the factory includes creative concepts like a room full of bubbles, or chewing gum that makes one's body expand (potentially explode), or the shrinking of characters, or traveling by boat through a sea of chocolate. How does one stay true to the storyline of the musical with these factors included?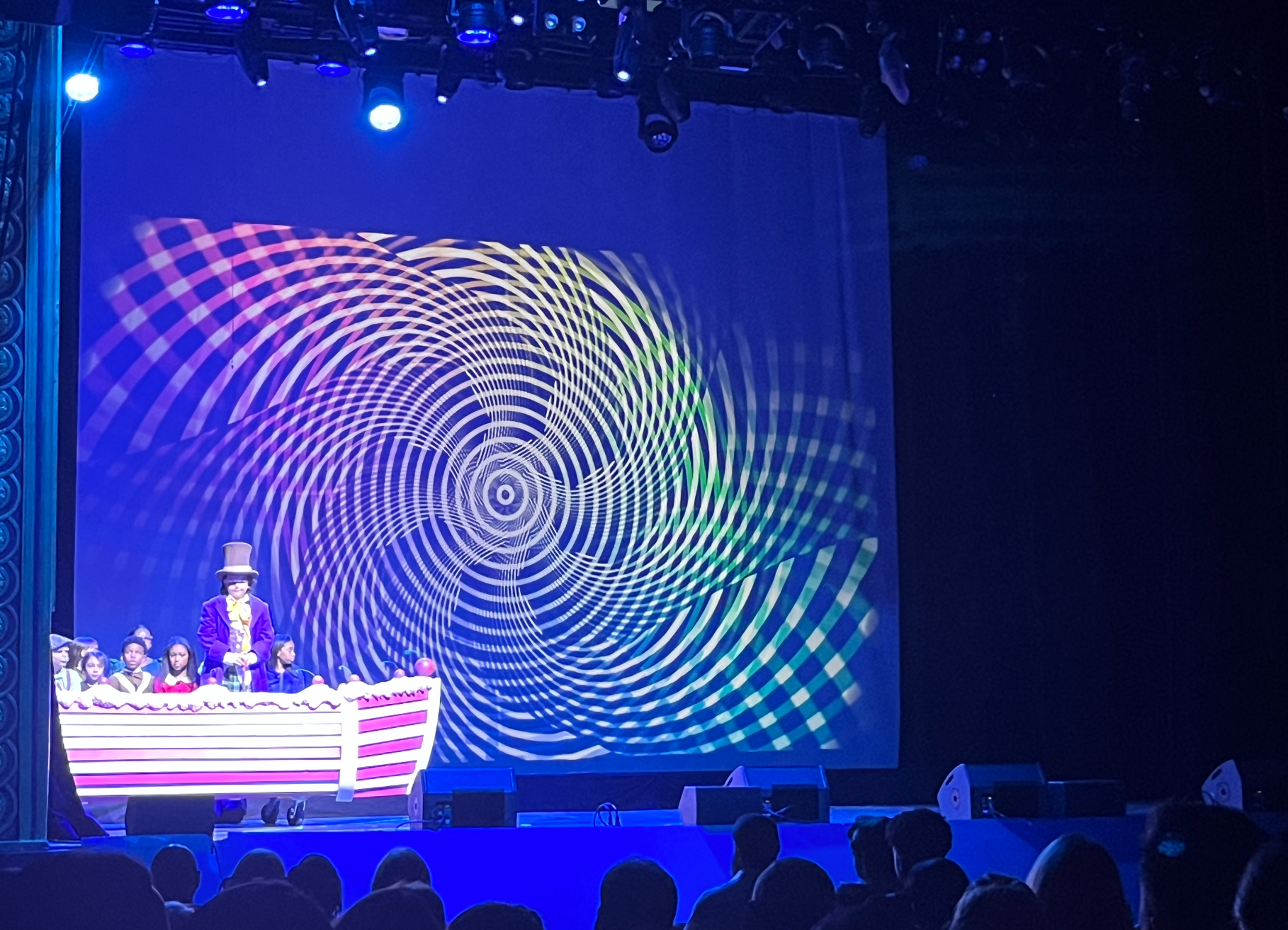 …This is why you gotta love theater!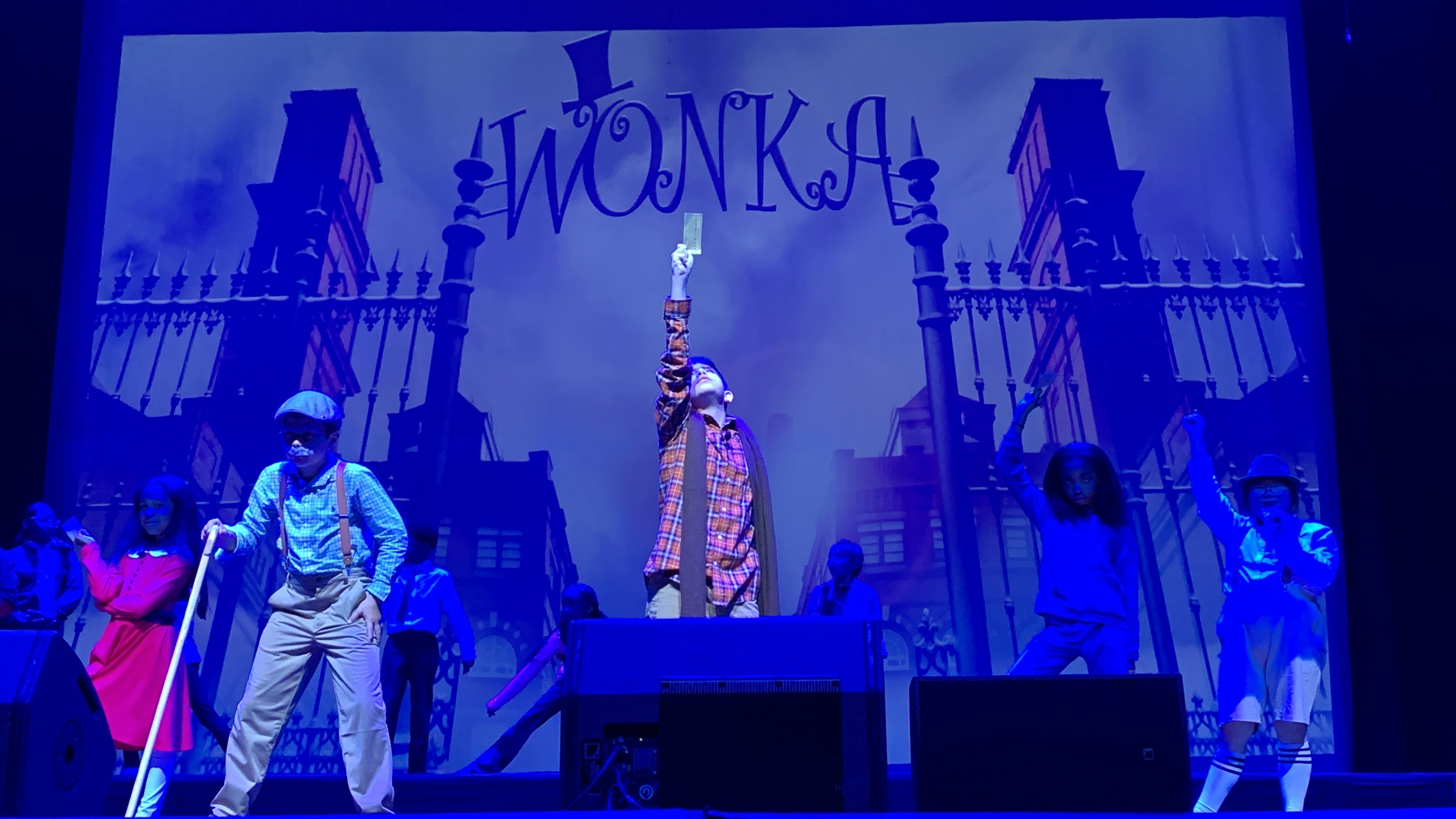 Thanks to the direction of Rebecca Sonia, she and her team relied heavily on the use of lighting, projections and sound effects to create, design and enhance theatrical moments and transitions from one scene to the next. I can't wait for our next Showtime Jr. Series.
Until next time… Our home is your home. So be[e] sure to stop on by and catch a performance or two at the theater!
Congratulations to the entire cast & crew!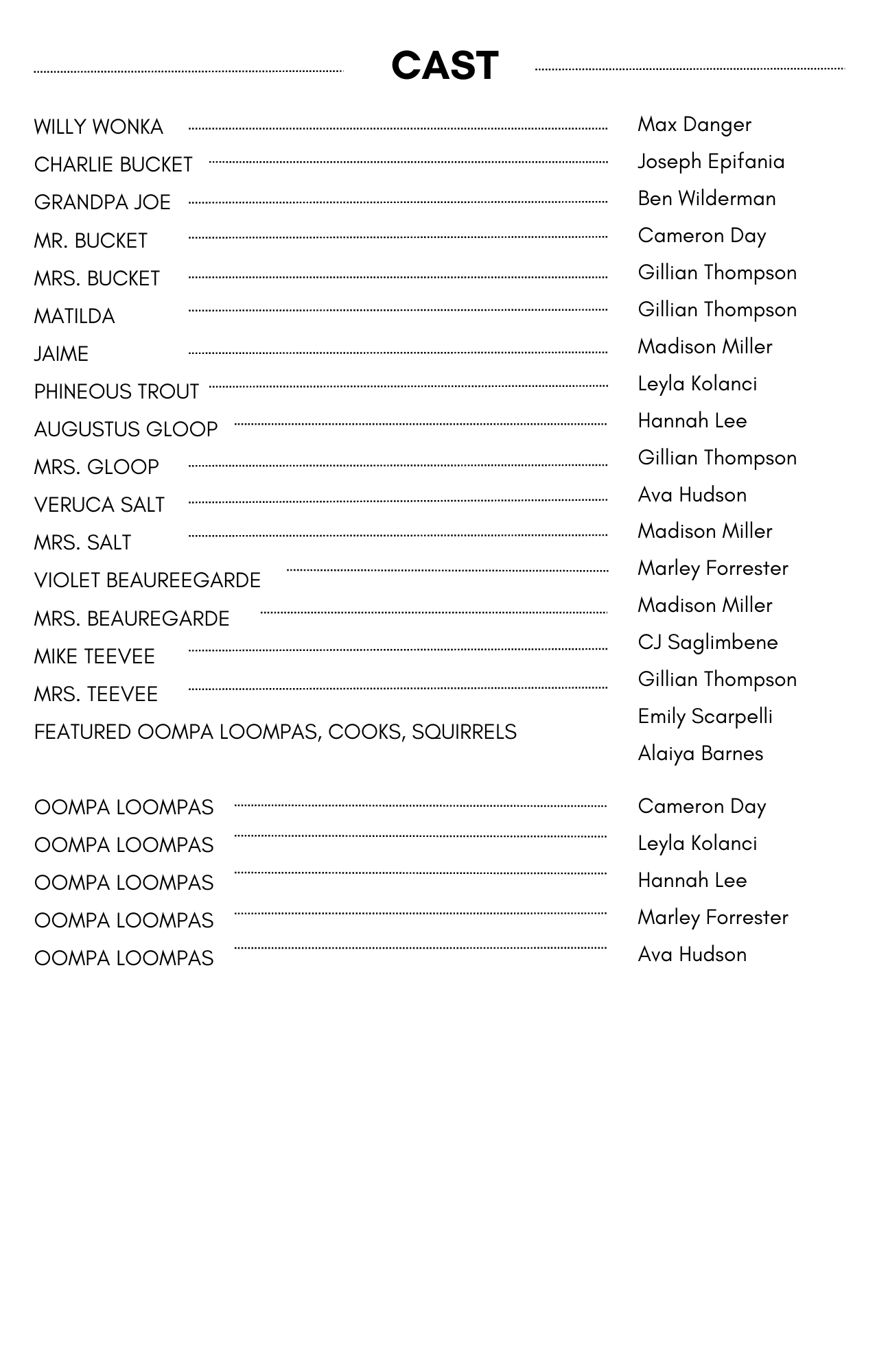 High School Musical Awards | 2023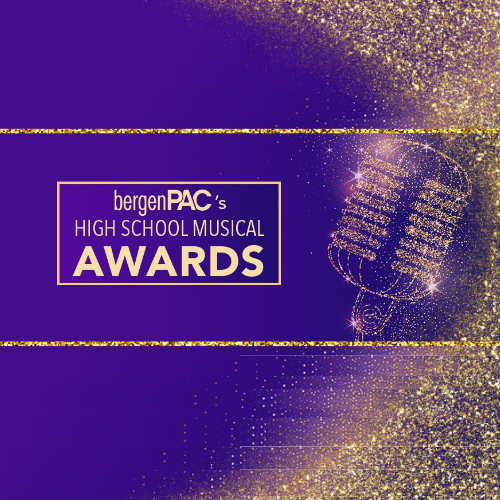 Written by Ashley Tobias
Hello my bergenPAC Hive!
... What an exciting time it has been for arts Education here at bergenPAC Performing Arts Center! As if we haven't had enough excitement, I don't know if you've heard, but this year was our first ever High School Musical Awards Ceremony.
Created and conceptualized by our very own executive director Alexander Diaz, bringing this program to bergen highlights the immense impact theater played not only in his life, but all of us. Now, here we are, imparting the lessons and memories that helped pave who we are as artists and creatives, to the youth of today.
Back at the start of the new year, we announced to several surrounding school communities our new project endeavors and our eagnereness to visit and adjucate their performances at the highest level of professionalism.
With the help of several teaching artists and staff, we created the bergenPAC standard of excellence and adjudicated as such.
After 30 school participants and 17 categories later, we had our first official nominees. They are as follows:
-----------------
Lobby Display: Les Misérables, Gloucester; Xanadu, Dumont; Addams Family, New Milford, Into The Woods, Westwood Regional
Production Set Design: Cinderella, Morristown; Little Mermaid, River Dell; Addams Family, New Milford
Lighting Design: Addams Family, New Milford; Chicago, Pascack Valley; Dirty Rotten Scoundrels, Northern Valley Old Tappan
Sound Design: Les Misérables, Gloucester; Dirty Rotten Scoundrels, Northern Valley Old Tappan; Fiddler on the Roof, Bergen County Academies
Costume, Hair And Makeup: Fiddler on the Roof, Bergen County Academies; Chicago, Pascack Valley; Little Mermaid, River Dell
Orchestra: Addams Family, New Milford; Cinderella, Morristown; Crazy for You, Ramsey; Something Rotten, Ridgewood; Mean Girls, Passaic Valley Regional
Outstanding Ensemble: Cinderella, Morristown; 12th Night, Academy of Holy Angels; Crazy for You, Ramsey
Outstanding Ensemble Member(s): Amaya Romero as Fruma Sarah, Fiddler on the Roof, Bergen County Academies; Caitlin Lau,12th Night, Academy of Holy Angels; Snehanshn Chowdhury, Eddie, Mamma Mia, Pascack Hills
Outstanding Featured Performer(s): Leah Winiger as Sebastian, Little Mermaid, River Dell; Ben Harris as Nostradamus, Something Rotten, Ridgewood; Elijah Chen as Pepper, Mamma Mia, Pascack Hills; Alex Vacchiano, Kate, The Wild Party, Academy for Performing Arts
Choreography: Fiddler on the Roof, Bergen County Academies; Crazy for You, Ramsey; Chicago, Pascack Valley; Mean Girls, Passaic Valley Regional
Music Direction: Mamma Mia, Pascack Hills; Chicago, Pascack Valley; Les Misérables, Gloucester
Creative Direction: The Wiz, Arts High School; Fiddler on the Roof, Bergen County Academies; Les Misérables, Gloucester
Outstanding Female Identified Supporting Role: Hadyn Hopper as Tanya, Mamma Mia, Pascack Hills; Valentina Gonzalez,12th Night, Academy of Holy Angels; Izzy Alasio as Wednesday Addams, Addams Family, New Milford; Hailey Shafer as Gretchen, Mean Girls, Passaic Valley Regional
Outstanding Male Identified Supporting Role: Frankie Carbonaro as Uncle Fester, Addams Family, New Milford; Jack Laux, Molvolio, 12th Night, Academy of Holy Angels; Kurt Sparks as Javert, Les Misérables, Gloucester; Rowan Mastrangelo as Nigel Bottom, Something Rotten, Ridgewood
Outstanding Female Identified Lead: Kelly Donlan as Roxie Hart, Chicago, Pascack Valley; Eva Zazzali as Viola, 12th Night, Academy of Holy Angels; Madeline Leibman as Donna, Mamma Mia, Pascack Hills; Avery Benjamin as Jo, Little Women, Madison; Kira Giron as Cady Heron, Mean Girls, Passaic Valley Regional, Olivia Jobst as Sandy Cheeks, SpongeBob the Musical, Park Ridge
Outstanding Male Identified Lead: Amron Salgado as Jean Valjean, Les Misérables, Gloucester;; Alex Café as Tevye, Fiddler on the Roof, Bergen County Academies; Derek Wiener, Spongebob Squarepants, SpongeBob the Musical, Park Ridge
Outstanding Overall Musical: Fiddler on the Roof, Bergen County Academies; Cinderella, Morristown; Les Misérables, Gloucester; Urinetown, José Martí STEM Academy
-----------------