Concessions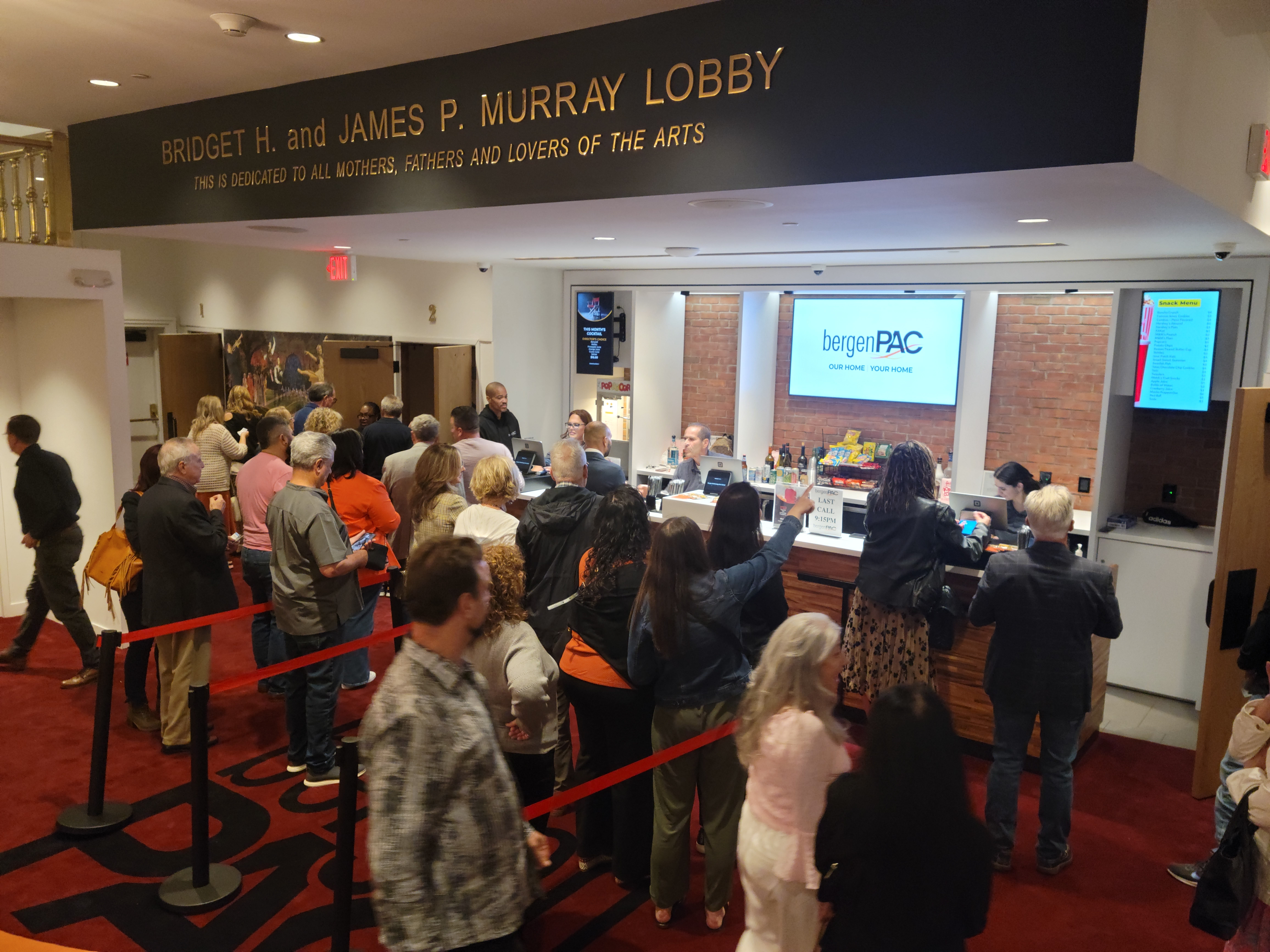 Concessions are available for purchase at all shows in the Murray Lobby, Spotlight Cabaret, mezzanine lobby, and the Legends Lounge (for Friends Circle level supporters) with a last call posted 45 minutes prior to the expected end of the performance.
All concession areas accept cash, credit, debit, Apple Pay and Google Pay. The menu and prices are subject to change at any time.
Please note, if you have a complimentary drink ticket from the bergenPAC Membership program, we ask that you present it at the time of ordering.
Drink of the Month Cocktail
Let our bartenders and mixologists create an exciting cocktail experience for you.
Moscato Me Crazy – Moscato, Tito's Vodka, Lemonade, Cranberry
Director's Choice – Bacardi, Malibu, Pineapple Juice, Orange Juice, Guava Juice, Seltzer
Premium Wine - $11
Whispering Angel Rose
Terlato Pinot Grigio
Educated Guess Cabernet
Zonin Prosecco
House Wines - $9
Noble Vines Pinot Grigio
Noble Vines Cabernet
Noble Vines Pinot Noir
Del Poggio Moscato
*Kosher wines available by request
Domestic Beer - $9
Coors Light
Dogfish 60 IPA
Imported Beer - $10
Corona
Heineken
Stella Artois
Seasonal Beer - $11 (16oz)
Hackensack Brewing Company – Hula Skirt
Hard Seltzer/Cider – $9
Angry Orchard
High Noon – Black Cherry, Mango & Pineapple
Spirits
Bacardi Rum - $10
Bulleit Bourbon - $10
Captain Morgan Spiced Rum - $10
Grey Goose Vodka - $12
Hennessey Cognac - $11
Jack Daniels Whiskey - $11
Jameson Irish Whiskey - $10
Johnny Walker Black - $11
Brisbon Tequila - $10
Singleton 12 yr scotch - $15
Malibu Rum - $10
Tanqueray Gin - $10
Tito's Vodka - $11
Nonalcoholic Drinks
Soda/Juice - $3
Club Soda, Coke, Diet Coke, Ginger Ale, Lemonade, Sprite, Cranberry, Tonic Water
Bottled Water - $3
Starbucks Frappuccino - $6
Red Bull - $5
Snacks - $3 - $5
Candy
Combos
Popcorn
Potato Chips
Tate's Cookies