Please Help Us Reach Our Goal

---
<
bergenPAC breaks ground and formally announces they've successfully raised $10M. $4M from generous donors during our silent phase and a $6M fund from the County of Bergen helping bergenPAC reach a remarkable goal of $10M. bergenPAC reached out to the public to raise the final $5M to meet their overall goal of $15M.

(L to R) Mauro Raguseo, BCIA; Ellen Park, Assemblywoman; Mary Amoroso, Bergen County Commissioner; Lloyd Rosenberg, DMR Architects; Former Assemblywoman,Valerie Vainieri Huttle; Ray Reduce, Ray Reduce Development; Congressman Josh Gottheimer; Grammy Award Winner, Darlene Love; Robert Cook, bergenPAC Chairman of the Board of Trustees; Frank Huttle, III, bergenPAC Founder; Vince Ermitas, Student Performer & presently Simba in Disney's Lion King on Broadway; City of Englewood Mayor, Michael Wildes; James Tedesco, Bergen County Executive
---
BERGEN COUNTY CLOSES ON $5.6 MILLION DOLLAR BOND SALE TO HELP FINANCE BERGEN PERFORMING ARTS CENTER'S
"INVEST IN THE ARTS" CAPITAL CAMPAIGN
Investments Will Fund Major Renovations and Restorations to Premiere Entertainment Destination and Educational Resource
(ENGLEWOOD, N.J. – May 19, 2022) – The Bergen Performing Arts Center (bergenPAC) and Bergen County Executive James Tedesco announced the closure of a $5.6 million sale of revenue bonds, a significant funding source for bergenPAC's $15 million Invest in the Arts Capital Campaign.
The bonds, issued by the Bergen County Improvement Authority (BCIA) to financial institutions will play a critical role in financing the cherished, historical theater's renovation and restoration. The BCIA bond sale increases total funding for the initiative to $10 million when added to the $4 million already raised from private donors.
"The closing of the bond sale is a celebration for everyone, from patrons that will enjoy outstanding performances in a world-class venue with new amenities; to the students that will experience the joy of performing on the big stage; to the professional performers themselves, who will marvel at the new state of the art sound system and lighting," said Robert Cook, founding Trustee and Chairman of the Board of bergenPAC.
Frank Huttle, III, Founder of bergenPAC, explains, "The public-private project will enhance visitors' dynamic concert and theater experience by boosting bergenPAC's state-of-the-art sound system, adding acoustic sidewall curtains, and implementing new technology to augment lighting and audio/video systems. In addition, the theater will be graced with new seats, staging and carpeting; additional restrooms; and an expanded lobby and bar. On behalf of bergenPAC, I extend a great thank you to Bergen County Executive James Tedesco for his partnership and steadfast leadership."
"The County of Bergen is proud to support the arts and partner with the bergenPAC Board of Trustees on this major renovation which will provide needed upgrades to the facility, realize cost-savings, and further the facility's mission of providing a home for youth to be educated in the arts and to present a wide range of live entertainment for the community," said Bergen County Executive Jim Tedesco.
Students in bergenPACs acclaimed Performing Arts School will benefit from expanded programming and immersion opportunities, including the program created for special needs students and young adults, and funding for public school special assemblies.
The renovations and restorations at bergenPAC are in progress and, as scheduled, the theater is set to reopen in Fall 2022. While contractors are hard at work behind the venue's doors, bergenPAC will continue its programming and dedication to the community throughout the spring and summer with a Broadway series and several kids' shows held indoors at Westfield Garden Plaza in Paramus.
Several shows have already been booked at bergenPAC for the fall and winter, including iconic singer Johnny Mathis' Voice of Romance Tour (Oct. 7); R&B superstar group Dru Hill's 25th Anniversary Tour (Oct. 8); legendary singer-songwriter Art Garfunkel (Oct. 22); renowned comedians Lewis Black (Nov. 19) and Anthony Rodia (Nov.25.); and Rock-and-Roll Hall of Famer Darlene Love's Annual Love for the Holidays show (Dec.9).
Please Invest In the Arts by supporting bergenPAC's Capital Campaign and to stay up to date for new show announcements, visit www.bergenPAC.org.
Among the planned upgrades are:
New LED marquee
New theater seats, carpeting, and stage
Refurbishment of the theater's interior ornamental elements
Enhancement of the theater's state-of-the-art sound system and the addition of acoustic sidewall curtains
Additional mezzanine-level bathrooms
Expanded lobby and bars
Redesigned and ADA-compliant box office windows
Improvements to The Performing Arts School at bergenPAC's dance and recording studios
Enhanced bergenPAC membership programs, with exclusive amenities, for new and existing patrons
Premier show lighting system to meet today's industry standards
Superior audio/video system and upgraded technology throughout the whole theater
About Bergen Performing Arts Center (bergenPAC) Founded in 2003, the 1,367-seat Bergen Performing Arts Center, or bergenPAC, is the area's cultural mecca. The theater's legacy started in 1926 when it opened as the Englewood Plaza movie theater. United Artists purchased the building in 1967 and kept the doors open until 1973. Through the efforts of a group of local citizens under the leadership of John Harms, the John Harms Center came to life in 1976. In 2003, a small group of dedicated individuals led by Frank Huttle III helped preserve this special theater and rechristened it the Bergen Performing Arts Center. The historic Art Deco-style theater boasts one of the finest acoustic halls in the United States, attracting a stellar roster of world-class entertainment. The jewel in our crown is The Performing Arts School at bergenPAC – the innovative, educational performing arts initiative that, through programs, classes, outreach, school shows, and main theater presented shows, reaches more than 30,000 students and community youth annually. The Performing Arts School provides community youth, age 2 months to 21 years, with unique, "hands-on" training in music, dance, and theater by industry professionals. Through the ongoing generosity of sponsors, donors, members, and patrons, the not-for-profit 501 (c)(3) corporation bergenPAC and The Performing Arts School can thrive and enrich our community. Follow bergenPAC on Facebook (facebook.com/#!/bergenpacfan) and @bergenPAC on Instagram and Twitter.
About bergenPAC's Capital Campaign, Invest In The Arts: Bergen Performing Arts Center (bergenPAC) is a theater of and for the community it serves throughout northern New Jersey by leading the way with a creative focus, educational resource, and engine of economic vitality. A nonprofit 501 (c)(3) organization, bergenPAC's mission is to make live performing arts and arts education accessible to its diverse community by building an innovative home for artists and teachers of excellence and relevance who entertain, enlighten, inspire, and inform their audiences and students. bergenPAC's Performing Arts School is the areas' leading cultural and arts educational institution in Northern New Jersey, which shall guide and liberate the imagination of our youth and expand the lives of our adults. Invest in the Arts by Taking a Leading Role Supporting the Renovation and Arts Education. For more information, visit www.bergenpac.org. visit www.bergenpac.org or @bergenpac
Previous Press Releases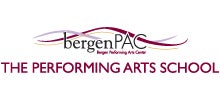 The Performing Arts School provides arts education to students age 3 months to 21 years throughout Northern New Jersey. With classes in all types of performing arts, outreach programs throughout the state, and programming for children with special needs, every donation helps create more opportunities for new artists.