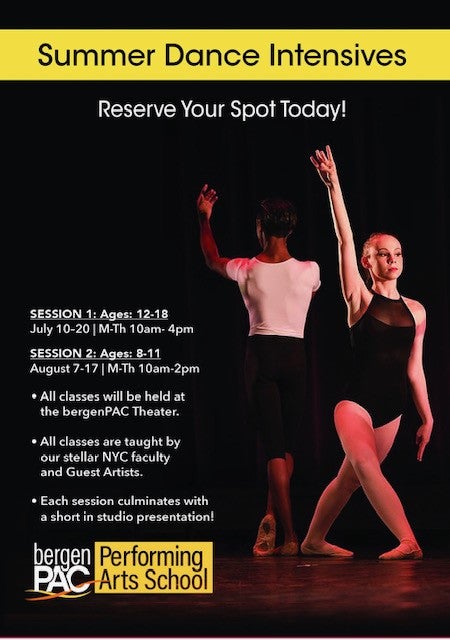 Intensives
Our Summer Intensives are ideal for intermediate level preteen and teen dancers who wish to improve their technical abilities, gain more strength, and a deeper understanding of their true potential, in an intimate, professional environment. New this year is an intensive designed for younger dancers ages 8-11 years!
All classes will be held at the bergenPAC Theater.
All classes are taught by our stellar NYC faculty and Guest Artists.
Each session culminates with a short in studio presentation
Session Dates
SESSION ONE JULY 10-20
10am-4pm
SESSION TWO August 7-17
10am-2pm
Dress Code is strictly enforced. Appropriate attire, proper fitting footwear and neatness are required for all classes. Learn more on our website. .
Dancewear may be purchased through The Performing Arts School.
Fees:
Registration: $40 | July Session: $900 | August Session: $600
More Info