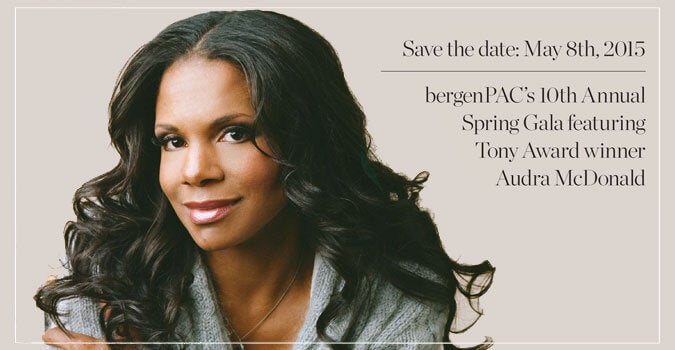 bergenPAC presents Audra McDonald as 10th Annual Spring Gala
Part of the Benzel-Busch Concert Series
Bergen Performing Arts Center located at 30 North Van Brunt Street in Englewood, New Jersey presents Audra McDonald, part of the Benzel-Busch Concert Series, Friday May 8th, 2015 at 8PM. Purchase tickets for an intimate evening up close with the 6-time Tony® Award winner at www.ticketmaster.com or Box Office at 201.227.1030. For Gala tickets, please call (201) 503-8327 or email gala@bergenpac.org.
Audra McDonald is renowned for her soaring, operatic soprano and perfect diction, which can bring audiences to tears when she's singing "Climb Ev'ry Mountain" or get laughs when she and Tonight Show host Jimmy Fallon sing the answers to inane Yahoo questions. She recently announced that she will be joining the live action movie of Disney's Beauty and The Beast.
Audra McDonald received her 6th Tony® Award for Best Performance by an Actress in a Leading Role in a Play for her role as Billie Holiday in LADY DAY AT EMERSON'S BAR. This year's Tony® nomination marked McDonald's 8th nomination. She is the first person to win a Tony® in all four performance categories and holds the record for most Tonys® won by an actor, surpassing Julie Harris and Angela Lansbury with 5 Tony® Awards each (Carousel, Master Class, Ragtime, A Raisin in the Sun,The Gershwins' Porgy and Bess). Audra McDonald is also a two-time Grammy® Award-winner.
2015 10TH ANNUAL SPRING GALA:
Reception: 5:00 PM
Performance: 8:00 PM
After Party: 9:30 PM
Our Gala reception begins under the tent at One Depot Square with cocktails and delicious hot and cold hors d'oeuvres. At 7:30, guests will proceed to bergenPAC for the spectacular vocal stylings of Audra McDonald. The Gala continues with our after party under the tent, featuring dancing and dessert. For more information, call (201) 503-8327 or email gala@bergenpac.org.
Journal and Gala Pricing Attached
The Performing Arts School at bergenPAC is a full-fledged, multifaceted school with state-of-the-art classrooms and studios.
The Performing Arts School provides basic through pre-professional level performing arts disciplines, including Dance, Stage, Jazz, Recording, and Music Speaks; and a student body that ranges from two months to twenty-one years of age. Enrollment numbers showcase our rapid growth - from 200 students in 2005, to 1,000 currently enrolled, and a projected 1,400 students in 2017!
Part of bergenPAC's mission is to make an arts education accessible to all children. This has been realized through beyond bergenPAC: our community outreach program that has partnered with local public schools to offer annual performing arts clinics to approximately 2,000 students who would otherwise go without arts education. We've also brought over 30,000 kids to bergenPAC annually to enjoy school-time performances and stand by our policy that no child should be turned away because of an inability to pay.
Our donors are true investors in the community, having helped to make all these programs possible and keeping hope alive for future generations. Funds raised at the bergenPAC 2015 Gala will aid in the ongoing expansion of our school, class development, scholarships and outreach programming.
2015 Honorees
This year we are proud to celebrate three very special honorees who have dedicated themselves to bergenPAC, helping us to grow and thrive. Their commitment to our theater and arts education programs has been pivotal to the evolution of bergenPAC and the cultivation of the performing arts and youth arts education in our community. Join us in celebrating their invaluable work.
Ronald Couri: Ronald and his wife, Barbara, reside in Tenafly, NJ. He is President and CEO of Couristan Carpets. Ronald currently sits on the Board of Trustees and has been a tireless supporter of bergenPAC since its inception.
Bernie Koster: Bernie has been an integral part of bergenPAC's growth. He has served as a member of the Board of Trustees and the Chairman of the Journal Committee of bergenPAC for the last 10 years. Bernie is a cherished member of the bergenPAC community and resides in Tenafly, NJ, with his wife Norma Wellington.
Mitchell Sacks: Mitchell and his wife, Kelly, live in Bergen County with their four children. CIO and Founder of Grand Slam Asset Management, Mitchell has been a bergenPAC Board of Trustees member for over seven years. He serves as Chairman of the Finance Committee and is also on the Executive Committee.
bergenPAC
Founded in 2003, the 1,367-seat Bergen Performing Arts Center, or bergenPAC, is the area's cultural mecca. Housed in a historic Art Deco-style theater boasting one of the finest acoustic halls in the United States, bergenPAC attracts a stellar roster of world-class entertainment. The jewel in our crown is The Performing Arts School at bergenPAC – the innovative, educational performing arts initiative that reaches more than 30,000 students annually. The Performing Arts School provides community youth, age 2 months to 21 years, with unique, "hands-on" training in music, dance and theater by industry professionals. It is through the ongoing generosity of sponsors, donors, members, and patrons that the not-for-profit 501 (c)(3) corporation bergenPAC and The Performing Arts School are able to thrive and enrich our community.
For updates, "Like" bergenPAC on Facebook (facebook.com/bergenpacfan), follow @bergenPAC on Twitter, and visit our website at www.bergenpac.org
###