4th Annual Voices in Harmony
presented by The Performing Arts School at bergenPAC and ASAH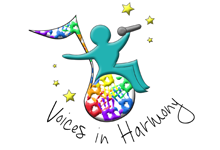 The Performing Arts School at bergenPAC and ASAH present the fourth annual Voices in Harmony on Sunday, March 29, 2020 at 2 p.m. on the Taub Stage at bergenPAC. The show is an artistic celebration featuring singers, musicians and dancers from 20 schools in seven counties serving students with disabilities.
"Voices in Harmony gives our students the opportunity to perform on a professional stage," said Diane Somers, director of The Chapel Hill Academy. "Their excitement and enthusiasm bring tears and smiles to everyone who attends the performance!"
The performers have been rehearsing throughout the school year with visiting teaching artists from The Performing Arts School at bergenPAC's outreach program, Beyond bergenPAC, and are ready to share their talents.
"We look forward to the fourth annual Voices in Harmony event celebrating and featuring our very 'special' students,'" said Lori Alter, M.A., director of The Deron School of New Jersey. "The performance promises to be uplifting, invigorating and truly magical. The audience will leave with a sparkle in their eyes!"
The program features students from Academy 360 Upper and Lower Schools in Verona, Banyan Elementary School in Fairfield, Banyan High School in Little Falls, The Center School in Somerset, Chapel Hill Academy in Lincoln Park, CTC Academy in Oakland, Deron School of NJ Montclair Campus, Deron School of NJ Union Campus, ECLC of New Jersey in Ho-Ho-Kus, The Gramon School in Fairfield, Glenview Academy in Fairfield, New Beginnings in Fairfield, The Felician School in Lodi, Holmstead School in Ridgewood, Honor Ridge Academy in Clark, Windsor Learning Center in Pompton Lakes, St. Joseph School for the Blind in Jersey City, The Phoenix Center in Nutley, and Westbridge Academy in Bloomfield.
"This event gives the students a beautiful platform to express themselves and become stars for the day and provides them with an experience for a lifetime," said Alexander Diaz, Creative Director at The Performing Arts School at bergenPAC.
Voices of Harmony is presented thanks to sponsorship by the William T. Morris Foundation, Investors Foundation, Wells Fargo Foundation, The Provident Bank Foundation, ASAH, The Alliance of Private Special Education Schools of North Jersey, Spectrum 360, the Hasiotis Family & The Deron School and bergenPAC.
Tickets are free and can be reserved by emailing outreach@bergenpac.org or calling (201) 482-8194, ext. 71. The theater is located 30 N. Van Brunt St., Englewood.
About bergenPAC Performing Arts School
The Education program at bergenPAC features a series of classes, school residencies, workshops, live performances, student productions and ensemble groups in the performing arts for students ages 3 months to 21 years old. The program provides students with unique and "hands-on" arts training by industry professionals that allow them to gain real world experience and enhance academic achievement through the arts. bergenPAC's arts education initiatives occur on-site at our new Performing Arts School building at 1 Depot Square, Englewood, NJ or off-site at other schools. The school reaches more than 30,000 students annually. The Performing Arts School offers basic and professional level performing arts classes and ensemble groups and productions in theater, dance, and music for students of all ages. The school also offers beyond bergenPAC, a school Partnership Program with school districts throughout the area.
To enroll now or for more information contact (201) 482-8194 or education@bergenpac.org.
About ASAH
ASAH is a nonprofit statewide association representing 160 private schools for students with disabilities. The schools serve roughly 10,000 students with complex conditions, including those who are medically fragile, on the autism spectrum, exhibit challenging behavior, have a mental illness, and those with multiple disabilities. For more information, go to http://asah.org or call 609-890-1400.
About bergenPAC
Founded in 2003, the 1,367-seat Bergen Performing Arts Center, or bergenPAC, is the area's cultural mecca. Housed in a historic Art Deco-style theater boasting one of the finest acoustic halls in the United States, bergenPAC attracts a stellar roster of world-class entertainment. The jewel in our crown is The Performing Arts School at bergenPAC – the innovative, educational performing arts initiative that reaches more than 30,000 students annually. The Performing Arts School provides community youth, age 2 months to 21 years, with unique, "hands-on" training in music, dance and theater by industry professionals. It is through the ongoing generosity of sponsors, donors and patrons that the not-for-profit 501(c)(3) corporation bergenPAC and The Performing Arts School are able to thrive and enrich our community.