Corporate Sponsorship
See Your Company's Name in Lights – Make a Difference in Your Community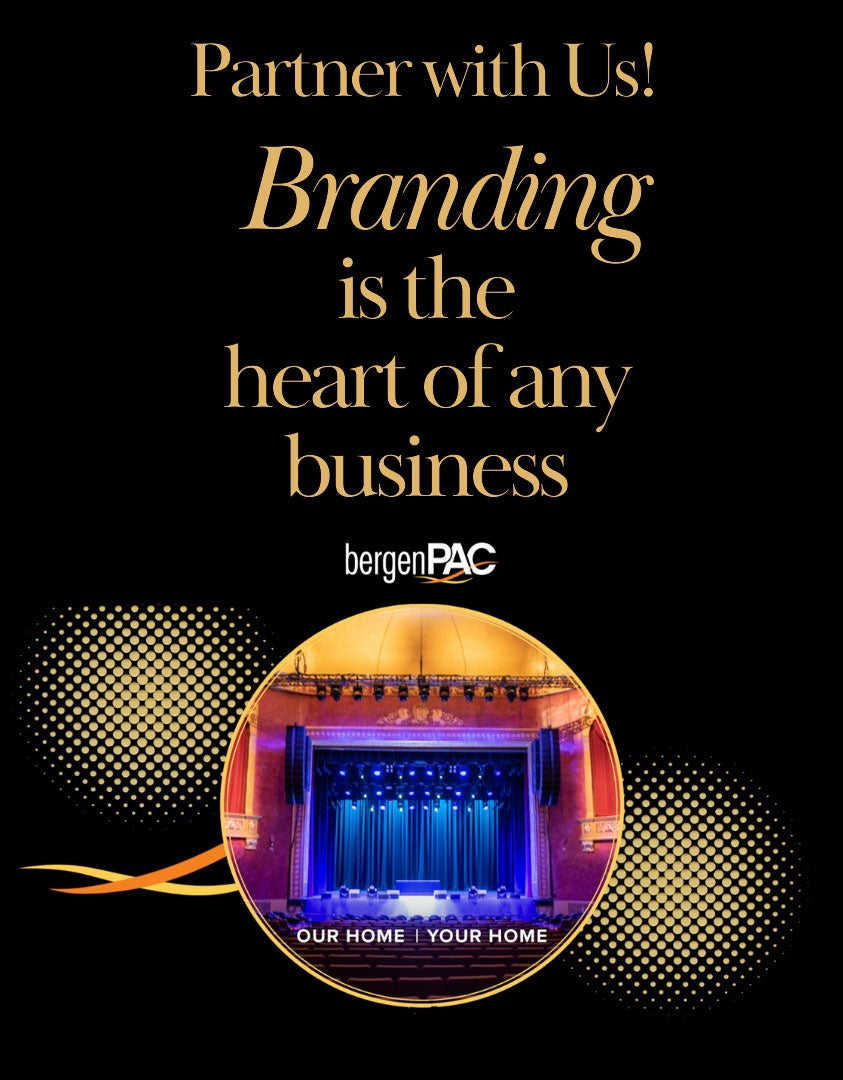 bergenPAC's nonprofit mission is powered by the support of its corporate partners. Contribute to northern New Jersey's quality of life in a meaningful way and enjoy exposure to our 150,000 annual theater patrons and thousands of families whose children attend the Performing Arts School at bergenPAC and 140 educational outreach partner schools across New Jersey.
Sponsorship packages are customized to meet your marketing and philanthropic objectives and can include ticket perks for your employees. Opportunities include supporting:
Performances at the newly renovated theater
Teaching artist residencies and assemblies in underserved schools
Need-based scholarships to the Performing Arts School
For more information, call 201-816-8160, ext. 1048 or email development@bergenpac.org.
Corporate Sponsorship Levels
bergenPAC relies on its vital partnership with the corporate community to provide a foundation of operating and programmatic support. Join the many corporate patrons who support bergenPAC by becoming a Corporate Series Sponsor. Along with a substantial tax deduction, corporate patrons receive benefits corresponding to their sponsorship level for executives and employees—from special designation on the new digital marquee, opportunities to host events in the theater itself, to complimentary top tier tickets, VIP lounge access and exclusive artist meet & greets. We look forward to partnering with you!
Marquee Series Sponsor (5 shows): $100,000
Marquee visibility - Company name presents on front marquee at all series sponsored shows
Company logo on all 17 digital LED screens throughout the theater, including the two flanking the stage; at all select series shows
Top of show stage shout-out at all series sponsored shows
Company name presents in press releases and e-blasts for all series sponsored shows (160,000+ subscribers)
10 annual Performing Arts School scholarships with student acknowledgement letters
Company name/logo in all Performing Arts School materials
Company logo on bergenPAC website; 1 year (1.8M unique pageviews)
Company name presents in social media posts for all series sponsored shows (Reach of 140,000 people per month)
Full page advertisement in print and digital Spotlight 2023 program
Exclusive artist Green Room Meet & Greets at all series sponsored shows*
4 VIP passes to all bergenPAC shows
10 complimentary tickets to all 5 series sponsored shows
Use of VIP lounge at all series sponsored shows
Use of the theater for special company functions (up to twice a year)
Employee ticket discounts
Premier Series Sponsor: (3 shows) $50,000
Marquee visibility - Company name presents on front marquee at all series sponsored shows
Company logo on all 17 digital LED screens throughout the theater, including the two flanking the stage; at all select series shows
Top of show stage shout-out at all series sponsored shows
Company name presents in press releases and e-blasts for all series sponsored shows (120,000+ subscribers)
10 annual Performing Arts School scholarships with student acknowledgement letters
Company name/logo in all Performing Arts School materials
Company logo on bergenPAC website; 1 year (1.8M unique pageviews)
Company name presents in social media posts for all series sponsored shows (Reach of 140,000 people per month)
Full page advertisement in print and digital Spotlight 2023 program
Exclusive artist Green Room Meet & Greets at all series sponsored shows*
4 VIP passes to all bergenPAC shows
10 complimentary tickets to all 5 series sponsored shows
Use of VIP lounge at all series sponsored shows
Use of the theater for special company functions (once a year)
Employee ticket discounts
Spotlight Series Sponsor: (2 shows) $25,000
Marquee visibility - Company name presents on front marquee at all series sponsored shows
Company logo on all 17 digital LED screens throughout the theater, including the two flanking the stage; at both select series shows
Top of show stage shout-out at all series sponsored shows
Company name presents in press releases and e-blasts for both series sponsored shows (120,000 person list)
3 annual Performing Arts School scholarships with student acknowledgement letters
Company name/logo in all Performing Arts School materials
Company logo on bergenPAC website; 1 year (1.8M unique pageviews)
Company name presents in social media posts for all series sponsored shows (Reach of 140,000 people per month)
Full page advertisement in print and digital Spotlight 2023 program
Exclusive artist Green Room Meet & Greets at both series sponsored shows*
2 VIP passes to all bergenPAC shows
5 complimentary tickets to both series sponsored shows
Use of VIP lounge at both series sponsored shows
Employee ticket discounts
Artist Series Sponsor: (2 shows) $10,000
Company logo on17 digital LED screens throughout the theater; 2 select series shows
Top of show stage shout out at both shows
Company name presents in e-blast for both select series shows
Company logo on bergenPAC website; 1 year (1.8M unique pageviews)
Company name presents in social media posts for all series sponsored shows (Reach of 140,000 people per month)
Full page advertisement in print and digital Spotlight 2023 program
Exclusive artist Green Room Meet & Greets at sponsored shows
2 complimentary tickets to both sponsored shows
Use of VIP lounge at sponsored shows
Employee ticket discounts
Small Business Sponsor: $2,500
Company logo on digital LED screens throughout the theater; 2 select shows
Company logo on bergenPAC website; 1 year (1.8M unique pageviews)
Company name presents in social media posts for all series sponsored shows (Reach of 140,000 people per month)
Full page advertisement in print and digital Spotlight 2023 program
Choice of exclusive artist Green Room Meet & Greet for both sponsored shows
Employee ticket discounts
*Meet and Greets scheduled upon artist's approval