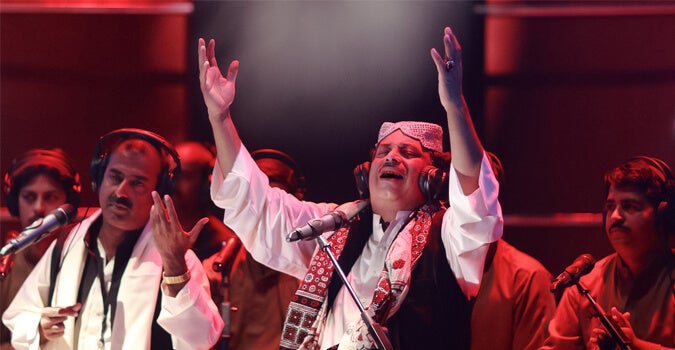 Support Nepal Earthquake Victims with Qawwali Sufi
Performances by Fareed Ayaz & Abu Mohammed
Bergen Performing Arts Center located at 30 North Van Brunt Street in Englewood, New Jersey and Dr. Hetal Gor present a Fundraiser for the victims of the Nepal Earthquake: Qawwali Sufi with performances by Fariz Aya and Abu Mohammed, Friday, May 29th 2015 at 8 PM. The show will be held at The Performing Arts School at 1 Depot Square in Englewood, NJ in Studio A. The event is general admission with traditional pillow seating. Hors d'oeuvres and dessert will be provided. It is a BYOB event. To donate and/or attend Qawwali Sufi by Fariz Ayaz and Abu Mohammed, please contact [email protected] or 201.482.8194.
Dr. Hetal Gor, a member of the Board of Trustees at bergenPAC conceived the event. "When I saw the devastating pictures and news report on the Nepal Earthquake, I wanted to raise money. Nepal has lots of Historic sites and monuments related to Indian History, heritage and mythology. Nepalis are an integral part of the Indian army, security and workforce," said Dr. Gor, explaining why she organized the event. "Tourism is important part of the economy of Nepal and if enough money is not raised, there is a threat of increase in human trafficking and prostitution."
As to why the Sufi Qawwali style was chosen for the fundraiser, Dr. Gor added, "Sufi Qawwali is a very soothing and spiritual experience. We will be combining the neighboring nations beyond the politics. As an Obgyn Physician, my goal is the well-being and safety of women and children in that Region. I am so grateful to bergenPAC and The Performing Arts School for the support to this noble cause."
All proceeds will be donated to Grassroots Movement in Nepal (GMIN): http://www.gmin.us/donate.html to support the victims of the devastating Nepal earthquake. The evening will feature Qawwali Sufi music performance by Fareed Ayaz and Abu Muhammad.
"When there are people in need, we need to help," said Dominic Roncace, bergenPAC CEO. "It is our obligation as a non-profit community center to reach out in any way we can to provide desperately needed funds that will go toward things that we take for granted, like food, water, and shelter. This is one way we can provide relief and support."
Qawwali derives its name from the Arabic word qaol, meaning "to speak'. Qawwali is a musical form to deliver divine message. For the Sufis of India and Pakistan, the Qawwali is 'food for the soul', a means of attaining union with God, the ecstatic culmination of mystical experience.
Qawwali, the classical Sufi style of music has been prevalent in the Indian society since the days of the Great Mughal era. A real treat to the ears, this form of classical music was a favorite of all Islamic rulers. After having lost popularity through the ages, Qawwali style of music is once more finding a strong foothold in society.
Fareed Ayaz and Abu Muhammad are Masters of Qawwali Sufi music as well as classical genres such as tarana, thumri and khayal, and are the most prominent flag bearers of this form of music. The group sings in Farsi (Persian), Urdu and Arabic. They belong to the "Qawal Bachon ka Gharana" (House of Qawwals) of Delhi, a school of music founded in 12th Century India by Hazrat Amir Khusro himself. It remains the best known Gharana today.
Here is a video link to see and understand what this event will be like! Click here