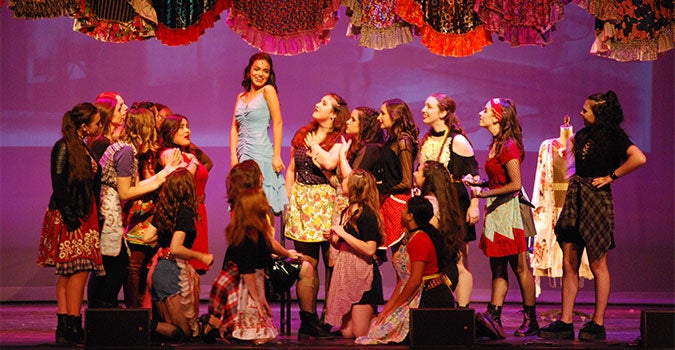 Scholarships Make the College Audition Process More Accessible
Just offering classes is not enough to truly deliver on bergenPAC's mission to make live performing arts and arts education more accessible to everyone in the community. That's why the Performing Arts School at bergenPAC established its Scholarship Program several years ago to ensures no child who wants to develop their artistic passions is turned away because of financial hardship.
The school faculty recognized this past summer that they had some very talented vocal students interested in pursuing a career path and needed more support than just their regular lessons.
Vocal college auditions require a prescreening filming component, where the student sings and sometimes dances and delivers a monologue. This can be expensive for students, Becky Serico, managing director at the Performing Arts School at bergenPAC, said, as they have to pay a videographer, dance teacher, acting teacher, vocal teacher, and pianist to accompany their singing for these videos. Amelia DeMayo directs the Young Professionals Vocal Academy at bergenPAC and has helped guide students to top theater programs and Broadway and national touring productions.
Thanks to generous support from some of the school's families, as well as DeMayo's private vocal studio in New York City, five students so far have received scholarships to fully prepare for college auditions.
"This is a great need in our program, and we are thankful to the generous donors who help make a difference," Serico said. "This truly shapes the future of our talented and dedicated vocal students."
Families can apply for need-based and merit scholarships for any program at the school.
"The Scholarship Program has been an AMAZING gift not only for my girls, but also to my whole family," a parent of scholarship students said. "Dancing has been a big part of my girls' lives since they were 3. Making the decision to tell them they couldn't dance was truly heart breaking. Our financial difficulties should not be their worries. I was feeling stuck and felt as if I had failed them. The scholarships allowed my girls to still embrace their love of dance."
The program is made possible through the generosity of sponsors and individual donors, including The Russell Berrie Foundation, Myron & Elaine Adler Private Foundation, Kay Ritta Scholarship Fund, Robert & Catherine Murray Charitable Trust, Cestone Family Foundation, Stuart and Martha Tell, Rosalie Berlin, Naida S. Wharton Foundation, Norma Wellington, Koryn & Realf Schermer and Lakeland Bank.
The application process is handled discreetly so students can feel comfortable alongside their classmates as they develop their craft and explore their dreams. Whether or not the students go on to Broadway or Lincoln Center, they can all reap the benefits that come from studying performing arts.
"I have had the absolute pleasure of performing in two of the summer musicals and am beyond grateful for the opportunities granted to me," a recent scholarship student said. "The warm, supportive, and spirited environment amongst the cast and faculty is unmatched. The rehearsal/ performance process is very professional and gives students a clear understanding of how to work in a respectful, committed and healthy manner. Also, we are constantly being motivated to work diligently as an ensemble while also honing in on and nurturing the personal goals we have for ourselves. I am forever thankful to my mentors at bergenPAC who lovingly encourage and lead me to go beyond my own expectations. My growth as a person and as a singer, dancer, and actress through the summers at bergenPAC is something that I will never fathom or take for granted."
To learn more about the Scholarship Program, visit