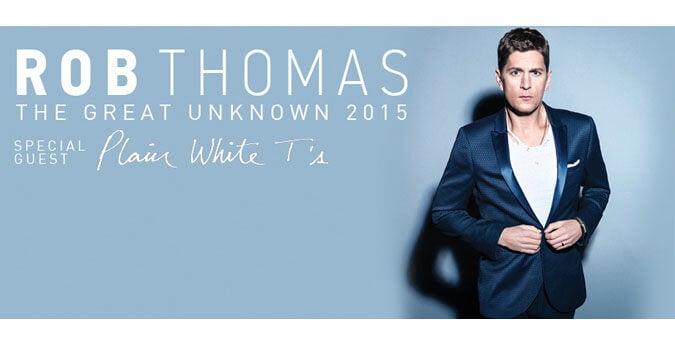 Rob Thomas with special guest Plain White T's
Rob Thomas
Rob Thomas has been one of modern music's most compelling and commercially successful artists for well over a decade – between Matchbox Twenty, his solo work, and his various collaborations with iconic artists like Santana, Mick Jagger and Willie Nelson, his tally now stands at more than 80 million albums sold worldwide. Arguably the most accomplished singer/songwriter of his generation, it all comes back to the creative source for Rob. As he says with typical understatement, "I'm a guy who hears songs in his head, and I have to write them down, and I have to get them out. I'm just lucky enough that I can make it my life's work."
"The whole thing started over 17 years ago because I had a bunch of songs," says Rob of the genesis of Matchbox Twenty. Since then, he has penned a remarkable string of smashes, including their #1-charters "Push," "3AM," "If You're Gone," "Bent," "Disease," and "Unwell," and other major hits like "Real World," "Back 2 Good," "Mad Season," and "Bright Lights."
His smash collaboration with Santana, the Thomas-penned "Smooth," earned Rob three Grammy Awards and today ranks #1 on Billboard's "Top Hot 100 Rock Songs" chart and #2 on the magazine's "Hot 100 All-Time Top Songs."
In 2004, the Songwriters Hall of Fame presented Thomas with its premiere "Starlight Award" – created to recognize a composer in the early years of his or her career that has already made a lasting impact. He has won numerous BMI and ASCAP Awards, and has earned the Songwriter of the Year crown from both Billboard and BMI for two consecutive years.
2005 saw the release of Rob's first solo album,"…SOMETHING TO BE", which was produced by Matt Serletic. The #1, multi-platinum "…SOMETHING TO BE," made history as the first album by a male artist from a rock or pop group to debut at No. 1 on The Billboard 200 since the chart was launched 50 years earlier. The album earned a pair of Grammy nominations and spawned a string of hit singles, including the smash "Lonely No More" – which was #1 in 15 countries, "This Is How A Heart Breaks," "Ever The Same," and "Streetcorner Symphony."
Rob Thomas is now putting the finishing touches on his highly anticipated 3rd solo album set for release in August.
The Plain White T's
The Plain White T's (read as "plain white tees") is an American pop punk band from Lombard, Illinois formed in 1997 by high school friends Tom Higgenson, Dave Tirio, Ken Fletcher and Steve Mast. The band is best known for the number-one hit song "Hey There Delilah", which achieved platinum status in 2007 and earned two Grammy nominations, as well as "1234" and "Rhythm of Love", which were certified platinum in 2009 and 2011, respectively.