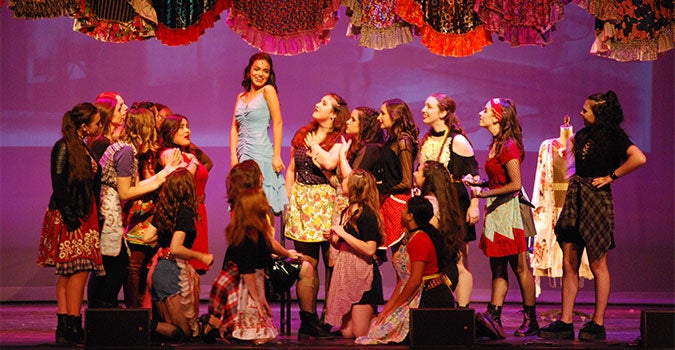 Rachel Zegler, bergenPAC's 'Maria,' Gets her Big Screen Debut
Some stars get their big break when an agent sees them eating pizza after a dance class, like Natalie Portman. Others are discovered at open casting calls, like Lea Michele. For 18-year-old Clifton native Rachel Zegler, it was the latter.
Standing out among dozens, hundreds or even thousands of actresses takes more than luck and natural charm. It requires great talent, confidence and plenty of hard work to be ready when opportunity arises. Zegler has proven she has all that on multiple occasions.
Three years after starring as Maria in The Performing Art School at bergenPAC's summer musical West Side Story, she's set to reprise the iconic role in Steven Spielberg's upcoming remake of the classic film. Vanity Fair published a behind the scenes look at the production this week: http://bit.ly/bpZEGLER
Zegler told northjersey.com that West Side Story was the first musical she saw live when Immaculate Conception High School produced it in 2014, where she went on to enroll. That experience was especially meaningful to her, and not just because of the destiny it foreshadowed.
"I feel like Maria is somebody I know really well," Zegler, a Colombian-American, said. "I'm a young Latina growing up in the New York-New Jersey area. She's someone I hold very near and dear to my heart.
While performing in her school plays, Zegler heard about an open casting call The Performing Arts School at bergenPAC was holding at the Garden State Plaza for its 2016 summer musical, Les Miserable, and was cast as Cosette.
"When Rachel auditioned for Les Miserable, we met a star," Alexander Diaz, Creative Director of Direction at The Performing Arts School at bergenPAC, said. "She had an incredible ability to perform so effortlessly and have such powerful presence and sound. It was truly an honor to be around."
He directs the musicals and was happy to see return the next summer.
"When West Side Story came around, I remember calling her back for several roles, of which any of them she could have done, but she had a peacefulness and beautiful understanding of Maria and we are so thrilled she was able to grace our stage in that role," Diaz said.
After playing her dream role of Maria, Zegler seized her biggest opportunity yet by beating out 30,000 actresses when Spielberg announced an online casting call for his film. She submitted video of herself as Maria and went through the callback process to secure her first film role.
This summer The Performing Arts School at bergenPAC will produce its 10th annual musical – Rodger and Hammerstein's Cinderella. This program has grown every year with a cast and crew of talented teens from around the region coming together to put on professional quality shows under the guidance of the Performing Art School's faculty. This is just one example of how we Lead The Way in performing arts education.
The West Side Story will hit theaters this December, and as our team prepares for Cinderella, who knows what future stars will light up our stage this summer?