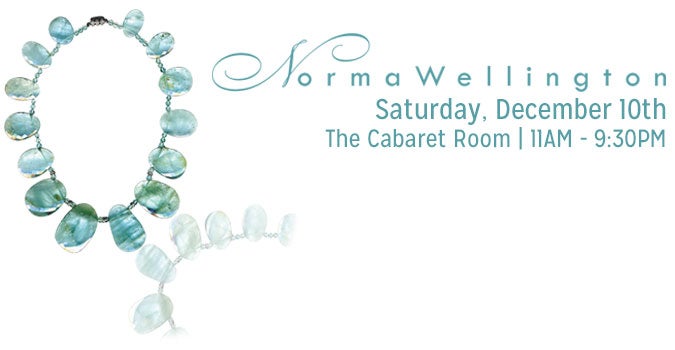 Norma Wellington's Annual Holiday Jewelry Show & Sale
benefitting the scholarship program at The Performing Arts School at bergenPAC
bergenPAC located at 30 North Van Brunt Street in Englewood NJ announces the annual Norma Wellington Holiday Jewelry Show on Saturday, December 10, 2016 11AM- 9PM in the bergenPAC Drapkin Cabaret & Lounge. The holiday show and sale benefits the Performing Arts School at bergenPAC Scholarship Program. The sale is open to the public.

Norma Wellington, acclaimed jewelry designer, will present her Annual Holiday Jewelry Show and Sale to benefit the Performing Arts School at bergenPAC, on Saturday December 10, 2016 from 11AM to 9PM, in the Drapkin Cabaret & Lounge at the theater. The show will coincide with Melissa Etheridge's Holiday Trio, part of the Benzel Busch Concert Series, beginning at 8PM.

The Performing Arts School at the bergenPAC is an educational resource and has made the arts accessible to over 35,000 children last year alone through offerings such as classes in theatre, music, and dance, summer camp programs as well as through the Beyond bergenPAC outreach programs that brings students to the theatre to experience live entertainment and brings the arts to the classroom through the outreach teaching program. To assist deserving youth who would not otherwise have the financial ability to attend programs at the Performing Arts School, a scholarship program exists that to date has awarded over $150,000 in scholarships.

Wellington says, "When I was a high school student I was extremely shy. Belonging to a little theater group helped me with my self-esteem and confidence. I want to give that opportunity to the youngsters who can't afford to take classes at the Performing Arts School at bergenPAC. I know how important this can be for their future and it is my passion to be a part of this effort to change lives"

There is no admission fee and patrons are invited to join Ms. Wellington for wine and cheese as live models present the gorgeous one-of-a-kind pieces. There will be a vast selection of holiday gifts that fit anyone's style and price limit, with pieces starting as low as $50. All jewelry is made of precious metals and stones and is carefully fashioned into exquisite pieces. As a special treat, each purchaser will be entered into a raffle to win one of Wellington's beautiful designs.

Wellington will donate 25% of the sales to the scholarship program at the Performing Arts School at bergenPAC because she understands the impact that the arts can have on a child.

About bergenPAC
Founded in 2003, the 1,367-seat Bergen Performing Arts Center, or bergenPAC, is the area's cultural mecca. Housed in a historic Art Deco-style theater boasting one of the finest acoustic halls in the United States, bergenPAC attracts a stellar roster of world-class entertainment. The jewel in our crown is The Performing Arts School at bergenPAC – the innovative, educational performing arts initiative that, through programs, classes, outreach, school shows, and main theater presented shows, reach more than 30,000 students and community youth annually. The Performing Arts School provides community youth, age 2 months to 21 years, with unique, "hands-on" training in music, dance and theater by industry professionals. It is through the ongoing generosity of sponsors, donors, members, and patrons that the not-for-profit 501 (c)(3) corporation bergenPAC and The Performing Arts School are able to thrive and enrich our community.

For updates, "Like" bergenPAC on Facebook (facebook.com/#!/bergenpacfan), follow @bergenPAC on Twitter, follow us on LinkedIn and visit our website at www.bergenpac.org.