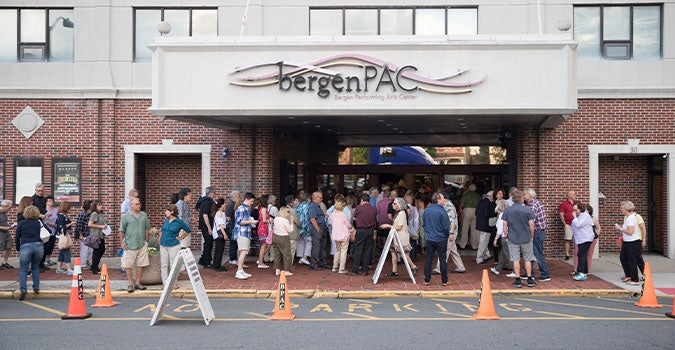 Marking the 30th Anniversary of ADA
This Sunday celebrates the 30th anniversary of when the Americans with Disabilities Act (ADA) was signed into law. Among other important protections, this ensures that people with disabilities are not discriminated against when visiting a public place like a restaurant or theater with standards for the facilities to accommodate their physical needs.
bergenPAC takes its ADA responsibility seriously as it ties into its nonprofit mission to make live performing arts and arts education more accessible to everyone. While the historic theater has certain limitations, bergenPAC's staff strives to make everyone's visit as comfortable as possible.
With barrier-free access for patrons using wheelchairs, walkers or other mobility devices, all seats on the orchestra level can be reached without stairs and a limited amount of wheelchairs are available on-site.
In addition to providing physical access, bergenPAC offers a variety of services to improve the experience for patrons with different needs. These include braille or large print programs and brochures for patrons with vision issues. Audio Description is also available for select performances. Using a small FM receiver, they hear a live, objective, descriptive delivery of the visual elements of a performance.
The theater has a Hearing Assist System that uses infrared headset devices to provide hearing amplification for patrons. They can sit anywhere in the theater to use them. Hearing devices are also available for every performance.
Another option is Open Captioning, which is available for select performances. Open captioning displays any dialogue and action from the stage on a large monitor so it is easier to follow along. Sign Interpretation is also available upon request for any performance.
bergenPAC wants everyone to be able to enjoy its theater and The Performing Arts School so it proactively seeks out grants and other opportunities that will enable it to make its facilities even more ADA-compliant and welcoming in the future.