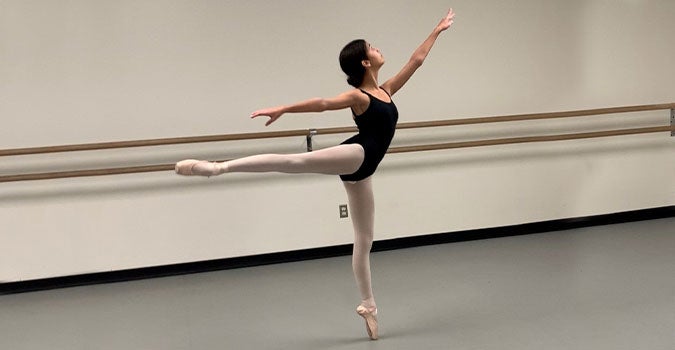 Guadalupe is Ready for 'A Whole New World' of Dance Opportunities
A lot of kids love to dance for the simple joy of free movement, but for some, it can be more than that. It is a true passion that can be developed with the highest levels of training. The Performing Arts School at bergenPAC is happy to announce that Gabriela Guadalupe, a Pre-Professional dance student in the school, was recently accepted to several prestigious New York City Summer Intensives: American Ballet Theatre, The Alvin Ailey Dance School, American Academy of Ballet and Global Dance.
"Gabby is a very well-rounded dancer, having taken classes in ballet, modern jazz, contemporary and tap here," Roberta Mathes, Artistic Director of Dance at the Performing Arts School, said. "We are all so proud of her amazing accomplishments this year."
Gabriela, who was recently accepted to start as a dance major at High Tech High School in Secaucus, N.J. in the fall, began studying with The Performing Arts School's dance program in 2016 because she wanted to receive a higher level of training. She completed two of the Performing Art School's Summer Intensives, which helped prepared her for the challenging audition process for New York City programs.
Gabriella is also part of the Performing Art School's Dance Ensemble and has performed in many of its community outreach presentations at Bergen Town Center, Bloomingdale's, Garden State Plaza, benefits at Ailey and Steps on Broadway, and the recent Englewood's Got Talent competition.
The Pre-Professional Program at The Performing Arts Scthool at bergenPAC offers a diverse, structured curriculum for dancers between the ages of 13 and 18. Every student is trained in classical ballet, partnering, modern (Horton or other), and contemporary jazz "Mathes Technique." They also pick other dance electives, which can include composition/choreography, ethnic, tap, voice and theater dance, or Hip-Hop. Masterclasses with professional visiting artists are offered throughout the year.
Gabriela also earned the lead role of Jasmine in her middle school musical production of Aladdin. While these prestigious summer intensives may feel like "a whole new world," Mathes is confident that her student is ready for the challenge.
"Bravo to Gabriela as she is on her way to success and perhaps stardom!" Mathes said.
For more information on The Performing Arts School's beginner and pre-professional dance programs, please visit www.bergenpac.org/education/programs/dance.