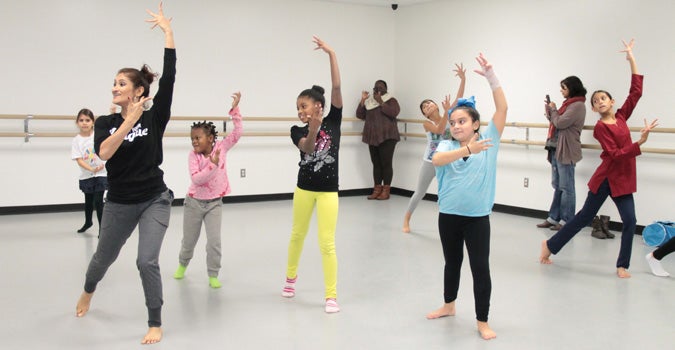 Bollywood Dance at The Performing Arts School at bergenPAC
presented by Dr. Hetal Gor
bergenPAC Performing Arts School at bergenPAC announces Indian Cultural Classes: Bollywood Dance. Classes are held on Mondays, beginning February 1 and continue weekly through June 13, 2016. Classes will take place at the bergenPAC Black Box Theater located at 38 North Van Brunt Street, Englewood, NJ. For More information: The Performing Arts School, [email protected], 201.482.8194 or www.bergenpac.org/education/cultural-initiative.
Class Schedule:
4:30-5:30 (6-9 years)
5:30-6:30 (10-12 years)
6:30-7:30 (13-18 years)
7:30-8:30 (Adult)
The classes are 45 minutes of high-energy dance that will give dancers the opportunity to shine as they learn Bollywood dance. The classes are fun and upbeat class which lets children explore Indian music, rhythms and movement with lots of spins, turns, jumps and shimmy.
There are 5 essential elements for Bollywood dance, which will be covered in these classes:
Timing & Rhythm
Energy & Enthusiasm
Stamina
Sharp classical hand and feet gestures
Controlled and expressive movements
The Indian cultural classes at bergenPAC, compliment the Indian Cultural Initiative at bergenPAC under the guidance of bergenPAC Board Trustee, Dr. Hetal Gor. The classes will be taught by Award Winning Bollywood Choreographer Sonalee Vyas-Jani. "This is an amazing opportunity to connect with Bergen PAC. I am also very excited to share my expertise and passion for Indian Bollywood Dancing and provide classes which are going to be unique and energetic with worldwide choreography. With a full ensemble of instructors, we are ready to take Bergen PAC by storm and provide the best Bollywood Dancing ever seen in Englewood," said Vyas-Jani.
Sonalee Vyas is the founder of the Sonalee Vyas Dance Company. With over 15 years of dancing experience, Sonalee Vyas has one of the most respected professional dance training schools in the Tri-State Area. The Indian-born choreographer has pushed the boundaries of performance dance by incorporating the technical elements of various world dances for further inspiration in Indian choreography. She presents her audiences with an exciting and emotional blend of Bollywood, traditional and modern, molded into a style of choreography that is both eloquent and explosive. Her movement provokes, inspires and entertains audiences with its unique blend of music, dance and narrative styles.