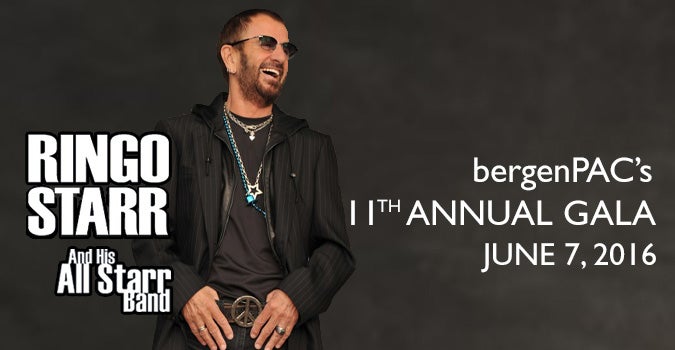 bergenPAC's 11th Annual Gala
featuring Ringo Starr and His All Starr Band
Bergen Performing Arts Center located at 30 North Van Brunt Street in Englewood, New Jersey presents 11th Annual Gala sponsored by Benzel-Busch: Ringo Starr and His All Star Band - Tuesday, June 7, 2016 at 8PM. Purchase tickets at www.ticketmaster.com or Box Office at 201.227.1030. Gala tickets are available now for what's sure to be a rockin' good time! For Gala information email [email protected] or call 201-816-8160 ext. 16.
A celebratory evening to benefit The Performing Arts School at bergenPAC featuring the legendary music icon Ringo Starr and His All Star Band.
Peace and love are his life's rhythm and melody, and he propels this universal message in everything he does: His evocative artwork, his enthused live performances, his legendary songs, all imbued with the joy, reflection, and wisdom of the music icon the world knows and loves simply as "Ringo."
Ringo Starr and His All Starr Band features Todd Rundgren, Gregg Rolie, Steve Lukather, Richard Page, Warren Ham and Gregg Bissonette. This current All Starr line up is the 12th and longest running, and as Ringo recently told The Boston Globe, "I love this band – we have a lot of fun together on and offstage, so here we come again."
That love is evident in their performances, exemplified by this review in the Sarasota Tribune-Herald: "This latest incarnation of Starr's travelling show has been together now going on three years and watching them interact as an actual band, rather than a supergroup taking turns out front, is almost as fun, almost, as watching and screaming "I love you" at the front man who will forever be part of the biggest rock 'n' roll band of all time."
11th Annual Gala (Journal Form Attached)
Join bergenPAC for a Rock 'N' Roll casual cocktails and hors d'oeuvres reception at The Performing Arts School, followed by the Gala performance starring "Ringo" in the Russell Berrie Hall. A dessert reception follows back at the school celebrating with friends.
Schedule
Location: The Performing Arts School, One Depot Square, Englewood, NJ
Reception: 5PM
Performance (at Russell Berrie Auditorium): 8PM
After Party: Immediately following Ringo Starr's performance
Attire: Rock N' Roll Casual
bergenPAC is proud to recognize this year's Honoree Dr. Hetal Gor with the "Rising Star Award" for her staunch support and dedication to bergenPAC and the entire community. Dr. Gor's tireless efforts and enthusiasm has helped introduce and build the theater's multicultural offerings – pivotal to the growth of both the theater and its education mission. In addition, the theater is excited to recognize and honor its longtime staff member Rosalie Berlin with the "Distinguished Service Award" for her dedication to the theater since its inception.
The 2016 Gala is the theater's major annual fundraiser. Through its more than 200 concerts and cultural events, bergenPAC is serving approximately 150,000 individuals annually, yet selling tickets alone is not enough. Each year, more and more people are unable to experience the arts due to financial barriers and the annual Gala helps bergenPAC address this to the communities it serves.
The jewel in the theater's crown is The Performing Arts School at bergenPAC where, currently 825 students participate in traditional dance, music and theater programming along with Korean Drumming, Indian Bollywood Dance, Limitless Arts education for children and teens with special needs, and master classes with renowned artists. Performing Arts School students have even performed on bergenPAC's main stage alongside greats such as Kenny Rogers and Itzhak Perlman! Additionally, The Performing Arts School's after-school outreach initiatives and School Time Series serve over 4,500 students, many of whom are from underserved communities.
From the child who wants to play an instrument, to the teen who dreams of becoming a professional dancer, to the senior who would love to attend the Neil Sedaka concert and revel in memories long gone, bergenPAC is dedicated to bringing world-class cultural and educational opportunities to the community both at the theater and through the Performing Arts School.
Every dollar raised will go directly to supporting bergenPAC's high-quality programs and arts education for all.
About The Honorees
Dr. Hetal Gor-Rising Star Award
A member of the Board of Trustees, Dr. Gor will be honored for her staunch support and dedication to bergenPAC and the entire community. Her tireless efforts in support of multicultural programs have been pivotal to the growth of the theater. Dr. Gor is a Board Certified OBGYN and resides in Tenafly, NJ.
Rosalie Berlin-Distinguished Service Award
Longtime staff member, Rosalie Berlin, will be recognized for her dedication and efforts in helping bergenPAC to grow since its inception. A passionate advocate for the arts in our community, Ms. Berlin resides in Fort Lee, NJ
About bergenPAC
Founded in 2003, the 1,367-seat Bergen Performing Arts Center, or bergenPAC, is the area's cultural mecca. Housed in a historic Art Deco-style theater boasting one of the finest acoustic halls in the United States, bergenPAC attracts a stellar roster of world-class entertainment. The jewel in our crown is The Performing Arts School at bergenPAC – the innovative, educational performing arts initiative that, through programs, classes, outreach, school shows, and main theater presented shows, reach more than 30,000 students and community youth annually. The Performing Arts School provides community youth, age 2 months to 21 years, with unique, "hands-on" training in music, dance and theater by industry professionals. It is through the ongoing generosity of sponsors, donors, members, and patrons that the not-for-profit 501 (c)(3) corporation bergenPAC and The Performing Arts School are able to thrive and enrich our community.
For updates, "Like" bergenPAC on Facebook (facebook.com/#!/bergenpacfan), follow @bergenPAC on Twitter, follow us on LinkedIn and visit our website at www.bergenpac.org.
About The Performing Arts School at bergenPAC
The Education program at bergenPAC features a series of classes, school residencies, workshops, live performances, student productions and ensemble groups in the performing arts for students ages 2 1/2 months to 21 years old for all ability levels including special programming for individuals with special needs. The program provides students with unique and "hands-on" arts training by industry professionals that allow them to gain real world experience and enhance academic achievement through the arts. bergenPAC's arts education initiatives occur on-site at our new Performing Arts School building at 1 Depot Square, Englewood, NJ or off-site at other schools. Through programs, classes, outreach, school shows, and presented shows, the school reaches more than 30,000 students and community youth annually.
The Performing Arts School offers basic and professional level performing arts classes and ensemble groups and productions in theater, dance, and music for students of all ages. The school also offers beyond bergenPAC, a school Partnership Program with school districts throughout the area. The school also offers scholarships for those in financial need - no-one is turned away for inability to pay.
To enroll now or for more information contact 201.482.8194 or [email protected]
###