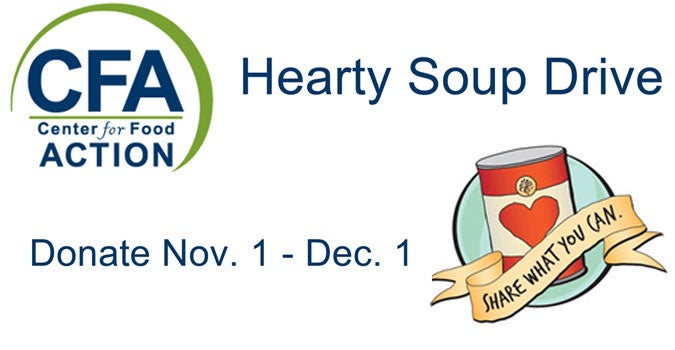 bergenPAC Kicks off November 'Hearty Soup Can Drive' for the Center for Food Action
and George Winston Giving Tuesday fundraiser for CFA at bergenPAC
bergenPAC, located at 30 N Van Brunt Street in Englewood NJ is collecting hearty soup cans throughout the month of November to donate to the Center for Food Action (CFA). CFA will also be the recipient of a portion of CD sales from George Winston on Giving Tuesday, December 1, 2015. George Winston's show begins at 8PM. Tickets are available at www.ticketmaster.com or Box Office at 201.227.1030.
Items may be placed in the specially marked "CFA Hearty Soup Can Drive" boxes in the bergenPAC lobby during box office hours M-F 11am-4pm and Saturday Noon to 4pm and at the Performing Arts School at 1 Depot Square. The box office is open two hours prior to performances and during all shows.
"During the winter months, a bowl of hearty soup offers comfort to those in need. bergenPAC is proud to continue this annual tradition in the fight against hunger," said Dominic Roncace, CEO of bergenPAC. "We are committed to our community service and are honored to be able to help people."
The number of people served by CFA, who provides over 65,500 food packages a year to those in need, jumped by almost 50% since 2008. "Community collaboration is the best way to end hunger. Thank you to the bergenpac for launching a CFA #GivingTuesday Hearty Soup Drive that will culminate on George Winston's December 1st concert. We're thrilled to announce that Mr. Winston will donate a portion of sales from his CDs sold that evening. We're grateful for the ongoing support from bergenpac and its community," said Jennifer Johnson of the Center for Food Action, which operates eight sites in Bergen and Passaic counties.
November shows at bergenPAC include Paul Anka 11/6, Lisa Lampanelli 11/7, Madeleine Peyroux 11/11, The Outlaws 11/12, Frank Sinatra Jr. 11/13, Mavis Staples and Joan Osborne 11/14, Wild Kratts Live 11/15, Citizen Cope 11/20, Brian Wilson with special guest Al Jardine 11/21, Capitol Steps 11/27, Brian Setzer 11/28, and Fancy Nancy 11/29. Visit our website for event listings at www.bergenpac.org/events.
In honor of Giving Tuesday, George Winston, performing on Giving Tuesday, December 1, at bergenPAC, will donate a portion of the proceeds of the evening's CD sales to CFA.
The evening is also the annual Norma Wellington Designs Holiday Jewelry Sale in which a portion of the proceeds go to the scholarship fund at The Performing Arts School at bergenPAC.
About bergenPAC
Founded in 2003, the 1,367-seat Bergen Performing Arts Center, or bergenPAC, is the area's cultural mecca. Housed in a historic Art Deco-style theater boasting one of the finest acoustic halls in the United States, bergenPAC attracts a stellar roster of world-class entertainment. The jewel in our crown is The Performing Arts School at bergenPAC – the innovative, educational performing arts initiative that reaches more than 30,000 students annually. The Performing Arts School provides community youth, age 2 months to 21 years, with unique, "hands-on" training in music, dance and theater by industry professionals. It is through the ongoing generosity of sponsors, donors and patrons that the not-for-profit 501 (c)(3) corporation bergenPAC and The Performing Arts School are able to thrive and enrich our community.
For updates, "Like" bergenPAC on Facebook (facebook.com/#!/bergenpacfan) and follow bergenPAC on Twitter @bergenPAC
About Center for Food Action
CFA provides emergency food packages, rental and utility assistance, advocacy, homelessness prevention and other essential services to those in need, living in northern New Jersey. CFA established the NJ Anti-Hunger Coalition (NJAHC) to provide training and technical assistance to pantries and soup kitchens across the state. The number of pantries and soup kitchens in the network has grown to more than 900 organizations. CFA is headquartered at 192 West Demarest Avenue, Englewood, NJ 07631. (201) 569-1804 http://www.cfanj.org
###