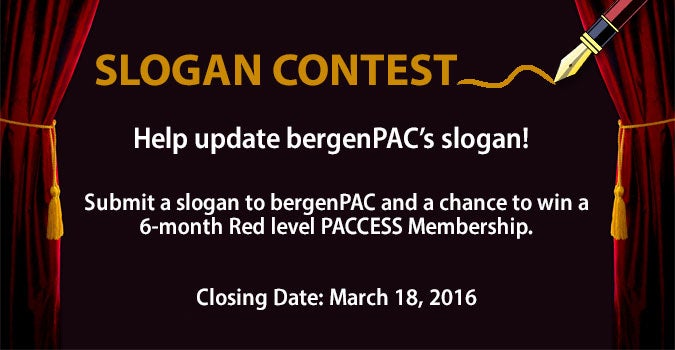 bergenPAC Announces Slogan Contest
bergenPAC, located at 30 N Van Brunt Street in Englewood NJ, is updating its slogan with a slogan contest. To enter into a new decade of performing arts excellence, bergenPAC is refreshing its look by adding a new tagline, or motto, to accompany its logo. The Performing Arts Center is asking its patrons to suggest a few words that describe your experiences at bergenPAC. The person submitting the winning suggestion will receive a 6-month Red Card Membership. The tagline should be a few words that are descriptive of bergenPAC as a venue and arts education center, or your experiences there, such as "bergenPAC, where you'll always come back." Generally, the tagline should complete the thought: bergenPAC is _____________________.
Bergen Performing Arts Center Slogan Contest Guidelines Please note that by submitting your slogan electronically via e-mail to [email protected], you agree to and accept the terms and conditions below. No Purchase required.
1. The contest winner will receive a six-month Red Card Membership to Bergen Performing Arts Center. (Current members will receive a discount of the Red Card Membership cost for the six-month period).
2. Individuals must submit their slogans to [email protected] with name, address and contact phone number.
3. All entries must be received by 5:00 pm (EST) Friday, March 18, 2016.
4. The winning slogan entrant will be notified after the Bergen Performing Arts Center Board Approval. Winning slogan and the name of the winner will be published on Bergen Performing Arts Center's website.
5. Slogans submitted to the contest should be the work of one person and it must not have been used somewhere else or have won a prize in any other contest.
6. Bergen Performing Arts Center will not be under any obligation to use, distribute and/or exhibit any of the slogans and will not accept any claims related to this matter.
7. It is the sole responsibility of each participant to ensure that the slogan does not infringe copyright, privacy rights, regulations, orders or directions of any third party.
8. Bergen Performing Arts Center assumes that the participants own the copyright and if claims or legal proceedings are brought against Bergen Performing Arts Center, Inc. as a result a copyright infringement, the participant will be held responsible and will fully indemnify Bergen Performing Arts Center and any other affected parties and cover any legal fees that may arise as a result.
9. By entering the slogan contest, the winner grants Bergen Performing Arts Center exclusive rights to the winning slogan for use in any format.
10. The winner agrees not to reproduce, use, transmit or exploit their slogans for other purposes than those of the contest.
11. If none of the slogans submitted are considered satisfactory, Bergen Performing Arts Center is free not to choose a winner and will not be obliged to use any of the submissions.
About bergenPAC
Founded in 2003, the 1,367-seat Bergen Performing Arts Center, or bergenPAC, is the area's cultural mecca. Housed in a historic Art Deco-style theater boasting one of the finest acoustic halls in the United States, bergenPAC attracts a stellar roster of world-class entertainment. The jewel in our crown is The Performing Arts School at bergenPAC – the innovative, educational performing arts initiative that reaches more than 30,000 students annually. The Performing Arts School provides community youth, age 2 months to 21 years, with unique, "hands-on" training in music, dance and theater by industry professionals. It is through the ongoing generosity of sponsors, donors and patrons that the not-for-profit 501(c)(3) corporation bergenPAC and The Performing Arts School are able to thrive and enrich our community.
For updates, "Like" bergenPAC on Facebook (facebook.com/#!/bergenpacfan) and follow bergenPAC on Twitter @bergenPAC
###