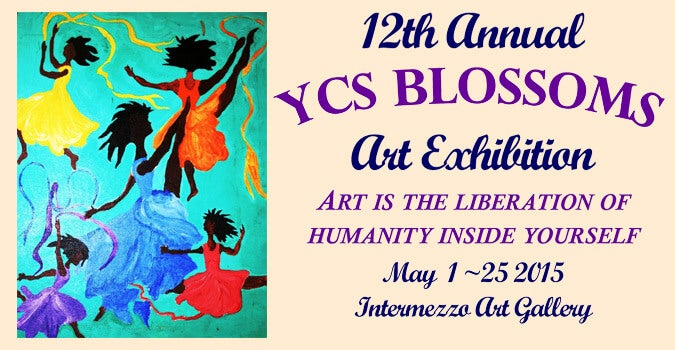 bergenPAC and Youth Consultation Service Present The 12th Annual YCS Blossoms Art Exhibit
Bergen Performing Arts Center located at 30 North Van Brunt Street in Englewood, New Jersey presents the 12th Annual YCS Blossoms Art Exhibit. The Exhibition is in residence at The Intermezzo Gallery on the 2nd floor of the bergenPAC from May 1-25, 2015. The gallery is open to the general public during box office hours Mon-Fri 11AM – 4PM Saturday 12PM to 4PM. An award presentation and Choral performance will take place Saturday May 23rd, 2015 from 11AM-1PM in the bergenPAC lobby. The event is free of charge. Refreshments will be served.
The Blossoms Art Exhibition showcases the talents of students, grades K-12, in YCS special education schools and Sawtelle Autism Learning Center in northern New Jersey. Students at four YCS special education schools and the Sawtelle Learning Center - for students on the autism spectrum - will showcase their talents in an array of mixed mediums including water color paintings, masks, pastel collages, fabric painting, clay figures, poetry, video performances and more.
Blossoms has earned the reputation for touching the hearts of viewers and proving how special all these students really are. Each piece of art on display today reflects a student's individual journey towards establishing a joyful, fulfilling life. As you walk through this exhibit, we hope you will be a part of this journey!
There will also be live musical performances at the awards presentation. This event is free; refreshments will be served. For more information, call YCS at 201-678-1312 or online at ycs.org.
About YCS
Youth Consultation Service (YCS) is a private non-profit behavioral health agency serving more than 4000 children each year in its schools, therapeutic group homes, community based and in-home programs. YCS special education schools serve children in Bergen, Essex, Passaic and Hudson counties.
About bergenPAC
Founded in 2003, the 1,367-seat Bergen Performing Arts Center, or bergenPAC, is the area's cultural mecca. Housed in a historic Art Deco-style theater boasting one of the finest acoustic halls in the United States, bergenPAC attracts a stellar roster of world-class entertainment. The jewel in our crown is The Performing Arts School at bergenPAC – the innovative, educational performing arts initiative that reaches more than 30,000 students annually. The Performing Arts School provides community youth, age 2 months to 21 years, with unique, "hands-on" training in music, dance and theater by industry professionals. It is through the ongoing generosity of sponsors, donors, membership, and patrons that the not-for-profit 501 (c)(3) corporation bergenPAC and The Performing Arts School are able to thrive and enrich our community.
For updates, "Like" bergenPAC on Facebook (facebook.com/#!/bergenpacfan), follow @bergenPAC on Twitter, and visit our website at www.bergenpac.org
###