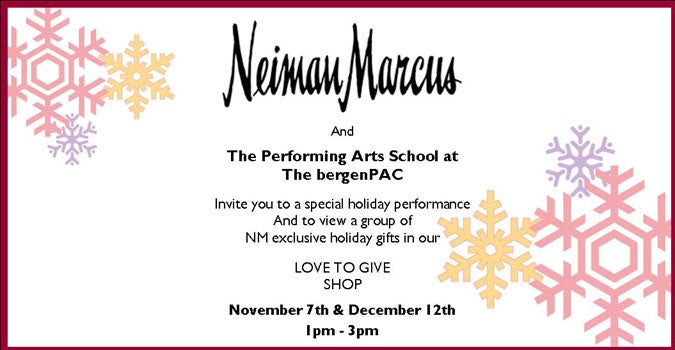 bergenPAC and Neiman Marcus Fundraiser for the Performing Arts and bergenPAC performances
presented by The Performing Arts School at bergenPAC and Neiman Marcus
The Performing Arts School at bergenPAC located at 1 Depot Square in Englewood NJ and Neiman Marcus announce a bergenPAC and Neiman Marcus Fundraiser for the Performing Arts. The 'Love To Give Shop' fundraiser will launch Nov. 5th and continue through the holiday season. The fundraiser is in conjunction with performances by The Performing Arts School Saturday, November 7th, 2015 at 1:00PM and Saturday, December 12th, 2015 at 1:00PM. The performances will take place on the 2nd Floor of the Garden State Plaza at 1 Garden State Plaza Blvd, Paramus, NJ 07652. For more information, please contact [email protected] or 201.482.8194.
The Love To Give Shop will launch in stores November 5 and promote over 50 fabulous gifts in the Love To Give Collection that are perfectly priced for giving. The items will also be available on NM.com as a boutique beginning November 5th and be available via the NM APP. Ten percent of store purchases will benefit The Heart of Neiman Marcus Foundation, dedicated to funding youth arts across the nation, in support of The Performing Arts School at bergenPAC.
Enjoy performances from the beyondDANCE, Theater and Music troupes as you enjoy holiday treats and sips:
beyondDANCE Pre Professional Ensemble (30 - 45 Min Set)
beyondDANCE Competition Team (30 – 45 Min Set)
THEATER vocal students and teaching artist (15 - 30 Min Set)
MUSIC teaching artist (15 - 30 Min Set)
"Since our inception in 1907, Neiman Marcus has had a rich history of supporting community. In 2013, we refined our focus and began to target our social investments toward organizations that provide enriching art education and experiences to youth... because ART changes lives," said Brooke Lawson, Vice President and General Manager of Neiman Marcus Paramus.

"Neiman Marcus, Paramus is pleased to be partnering with Bergen Performing Arts Center this holiday season. We will donate a portion of the proceeds from the Love to Give Collection to The Performing Arts School at the Bergen PAC."

The Performing Arts School at bergenPAC offers basic and professional level performing arts classes and ensemble groups and productions in theater, dance, and music for students of all ages and abilities including special needs. The school also offers 'beyond bergenPAC,' a school Partnership Program with school districts throughout the area.
"With the help of Neiman Marcus, Paramus, we can continue our efforts to provide arts programming for the entire community. As we never turn anyone away for financial reasons, this partnership will help us in our endeavors to give all children the opportunity to benefit from our programs," said Alexander Diaz, The Performing Arts School Director of Education and Outreach.
"We are excited to showcase our talents at Neiman Marcus, Paramus. Come and join us in supporting the live performing arts!"
About The Performing Arts School at bergenPAC
The Education program at bergenPAC features a series of classes, school residencies, workshops, live performances, student productions and ensemble groups in the performing arts for students ages 2 1/2 months to 21 years old.
The program provides students with unique and "hands-on" arts training by industry professionals that allow them to gain real world experience and enhance academic achievement through the arts. bergenPAC's arts education initiatives occur on-site at our new Performing Arts School building at 1 Depot Square, Englewood, NJ or off-site at other schools. The school reaches more than 30,000 students annually.
To enroll now or for more information contact 201.503.8326 or [email protected] or www.bergenpac.org/education
About bergenPAC
Founded in 2003, the 1,367-seat Bergen Performing Arts Center, or bergenPAC, is the area's cultural mecca. Housed in a historic Art Deco-style theater boasting one of the finest acoustic halls in the United States, bergenPAC attracts a stellar roster of world-class entertainment. The jewel in our crown is The Performing Arts School at bergenPAC – the innovative, educational performing arts initiative that reaches more than 30,000 students annually. The Performing Arts School provides community youth, age 2 months to 21 years, with unique, "hands-on" training in music, dance and theater by industry professionals. It is through the ongoing generosity of sponsors, donors, members, and patrons that the not-for-profit 501(c)(3) corporation bergenPAC and The Performing Arts School are able to thrive and enrich our community.
For updates, "Like" bergenPAC on Facebook (facebook.com/#!/bergenpacfan) and follow bergenPAC on Twitter, Instagram, and Linkedin @bergenPAC
###