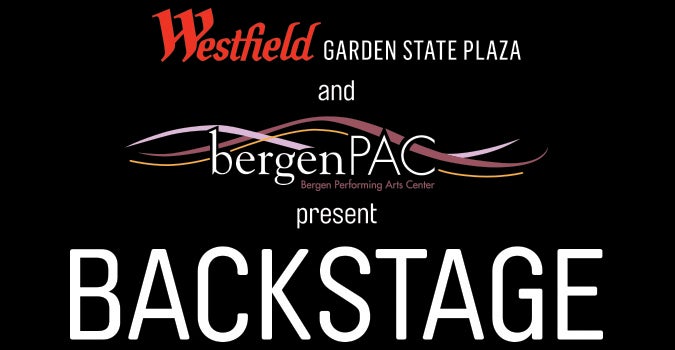 Backstage: Family Series
presented by bergenPAC and Westfield Garden State Plaza
As part of the partnership with Westfield Garden State Plaza mall in Paramus, NJ, bergenPAC presents Backstage, the first of two concert series that will be taking place throughout the 2016 year at the Garden State Plaza: a family programming series geared to ages 2-10. The events will take place at the Westfield Garden State Plaza located at 1 Garden State Plaza in Paramus, NJ 07652 on the second Saturday of every month beginning in April, 2016 from 10AM-1:30PM. The programs will consist of four 30 minute sets each: 10AM-10:30AM, 11AM-11:30AM, 12PM-12:30PM, 1PM-1:30PM. The events are located where the carousel once stood near Ruby Tuesday's. The family programming shows are free and open to the public.
4/9 – Bubble Trouble - http://jeffboyer.com/
Jeff Boyer takes bubbles to the max in this one-man bubble extravaganza. Mixing comedy, music and interactive bubble-magic, he engages and delights audiences of all ages.
5/14 – Gizmo Guys - http://thegizmoguys.com/
Performing as the Gizmo Guys, Allan Jacobs and Barrett Felker have amazed and amused audiences around the world. With their infectious humor and appealing act, it's no wonder they've won international juggling competitions, and taught at top circus schools.
6/11 – Anthony Salazar: Magic & Illusion – http://www.salazarmagic.com
Witness amazing illusions choreographed to high-energy music in Anthony's one man show. It is a carefully blended combination of magic, comedy, dance, and audience participation that will leave you breathless.
7/9 – Twinkle & Friends - http://twinkleandfriends.com/
Twinkle and her friends bring you a colorful, high energy pop concert fusing education, language, arts and pop culture into the hottest kid's phenomenon.
8/13 – Casey Carle's Bubblemania - http://bubblemania.com/
As seen on NBC's "Today Show", CBS' "Early Show" and many others, Christopher Agostino is both a visual and performing artist who tells stories through painted faces.
9/10 – Petrapuppets: The Wacky Friends Show – http://www.petrapuppets.com/
Professional puppeteer Steve Petra combines educational content with puppetry, illusions, props, sound effects, music and humor to keep students engaged. Join Steve and his "wacky friends" in an unforgettable adventure.
10/8 – Spooktacular - http://dcaproductions.com/v2/?p=1206
Wailing Banshees, soaring vampires, silly séances, and acrobatic zombies, aerial Witches, contorting from the beyond. Watch as the undead escape to the circus and discover what truly goes bump in the night through an acrobatic Halloween spectacular.
11/12 – My Fairytale Party: Frozen Performance – http://myfairytaleparty.com/
Experience an interactive and memorable performance by Elsa and Anna. The Snow Queen and Princess perform songs from the hit Disney movie "Frozen" through fun sing-a-longs, dancing and interactive games.
12/10 – Michael Dubois: Solo Circus - http://solocircus.com/
With appearances on NBC's "Tonight Show" and "The Jay Leno Show," Michael Dubois' Solo Circus is a fast paced, audience interactive and technical skills variety show featuring an all-original presentation of magic, juggling, circus & sideshow stunts all wrapped up in a blanket of comedy.
About bergenPAC
Founded in 2003, the 1,367-seat Bergen Performing Arts Center, or bergenPAC, is the area's cultural mecca. Housed in a historic Art Deco-style theater boasting one of the finest acoustic halls in the United States, bergenPAC attracts a stellar roster of world-class entertainment. The jewel in our crown is The Performing Arts School at bergenPAC – the innovative, educational performing arts initiative that, through programs, classes, outreach, school shows, and main theater presented shows, reach more than 30,000 students and community youth annually. The Performing Arts School provides community youth, age 2 months to 21 years, with unique, "hands-on" training in music, dance and theater by industry professionals. It is through the ongoing generosity of sponsors, donors, members, and patrons that the not-for-profit 501 (c)(3) corporation bergenPAC and The Performing Arts School are able to thrive and enrich our community.
For updates, "Like" bergenPAC on Facebook (facebook.com/#!/bergenpacfan), follow @bergenPAC on Twitter, follow us on LinkedIn and visit our website at www.bergenpac.org.
About Westfield Garden State Plaza
Westfield Garden State Plaza is the ultimate destination for fashion, dining and entertainment in the NY/NJ metro area offering the best selection of brands in every retail category, and is renowned for delivering cutting edge, new retail concepts to market. Just minutes from Manhattan in Paramus, N.J., millions of shoppers each year enjoy an unparalleled shopping and dining experience, complete with personalized services and amenities. For more information, call 201-843-2121 or www.facebook.com/gardenstateplaza or www.westfield.com/gardenstateplaza.
###