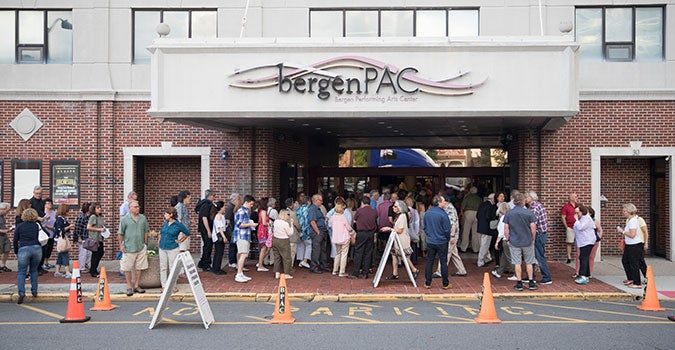 A Peek Behind The Curtain: The History of bergenPAC
bergenPAC sits in a building with close to a century's worth of history. While the name on the facade has changed through the years, there were two constants. It has been a cultural beacon and economic anchor for Englewood and the surrounding region. And whenever it falters financially, a group of dedicated residents make it their mission to keep the arts alive in their community.
The Englewood Plaza opened on Nov. 22, 1926 as a vaudeville and movie theater. United Artists purchased it in 1967 and kept operations running until 1973. It sat dark for three years, but the doors reopened on Oct. 10, 1976 as the John Harms Center with a performance by Russian pianist Lazar Berman.
John Harms was a local organist and teacher who dreamed of opening a concert hall. He had been arranging concert appearances in North Jersey for famous and lesser-known artists in the 1940s as a one-man operation; he booked performers, rented the performance space and wrote press releases. When the theater went dark, he and a group of residents rallied to reopen it in his vision.
Known for its vintage acoustics that made for a great performance and recording site, major renovations were done in the 1990s to modernize the facility while maintaining its unique charm. In early 2002, a fiber optic link was connected between the theater and Bennett Studios down the street at One Depot Lane.
"The 64-channel fiber connection turns the theater into a huge studio, allowing us to record as though we're working right in our own facility," Dae Bennett, the studio's owner and son of famed singer Tony Bennett, said at the time. "For artists or groups that perform best in live settings, the link to the theater allows us to capture their sound the way it should be recorded."
Unfortunately, the theater later suffered severe financial struggles that caused management to close its doors in April 2003. But once again, the lights would come back on.
Englewood resident Frank Huttle III, an attorney by trade, led a group of residents who also wanted to see the theater come back to pool their expertise and resources to make that happen. The nonprofit 1,367 seat Bergen Performing Arts Center reopened the historic theater doors in the fall of 2004 with a mission of making live performing arts and arts education more accessible to everyone in the community.
The theater started presenting less than 100 shows a year, but steadily grew to host more than double that many in a variety of genres that reflect the region's diverse communities. Meanwhile, Bennett Studio closed its doors. But keeping with the theme of reinvention, the facility is now home to the Performing Arts School at bergenPAC. It still features a professional-quality recording studio, along with several dance and rehearsal spaces. The school grew from a small selection of classes to serving more than 1,000 students onsite, plus another 16,000 students through its community outreach initiatives across the state.
While COVID-19 has significantly impacted bergenPAC's operations, its staff and Board of Trustees have continued working to deliver on its mission and prepare for its next chapter as the region's cultural beacon.