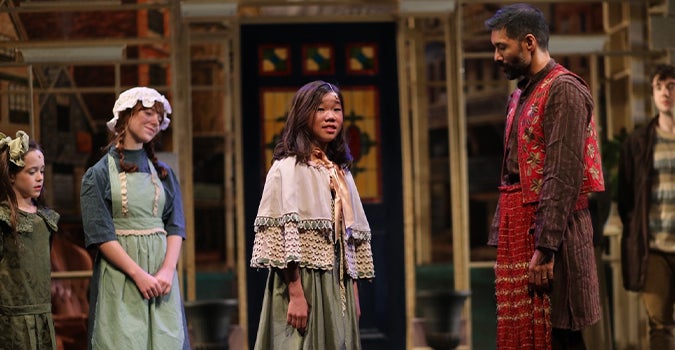 Lauren Yeobin Park – A Little Princess
Being a true triple-threat performer – a great singer, dancer and actor – is no easy feat. Yet Lauren Yeobin Park, a student in the Young Professional Vocals Academy at The Performing Arts School at bergenPAC, seems to have it down before hitting her teenage years.
The 12-year-old's recent New York City credits include the new musical The Little Princess, which was staged last summer at The Pershing Square Signature Center in Manhattan, and musical revue Broadway Close Up: I Won't Grow Up at the Kaufman Music Center. She also lit up The Taub Stage at bergenPAC playing the iconic role of Tiny Tim in bergenPAC's production of A Christmas Carol: The Musical.
Lauren also knows her way around Carnegie Hall after a number of visits to its stages. Her most recent performance there was a reward for winning first place in musical theater in the Prima Volta Music Competition. It came with a $100 prize, which she donated to the Internat Sainte Madeleine Orphanage in Haiti.
"I believe that even the tiniest action can make a change," Lauren told The Northern Valley Press.
Lauren and her parents moved to Englewood two years ago from South Korea, where she was already performing in theater productions. According to her mother, "Lauren always loved to sing and show off for people."
She's happy to have now found a home to further develop her talents.
"The school at bergenPAC is a place of great diversity where you are encouraged to show your true colors," she said. "The supportive community allows you to learn from each other in a friendly environment."
Amelia DeMayo, who leads the Young Professional Vocals Academy, told the Northern Valley Press Lauren was blessed with a beautiful voice. But success requires more than that.
"Lauren is passionate about musical theater, has a natural connection to the storytelling, and is extremely expressive as she sings and performs," DeMayo said. "She has great stage presence and the audience is really drawn to her."
As she continues to develop her craft at The Performing Arts School at bergenPAC, the stages and audiences will only get grander for this young princess.