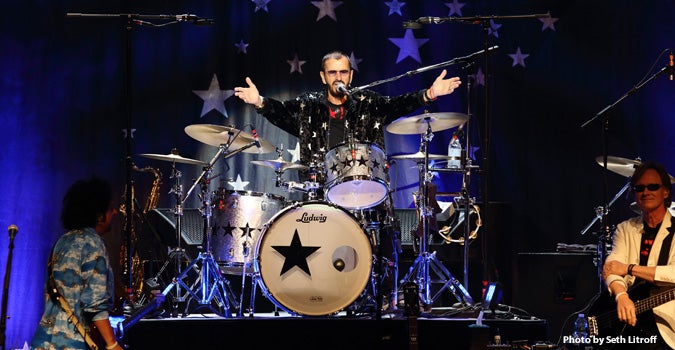 2016 Gala A Huge Success
Bergen Performing Arts Center hosted its 11th Annual Gala on Tuesday, June 7, 2016 at The Performing Arts School at bergenPAC at 1 Depot Square in Englewood, New Jersey. The event, sponsored by Benzel-Busch Motor Car Corporation, celebrated an evening to benefit The Performing Arts School at bergenPAC. The venue featured Ringo Starr and His All Star Band and hosted a pre-concert cocktail hour to recognize both this year's honorees Dr. Hetal Gor with the "Rising Star Award," and long-time staff member Rosalie Berlin, for her dedication and efforts in helping bergenPAC grow since its inception with the "Distinguished Service Award."
Funds raised from this major annual fundraiser contribute directly to the support of its high-quality programs hosted by The Performing Arts School at bergenPAC to foster arts education for all, regardless of economic, physical, or cognitive barriers. "bergenPAC is dedicated to providing cultural and educational opportunities for the greater community at both the theater and through the Performing Arts School, and the funds raised from this gala is what brings that goal to fruition," said Dominic Roncace, bergenPAC CEO.
bergenPAC serves 150,000 individuals through the production of 200 concerts and cultural events throughout the year and its realm of influence only continues to expand with the efforts of honoree Dr. Hetal Gor who has expressed staunch support for and dedication to bergenPAC and to the local community it serves since her induction in the Board of Trustees in 2014.
Dr. Gor, awarded the "Rising Star Award," has combined her two passions of community outreach and the study of the Indian cultural identity in her work at bergenPAC, serving as Chair of Indian Initiatives, and has brought a wide range of Indian cultural performances to the theater including dance performances, comedy, the visual arts as well as contemporary and emerging artists. Upon acceptance of her award, Dr. Gor spoke of her commitment to arts education and encouraged support for bergenPAC, which will aid the center in its endeavors to spread cultural awareness and education.
"The fact that it is called the Rising Star Award is very appropriate because there's so much more that I want to do in terms of expanding cultural programming," she explained to Gala attendees. "My work is not done and bergenPAC continues to get better and better and continues to grow. I am confident that we will continue to rise together."
The evening's "Distinguished Service Award" recipient, Rosalie Berlin, expressed her acknowledgement of the aid provided by many of the attendees who offered support. "The work that bergenPAC is doing is fundamental in ensuring that youths gain an appreciation of the arts and I am so proud and honored to be a part of this effort to make an education for them possible," she continued, "it is with each and every one of your contributions that I have been afforded the opportunity to spread this appreciation and knowledge of the arts in this community."
Guests of the 11th annual gala included a wide spectrum of individuals within both the local community surrounding bergenPAC and the greater New Jersey area. The convergence of board members with state representatives and a range of influential government officials symbolizes a critical and vital component of the bergenPAC initiative. With the aid of those involved in both local and state legislation, bergenPAC has enjoyed a greater inclusion of supporters for the efforts within Bergen County and all of New Jersey. Lieutenant Governor of New Jersey Kim Guadagno expressed her support at the event for the important work that bergenPAC is doing noting, "bergenPAC is making a lasting impact in the arts for our state. It is a leader in arts education and accessibility to the arts and it has enriched the community history, evolving over the course of several years as one of the finest theatrical and music venues in the state."
Board member and Bergen County Executive James Tedesco, in praise of the support shown for programs and productions offered at bergenPAC and The Performing Arts School, explained in his address, "bergenPAC is redefining the way in which the arts are approached in this community. Its commitment to ensuring an education for youths of all backgrounds is made possible by the support shown tonight." He looked to the future of the center following the success of the gala and the support shown among attendees, confident that their involvement in the center would continue to center's mission. Tedesco, like many others who addressed attendees that evening, expressed his gratitude to prominent members of the community who offered to make this event and future endeavors of the organization a possibility.
The performing arts center is revered as an organization that is increasing accessibility to the arts to a host of demographics that would otherwise never be afforded the opportunity to engage in such pursuits. Gala Co-chair and Board Secretary Kelli Agresta has been instrumental in creating this accessibility with her decade-long support of The Performing Arts School at bergenPAC. "The performing arts center has given such a positive influence to our children and our outreach provides opportunities to kids from all social backgrounds and financial situations," said Agresta. "As a leader in arts education and accessibility to the arts, bergenPAC serves 5200 students who hail from 48 schools within 38 districts in the state and outreach only continues to expand the organization."
Looking toward the future, CEO Dominic Roncace intends to expand programming by 20%. "With the installation of bergenPAC's new state of the art sound system, we have modernized the venue which has had an impressive impact on enjoyment for both patrons and performers alike at the performing arts center," Roncace said. With the installment, all seats in the theater are afforded the opportunity to enjoy the highest quality of sound. Gala attendees enjoyed a wonderful performance by Ringo Starr and His All Starr Band, raving about the performance, which was only enriched by the newly installed, state-of-the-art sound system. Rock and Roll Hall of Fame Legend, RingoStarr himself exclaimed, "this new sound system is banging!" Roncace, added, "This technical addition to the locale has produced acclaim within surrounding local communities and has had a profound impact on performances, We intend for it to attract more big-name performers from all over the world."
The 11th annual gala has proven to be a great success, as bergenPAC raised substantial funds for endeavors of The Performing Arts School, which means that the program will continue to provide arts education to thousands more youths in the region. The study of the arts is a critical component of both child development and of daily life and the initiatives of bergenPAC coincide flawlessly with this sense of appreciation. Thanks to the generous donations of attendees at the annual gala event, the work of bergenPAC and The Performing Arts School will provide an outlet for a great number of students of all ages and all backgrounds to explore and pursue theatrical, dance, music, and cultural endeavors for years to come.
Donations are still welcome at www.bergenpac.org/donate.
About The Honorees
Dr. Hetal Gor-Rising Star Award
A member of the Board of Trustees, Dr. Gor will be honored for her staunch support and dedication to bergenPAC and the entire community. Her tireless efforts in support of multicultural programs have been pivotal to the growth of the theater. Dr. Gor is a Board Certified OBGYN and resides in Tenafly, NJ.
Rosalie Berlin-Distinguished Service Award
Longtime staff member, Rosalie Berlin, will be recognized for her dedication and efforts in helping bergenPAC to grow since its inception. A passionate advocate for the arts in our community, Ms. Berlin resides in Fort Lee, NJ.
About bergenPAC
Founded in 2003, the 1,367-seat Bergen Performing Arts Center, or bergenPAC, is the area's cultural mecca. Housed in a historic Art Deco-style theater boasting one of the finest acoustic halls in the United States, bergenPAC attracts a stellar roster of world-class entertainment. The jewel in our crown is The Performing Arts School at bergenPAC – the innovative, educational performing arts initiative that, through programs, classes, outreach, school shows, and main theater presented shows, reach more than 30,000 students and community youth annually. The Performing Arts School provides community youth, age 2 months to 21 years, with unique, "hands-on" training in music, dance and theater by industry professionals. It is through the ongoing generosity of sponsors, donors, members, and patrons that the not-for-profit 501 (c)(3) corporation bergenPAC and The Performing Arts School are able to thrive and enrich our community.
For updates, "Like" bergenPAC on Facebook (facebook.com/#!/bergenpacfan), follow @bergenPAC on Twitter, follow us on LinkedIn and visit our website at www.bergenpac.org.
About The Performing Arts School at bergenPAC
The Education program at bergenPAC features a series of classes, school residencies, workshops, live performances, student productions and ensemble groups in the performing arts for students ages 2 1/2 months to 21 years old for all ability levels including special programming for individuals with special needs. The program provides students with unique and "hands-on" arts training by industry professionals that allow them to gain real world experience and enhance academic achievement through the arts. bergenPAC's arts education initiatives occur on-site at our new Performing Arts School building at 1 Depot Square, Englewood, NJ or off-site at other schools. Through programs, classes, outreach, school shows, and presented shows, the school reaches more than 30,000 students and community youth annually.
The Performing Arts School offers basic and professional level performing arts classes and ensemble groups and productions in theater, dance, and music for students of all ages. The school also offers beyond bergenPAC, a school Partnership Program with school districts throughout the area. The school also offers scholarships for those in financial need - no-one is turned away for inability to pay.
To enroll now or for more information contact 201.482.8194 or [email protected]
###