Production & Technical Information
Stage
Proscenium Opening width: 33' 4'
Proscenium Opening – Arch height: 23' 0''
Proscenium to rear wall: 31' 9''
Curtain line to rear wall: 29' 8''
S.R. wing 15'w x 31' 9''d
S.L. wing 13'w x 28' 9''d
Thrust/Apron: installed over orchestra pit 36'w x 16'd (max. configuration)
Power
USR 400AMP
MSR 200AMP
DSR+DSL 100AMP
Truck Access
Two overhead roll-up doors. 10ft high by 8ft wide, stage right
Dressing Rooms
No dressing rooms on stage level
Rooms are on second floor accessible by elevator
2 star dressing rooms with private full baths
2 chorus dressing rooms
Men's and Ladies' restrooms across the hall from chorus rooms
Men's and Ladies' restrooms next to 2 dressing rooms downstairs below stage
Dedicated WIFI. Network and password located on wall of each dressing room.
Rigging
Single purchase counterweight system with 26 line sets at 800 lbs. each
3 Structural Beams-stage left, center and stage right running up-down stage for the use of 1/2 ton and 1 ton chain motor dead hung points. Motor points can be piped but will not be permitted to exceed 600lbs of dynamic weight.
All battens are 42' long
Acoustic sound baffles – 3 orchestra shells 6'h x 42'w
Drapery (black velour)
2 sets legs 24'h x 10'w
3 borders 10'h x 42'w
2 travelers 24'h x 42'w
Burgundy Main Curtain (guillotine and traveler) 24'h x 42'w
Optional Package
Muslin Cyc 24'h x 42'w
White Scrim 24'h x 42'w
Black Scrim 24'h x 42'w
SUPPLIED WITH LICENSE - REPERTOIRE PLOT
(Call T.D. for updated "Rep." Plot as well as list of additional stock)
Control: Grand MA 1 Full Board
Dimmers: 144 ETC D20E dual 2.4 KW 20A dimmer modules (288 dimmers total)
FOH: Cross stage catwalk at mid-orchestra

10 Source 4 10º Ellipsoidals
20 Source 4 19º Ellipsoidals
2500 watt Aramis Robert Juliat Spotlights
Mid Booms
4 each side Source 4 19º Ellipsoidals
Near Booms
6 each side Source 4 26º Ellipsoidals
4 each side Par 64
On Stage: Electrics 1 – 3
16 Par 64
7 Source 4 36º Ellipsoidals (per electric)
6 Source 4 26º Ellipsoidals (per electric)
Electric 4
5 R-40 Border lights
Additional Units 5 R-40 Border lights are available for floor.
5 Par 64
13 8" Fresnel
3 S4 36s
4 S4 26s
2 S4 19s
10 Altman 6x9
20 Altman 6x12
4-4 Light Audience Blinders
4 – sets of ACL PAR 64
House will supply color gel for 4-color wash—Lav, Blue, Amber and Red
Licensee is responsible for all other color.
All electrics (FOH catwalk, booms, and on stage electrics) are equipped with:
5 pin XLR outlet boxes to accommodate automated color media equipment
outlet boxes for DMX controlled equipment.
14 floor pockets (stage pin) for 3 circuits with 6 outlets each.
(8) bases and (8) 12' pipes for side trees.
Hanging Fee
Rehanging of any full electrics will incur additional charges.
Basic Sound Package (for speakers and comedians):
1 – microphone
1 – monitor
Premium Sound Package:
1 – Whirlwind 40 Channel ISO Transformer/3way Splitter Snake
1 – Yamaha CL-5 Digital Console (72 mic inputs)
26 – L'acoustics Kara 2 way modular WST enclosure(13 House Left, 13 House Right Hang)
8 – L'acoustics SB18 subwoofer 1x18"(4 House Left, 4 House Right Hang behind Kara)
4 – L'acoustics 8XTi 2-way passive coaxial 8"LF + 1.5"HF(Front Fill)
4 – L'acoustics LA8 Amplified Controller [email protected]
2 – L'acoustics LA4X Amplified Controller w/PFC 4 x 1000w/4 ohms, Ethernet network)
4 – L'acoustics 8XTi 2-way passive coaxial 8"LF + 1.5"HF(Under Balcony)
1 – Tascam 112B Cassette Player
1 – Denon 650 CD Player
Monitors
1 – Yamaha CL-5 Digital Console (72 mic inputs)
16 – L'acoustics 112P Powered Coaxial 12"+ HF 1.4" 1000W(wedges)
1 – QSC Drum Sub
2 – QSC Sidefills w/subs-KW153
Microphones
1 – Shure SM91 Beta
1 – Shure SM52 Beta
3 – Shure SM58 Beta
7 – Shure SM58
5 – Shure SM57 Beta
5 – Shure SM57
5 – Shure SM81
3 – Sennheiser e604
1 – AKG D112
5 – Sennheiser 421 II
6 – Receiving Channels of Shure UR wireless
6 – Shure UR Handheld Transmitters
4 – Shure UR Bodypack Transmitters
3 – BSS AR116 Direct Boxes(active)
9 – Countryman DT-85 Direct Boxes(active)
Sound System is configured in 5 zones. Left, Right, Sub, Front Fill, Underbalcony.
Audio Power – 200 AMP, 3 phase, 5 wire
Sound System is configured in 6 time delay zones.
Audio Power – 200 AMP, 3 phase, 5 wire
Miscellaneous hospital grade 20 AMP Edison outlets located on both stage and orchestra levels.
Included in Rent
Acoustic baffles (3 hung)
2 Channel Clearcom
15 music stand lights
24' Genie Lift
All work on stage and in theater, including but not limited to, load in/out, set-up, focus (lights), sound, rigging, fly system use, staging, electrical, carpentry, props, wardrobe, etc., must be performed by IATSE Local 632 stagehands.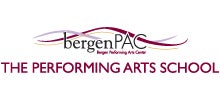 The Performing Arts School provides arts education to students age 3 months to 21 years throughout Northern New Jersey. With classes in all types of performing arts, outreach programs throughout the state, and programming for children with special needs, every donation helps create more opportunities for new artists.