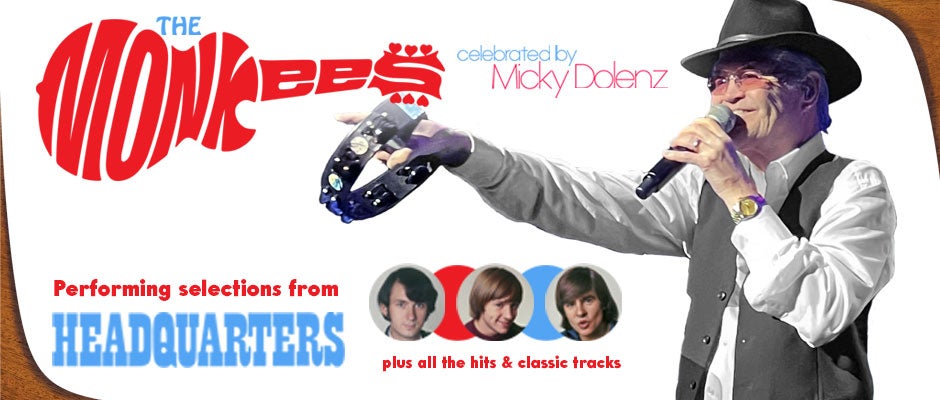 The Monkees Celebrated by Micky Dolenz
The Monkees Celebrated by Micky Dolenz
Event Details
Micky Dolenz established himself as an entertainer at age ten starring in commercials and TV series. At every step, Dolenz pursued an interest in singing and playing guitar. In the fall of 1965, Micky was one of 400 applicants who responded to a trade ad that announced auditions for a new TV show about a rock band. He auditioned for The Monkees TV show by playing and singing Chuck Berry's legendary rocker "Johnny B. Goode," and wound up chosen for the show along with three other actor/musician: Davy Jones, Michael Nesmith, and Peter Tork. The Monkees' debut single, "Last Train to Clarksville," featuring Micky on lead vocals, hit the charts on September 10, 1966, and rocketed swiftly to #1. Two days later, The Monkees series debuted on NBC to immediate success. For two seasons, the program captured the minds of young people around the world and in 1967 garnered two Emmy awards for "Outstanding Comedy Series" and "Outstanding Directorial Achievement in Comedy."
Micky and his fellow "TV bandmates" went on to become a real live rock band that first toured North America from late December 1966 to May 1967, and then began a US/UK summer 1967 tour that featured (at Micky's invite, following the Monterey Pop Festival) none other than guitar legend Jimi Hendrix as the opening act for the first few dates. It was around this time that Micky also acquired one of the first Moog synthesizers, which he played on the Monkees' fourth #1 album (Pisces, Aquarius, Capricorn & Jones, Ltd.), predating use of the instrument on a recording by any popular music artist. The Monkees also went on to star in their own feature film, Head, a 1968 psychedelic romp directed by the TV series' co-creator Bob Rafelson from a script co-written by a young Jack Nicholson. The movie is now considered a cult classic.
A new wave of Monkeemania was created by MTV, who broadcast the original series in several marathon screenings. A whole new generation was exposed to the groundbreaking show and the public once again demanded a concert tour from the group. Micky even joined Monkees bandmate Peter Tork to record new single for Arista Records ("That Was Then, This Is Now") which became the Monkees' first Top 20 record since 1968.
At one point in 1987, there were seven Monkees albums on Billboard's Top 200 LPs chart. A series of concert tours and a new album by Dolenz, Jones & Tork (Pool It!) kept the Monkees' flame burning. Although he resumed work as a director and actor between Monkees gigs, fan demand remained high for more reunions and recordings in the 1990's and 2000's (including a full album with Michael Nesmith–1997's Justus–and an ABC network TV special).
Ultimately, the Monkees achieved their greatest success not as a TV show but as viable recording artists, selling more than 65 million units and achieving worldwide success. Their first four albums—The Monkees (1966); More of The Monkees (1967); Headquarters (1967); and Pisces, Aquarius, Capricorn, & Jones, Ltd. (1967)—all reached the number-one position on the charts and launched three number-one singles: "Last Train to Clarksville," "I'm a Believer" (both with lead vocals by Micky), and "Daydream Believer." In all, the groups cored fourteen Hot 100 albums and a dozen Top 40 hit singles.
In 2005, Dolenz became a DJ working on New York City's flagship WCBS-FM as a morning "drive-time" personality. He also authored his first children's book, Gakky Two-Feet (Putnam/Penguin) as well as the Buzztime Trivia-associated game book Micky Dolenz' Rock 'n Rollin' Trivia (Square One Publishers).
His solo album, King For A Day—a tribute to the songs of Carole King—was released by Gigatone Records on August 31, 2010, which was followed by another Monkees reunion tour (their first in a decade). Traveling Britain and the United States with Davy Jones and Peter Tork, the group garnered some of their best reviews ever including an especially fine assessment of the band's musical abilities from Rolling Stone. The press notices on Dolenz were particularly impressive, with the Huffington Post's review comparing Micky's voice to "a brilliant cross between Roy Orbison and Freddie Mercury."
Sadly, this was to be Davy Jones' last tour; he passed away from a heart attack in February 2012. Jones' passing left Micky in a contemplative mood and during this time he created what many consider to be his finest solo effort, Remember (Robo Records/Universal),
Micky regrouped with Peter Tork and Michael Nesmith to honor Davy with a dozen concerts in the fall of 2012. Pollstar, the concert tour industry's leading trade publication, placed it in its Top 20 grossing concert tours in 2012.
In 2016, Micky marked the 50th anniversary of the Monkees' debut with a new album (Good Times!) and tour. Produced by the late Adam Schlesinger (of Fountains Of Wayne), the album became the Monkees' first Top 20 album since 1968. This success beckoned follow-up albums Christmas Party (2018) and The Monkees Live: The Mike & Micky Show (which became the band's final charting album in 2019).
In September of 2021, Dolenz and Michael Nesmith embarked on the 46-date "Monkees Farewell Tour." Capped off on November 14 at Los Angeles' Greek Theatre, the show would be Michael Nesmith's final stage performance. Fittingly, Dolenz had paid proper musical tribute to his friend and musical hero on an album, Dolenz Sings Nesmith. Produced by Michael's son, Christian Nesmith, the project brilliantly reimagined thirteen Nesmith-penned selections. One track, a re make of Nesmith's most successful composition, "Different Drum" flew to the #1 spot on the UK's Heritage Chart.
In the spring of 2023, Dolenz will celebrate a new box set based around The Monkees' third #1 album, Headquarters , with a special tour performing the material from the legendary long player. With the tour kicking off in April, Dolenz (whose voice shines on brightly through the years) is once again "…coming to your town."
Meet & Greet package includes:
One of the best seats in the house
Pre-show Meet & Greet
Exclusive signed and numbered Monkees photo print
VIP laminate