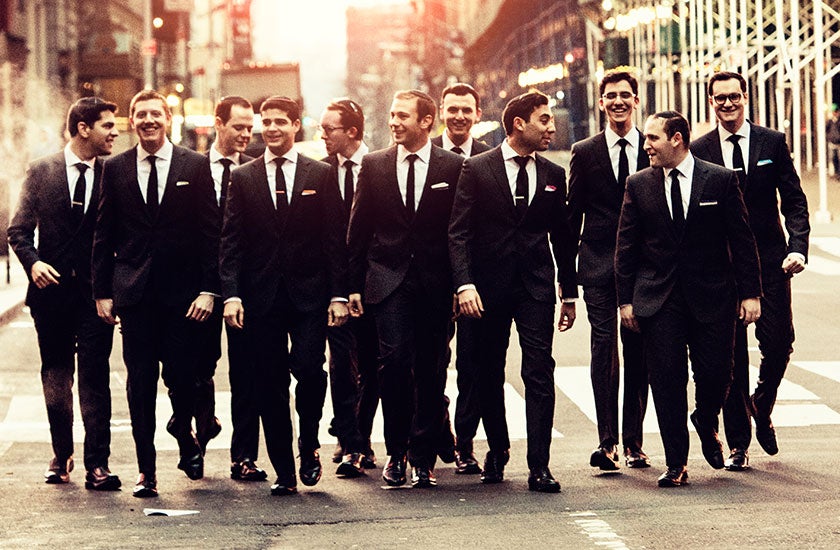 The Maccabeats
Date

Dec

11

, 2023

Ticket Prices

$55 - $45 - $41 - $35 - $31

Time

7:00 PM

Availability

On Sale Now
The Maccabeats
Event Details
Often travelling with little more than the shirts on their backs and the ties on their necks, the Maccabeats have entertained and inspired hundreds of audiences worldwide, from Alabama to (New) Zealand and everywhere in between. Using nothing more than the unadulterated human voice, a clean-cut presentation, and a little Jewish humor, this unique group of singers are able to connect with fans of all backgrounds and ages.
Originally formed in 2007 as Yeshiva University's student vocal group, the Maccabeats have recently emerged as both Jewish music and a cappella phenomenon, with a large fanbase, more than 20 million views on YouTube, numerous TV appearances, and proven success with four albums, 2010′s Voices From The Heights, 2012′s Out Of The Box, 2014′s One Day More and 2015′s A Maccabeats Hanukkah. Though the Maccabeats aren't your grandfather's synagogue choir, their ideology and identity play an important part in what they do. Strongly committed to the philosophy of Torah u-Madda, the integration of traditional and secular wisdom, the Maccabeats perform an eclectic array of Jewish, American, and Israeli songs. Their breakthrough piece, Lecha Dodi, is the epitome of this synthesis, combining some of the most beloved words of Jewish liturgy with Leonard Cohen's meaningful and melodic Hallelujah.
Perhaps it is these dual goals, this merging of exciting medium and proud message, that some find most appealing about the group. Since the release of "Candlelight," a Chanukkah themed parody video which garnered international attention and coverage by the major news outlets, the Maccabeats have been approached and emailed time and time again with the same message: that their music has provided for the expression of an enthusiastic and ambitious Judaism that one isn't afraid to wear on his or her sleeve.
The Maccabeats' unique offering has caught the eyes of numerous organizations and individuals throughout the world. They have played sold-out shows to thousands at JCCs, temples, synagogues, shuls, Chabads, Hillels, jazz clubs, festivals, conventions, and theaters across five continents and over thirty states and provinces. They have been invited to join reggae superstar Matisyahu and Jewish music superstar Yaakov Shwekey on stage. They have been invited to Gracie Mansion by NYC mayor Michael Bloomberg. And they have been invited to the White House by US President Barack Obama. It is with much humility and gratitude that the group take up the mission given to them and share their music with the world.
Additional Ticket Information
No elevator access to the mezzanine and balcony.