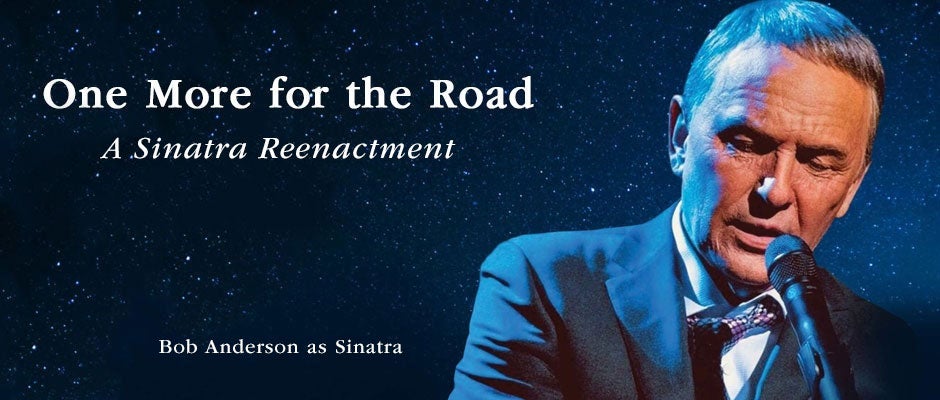 One More for the Road: A Sinatra Reenactment
One More for the Road: A Sinatra Reenactment
Event Details
ONE MORE FOR THE ROAD A Frank Sinatra Reenactment Concert
Starring Bob Anderson and a 32-piece orchestra

You've never seen a Sinatra performance like this one. It's as close to seeing and hearing Ol' Blue Eyes in person as you're ever going to get.
Direct from Carnegie Hall, ONE MORE FOR THE ROAD is an acclaimed production honoring The Great American Songbook––with a stunning 32-piece orchestra, Sinatra's original charts, an Emmy award-winning makeup artist and the greatest singing impressionist in the world, Bob Anderson.
Anderson's original grand theatrical production, FRANK The Man The Music held residency in Las Vegas for 7 years winning Best Headliner, Best Live Performance and Best Live Show. VH1 voted Anderson the #1 celebrity impressionist in the world––an honor also given to him by People magazine.
In this latest show, ONE MORE FOR THE ROAD brings back all your favorites like "Come Fly with Me", "Lady is a Tramp", "New York, New York", "It Was a Very Good Year", "One More for the Road" and many others. Join us in keeping his music alive, sing along and bring back the memories of great times.
"The closest you will ever come to The Man & His Music…"
- Stephen Sorokoff, Times Square Chronicle
"Ol' Blue Eyes is back, courtesy of Bob Anderson!"
- Jay Jones, Los Angeles Times
"Bob Anderson... Might be as close as it gets to seeing Ol' Blue Eyes live!"
- Matt Finn, Fox News
"Other than perpetuating the magic that is Sinatra, when Bob Anderson hits the stage, he becomes Frank Sinatra!"
- Dustin Fitzharris, The Huffington Post
Additional Ticket Information
No elevator access to the mezzanine and balcony