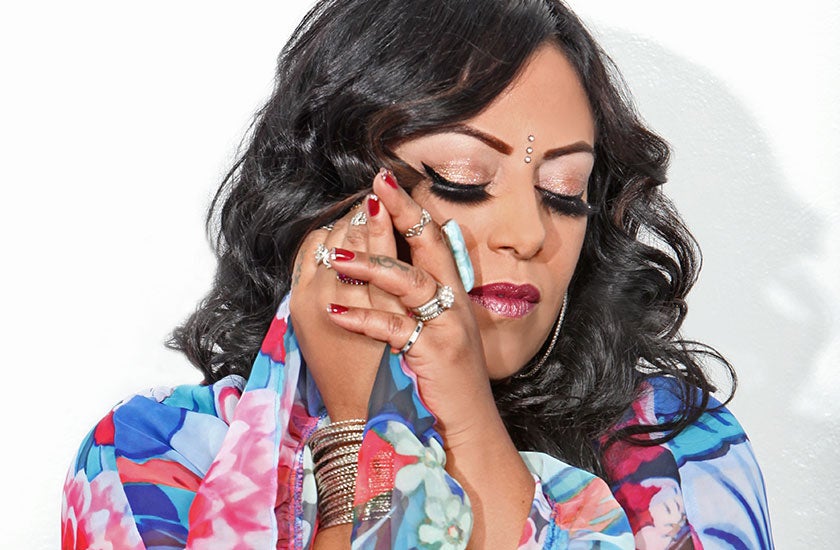 La India
Opening performance by Ralphie Mercado
Date

Oct

14

, 2023

Ticket Prices

$135 - $105 - $85 - $75 - $65

Time

8:00 PM

Availability

On Sale Now
La India
Opening performance by Ralphie Mercado
Event Details
India, Princess of Salsa: 30 years of #1's
India's career has spanned from opera to tango classes. Before singing, she was a model. Singers such as Celia Cruz and Juan Gabriel recognized and contributed to the musical legend of the singer. Due to her success, she has earned various awards such as two Guinness records.
It is the 1970's and a grandmother looks at her granddaughter. Her jet-black hair, tanned skin and big eyes remind her of the Tainos and so she gives her a nickname: India. Born in Puerto Rico and raised in The Bronx, that little girl grew up to be one of the greatest artists in music.
She made her debut in the 1980's as a member of the dance group TKA, and later released her first solo album, "Breaking Night", and with that, you could perceive the birth of a new Madonna – Latina version.
Three years after her successful debut with English-language hip-hop, the singer redefined herself and took a different route, the one for which she has become most famous: salsa. The year 1992 marked a complete turning point with the record: "Llegó la India vía Eddie Palmieri", an album that launched her to fame in the Latino world and a nomination for a Premio Lo Nuestro as "Tropical Female Artist".
For 1994, India had a blockbuster up her sleeve: the record "Dicen que soy", with transcendent worldwide hits like "Vivir lo Nuestro". This solidified her as an icon of salsa music. The success of that album won her a Billboard Latin Music Award and three nominations to Premios Lo Nuestro in 1995.
The United States succumbed to her vocal power, her musical notes that vibrate hearts, and she reached the number four spot of her successes. Ready to continue giving the gift of her art, in 1996 she recorded "Tito Puente/India Jazzin with the Count Basie Orchestra" and she didn't stop there: she sang duet with the great Celia Cruz.
That day in 1996, India went down in history as The Princess of Salsa, a title bestowed directly by the Queen herself, which over the years she has defended well. For example, in 1997, her album "Sobre el fuego" was nominated to the GRAMMY®'s for Best Latin Tropical Performance and two years later "Sola" was nominated to the GRAMMY®'s for Best Salsa Album.
By the beginning of the new century, she was more mature. Her following series of albums, more spaced out, highlighted the search for a musical genius, restless in its ways but determined in its approach. "Latin Songbird: Mi Alma y mi Corazón" (2002) which became a success and topped the charts of Billboard Hot Latin Tracks y "Soy diferente" —which is still playing in our heads— won her a nomination to Favorite Artist at the 2006 Premios Juventud. For the rest of the first decade she racked up accolades such as the GLAAD award (Alianza de Gays y Lesbianas contra la Difamación) [Alliance of Gays and Lesbians Against Defamation] for her work on behalf of the LGBTQ community; two Billboard Latin Music awards; and her song "Estúpida" (2010), released on iTunes, made her the woman with the most #1's in the history of the tropical music charts.
Her talent was recognized with an invitation to participate in the Michael Jackson tribute album (2012, "UNITY: The Latin Tribute to Michael Jackson") and in 2015 teamed up with "El Divo de Juárez" to create "Intensamente India con canciones de Juan Gabriel". In 2016, India rose up as the winner of her first Latin GRAMMY® Best Salsa Album for the record she created together with Juan Gabriel.
Currently, Linda Bell is transformed in the skin of La India. They are one and the same: strong woman, artist, an empowering icon of salsa. Recently she recorded a duet with Victoria Sanabria titled "Te Llevo en mi Corazón" with production by Cuco Peña and is preparing a new album of original songs with the producer Tony Succar.
In 2020 she did it again. Her song "Mi propiedad privada" granted the artist, according to Billboard magazine, "four decades of top 10 songs on the Tropical Airplay chart". Besides that, the music video reached a million views in less than a week, an uncommon achievement among artists with so many years in the entertainment industry. But she's not stopping. In 2021, one of her biggest hits is a collaboration with the salsa singer Víctor Manuelle "Víctimas las dos", certified gold by the RIIA. In less than two weeks, the video for the song reached two million views on YouTube and later became a new #1 on Billboard.
And how can you not succumb to the force, the art, of La India? Two Guinness records, millions of albums sold, countless #1's, a street named after her and the title Princess of Salsa – it's all the product of her matchless talent over the course of 30 years, which seem like they're just the beginning.
Additional Ticket Information
No elevator access to the mezzanine and balcony.