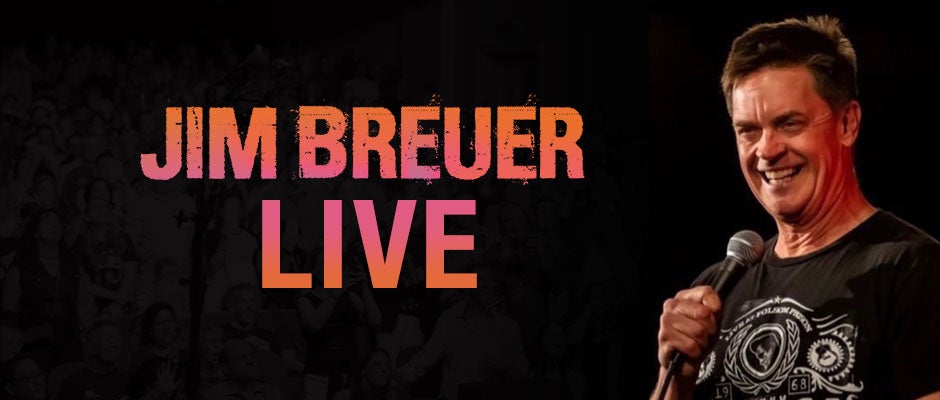 Jim Breuer Live
Jim Breuer Live
Event Details
Not long after Jim Breuer did his first official standup gig in Clearwater, Florida, in 1989, industry folks began asking him, "What's your point of view?" "I don't know…" He searched for a meaningful response to a ridiculous question. "To make people laugh?"
The freewheeling, New York bred comic storyteller – who made the list of Comedy Central's "100 Greatest Standups of All Time" - is hotter than ever, a global touring sensation and regular presence on radio and television whose rabid audience, he's thrilled to note, is filled with "lifetimers." Once folks see him live, they're hooked. Breuer estimates that 78% of his fans have seen him "five, six, seven" times. It's becoming a family thing, with parents even bringing young teens to see the family man and father of three daughters, all providing genius "dad" material for his sets. Having evolved both personally and professionally since the beginning, Breuer's pleased to say he's been F-word free for ten years and counting.
Breuer came to national attention during his seasons on Saturday Night Live (1995-98), a rebuilding era whose cast featured Will Ferrell, David Spade and Norm McDonald. But don't call him "Goat Boy" (one of his characters on SNL) or ask him to do his Joe Pesci impression. Those things are eons ago. Some even still associate him with "Half Baked," a stoner comedy flick from around that time that starred Dave Chappelle and featured cameos by Willie Nelson, Snoop Dogg and Tommy Chong.
Additional Ticket Information
No elevator access to the mezzanine and balcony.