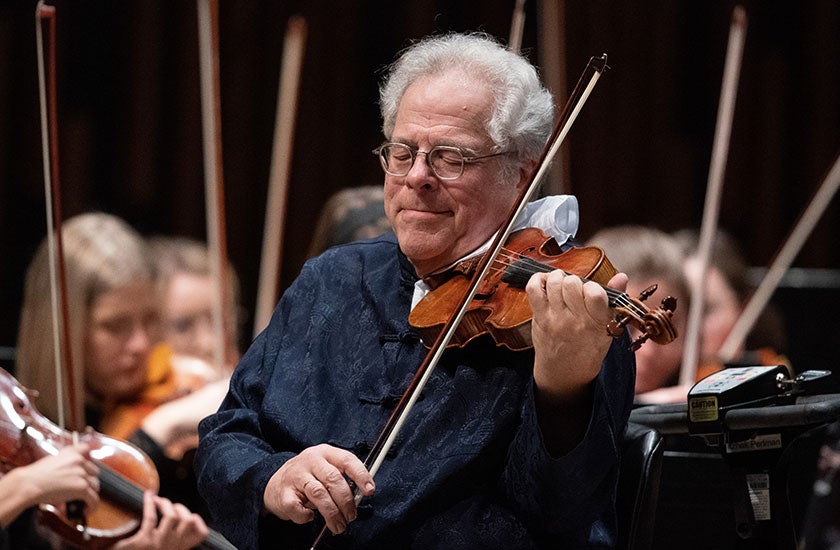 Itzhak Perlman with pianist Rohan De Silva
Date

Oct

7

, 2023

Ticket Prices

$205 - $165 - $135 - $105 - $85 - $75 - $65

Time

8:00 PM

Availability

On Sale Now

Seating Chart

View Seating Chart
Itzhak Perlman with pianist Rohan De Silva
Event Details
Undeniably the reigning virtuoso of the violin, Itzhak Perlman enjoys superstar status rarely afforded a classical musician. Beloved for his charm and humanity as well as his talent, he is treasured by audiences throughout the world who respond not only to his remarkable artistry, but also to his irrepressible joy for making music.
Having performed with every major orchestra and at concert halls around the globe, Mr. Perlman was granted a Presidential Medal of Freedom – the Nation's highest civilian honor – by President Obama in 2015, a Kennedy Center Honor in 2003, a National Medal of Arts by President Clinton in 2000, and a Medal of Liberty by President Reagan in 1986. Mr. Perlman has been honored with 16 GRAMMY® Awards, four Emmy Awards, a Kennedy Center Honor, a Grammy Lifetime Achievement Award, and a Genesis Prize.
In the 2022/23 season, Mr. Perlman conducts the LA Philharmonic at the Hollywood Bowl and the Houston Symphony on Mozart's Requiem and is joined by an illustrious group of collaborators — Emanuel Ax, Jean-Yves Thibaudet and the Juilliard String Quartet — in a special Itzhak Perlman and Friends program appearing in only three locations: Toronto's Roy Thomson Hall, UMS Ann Arbor and Carnegie Hall. He continues touring An Evening with Itzhak Perlman, which captures highlights of his career through narrative and multi-media elements intertwined with performance, to Boston, Philadelphia, Long Island, Akron, Austin and Naples (Florida). He plays season-opening concerts for the Colorado Symphony, Vancouver Symphony and Florida Orchestra, and recitals across the United States with longtime collaborator Rohan De Silva.
He currently serves as Artistic Partner of the Houston Symphony in a partnership that commenced in the 2020/21 season and culminates at the end of 2023/24. He performs 9 programs across three seasons that feature him in versatile appearances as conductor, soloist, recitalist and presenter.
Mr. Perlman has an exclusive series of classes with Masterclass.com, the premier online education company that enables access to the world's most brilliant minds including Gordon Ramsay, Wolfgang Puck, Martin Scorsese, Ron Howard, Helen Mirren, Jodie Foster and Serena Williams, as the company's first classical-music presenter.
Rohan De Silva has partnered with violin virtuoso Itzhak Perlman in worldwide recitals, and every notable violinist on the concert stage today. He has performed at Carnegie Hall, Lincoln Center, the Kennedy Center, Library of Congress, Concertgebouw in Amsterdam, Wigmore Hall in London, Suntory Hall in Tokyo, and at the White House at the invitation of President Barack Obama in 2012 for Shimon Peres; and at a State Dinner in 2007 hosted by President George W. Bush for Queen Elizabeth. A native of Sri Lanka, Mr. De Silva was invited in 2015 by the Prime Minister of his country to perform for U.S. Secretary of State John Kerry on his historic visit to Sri Lanka. In the 2022/23season, Mr. De Silva plays recitals with Itzhak Perlman across North America in Davis, San Francisco, Modesto, Palm Desert, Mesa, San Antonio, Houston, Knoxville, through the state of Florida tour and in New York.
Mr. De Silva began his piano studies with his mother, Primrose De Silva, and with Mary Billimoria. He spent six years at the Royal Academy of Music in London, and received many awards including the Grover Bennett Scholarship, the Christian Carpenter Prize, the Martin Music Scholarship, the Harold Craxton Award, and the Chappell Gold Medal for best overall performance. Mr. De Silva was the first recipient of a special scholarship in the arts from the President's Fund of Sri Lanka. This enabled himto enter the Juilliard School, studying with Martin Canin, Felix Galimir, and violin pedagogue Dorothy DeLay. He was awarded Best Accompanist at the Ninth International Tchaikovsky Competition in Moscow and received the Samuel Sanders Collaborative Artist Award presented to him by Itzhak Perlman at Carnegie Hall. Mr. De Silva has recorded for Deutsche Grammophon, CBS/SONY Classical, Collins Classics in London, RCA Victor and Chandos
Additional Ticket Information
No elevator access to the mezzanine and balcony.