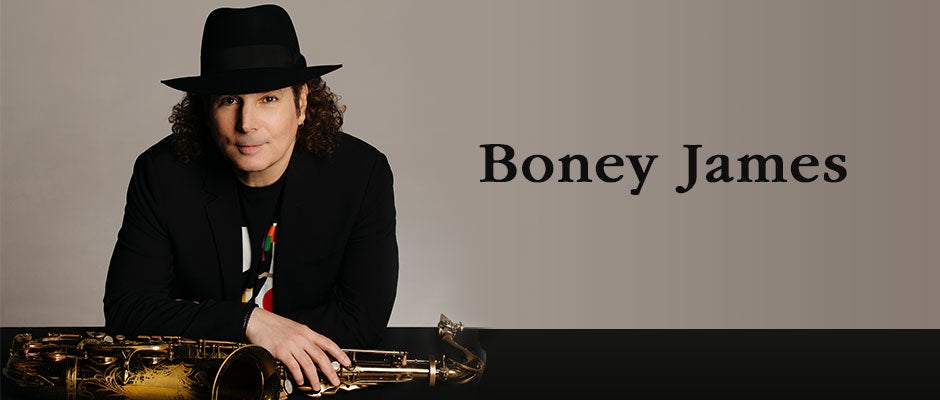 Apr

7

, 2023

No elevator access to the mezzanine and balcony

$79 - $69 - $59 - $49 - $39
bergenPAC provides access to the arts for over 30,000 school children regardless of ability to pay. In these times of spending cuts and so many places in need of support, please remember the Arts inspire us and enrich our world.
Donate Now
Boney James
Detour, on Concord Records, is chart-topping jazz/R&B sax player Boney James' 18th studio album. Appropriately titled, this latest album is a subtle stylistic turn that builds on the commercial success of 2020's Solid, his highest charting release ever on the pop charts, peaking in the Top 10 on the Billboard 200.
"The urge to write again came from the joy of being back on the road, performing in front of live audiences," explains Boney. "I had shut down creatively when the pandemic hit. It was the disruptive and disorienting detour we all took when the world locked down, and that's reflected in the more experimental directions some of the new music takes. The thing about a detour, you may take a different route, but you still get to your destination."
Like Solid, Detour provides a welcome respite from an increasingly foreboding world filled with political strife. It's a trip through James' distinctive contemporary jazz/R&B landscapes, layered in quicksilver watercolor images and cinematic set pieces. Detour represents the next extension of Boney James' trademark blend of genres which includes blues, soul, roots, classical, art-pop, and hip-hop.
"Coastin'" featuring Lalah Hathaway, a breezy ride through Malibu on the Pacific Coast Highway, will be the first single at Urban Adult Contemporary radio.
James' new album gets underway with the title track, a winding, playful duet between sax and piano evoking a breezy, leisurely drive on an open road, that features some of Boney's most adventurous playing. "I close my eyes and listen," he says about choosing a name for a particular cut, and "Detour" fits this one perfectly. "The title is my trying to poetically convey what I feel when I listen to the music."
There are also "detours" along the way for a steamy, sweaty summer day in a bluesy "Memphis," a shimmering glimpse of the aurora borealis via Boney's chill-inducing soprano sax solo ("Northern Lights") and even the fleeting present moment in the heartbeat which opens the closing "Blur," a wistful lullaby that still manages to point us to the future.
"Bring It Back," the first Contemporary Jazz radio focus track, features a patented warm Boney melody, highlighted by a spirited funky point-counterpoint between James' rhythmic tenor sax and buzzing West Coast new jazz musician Dontae Winslow's punchy trumpet licks.
"Tribute" is a eulogy to Boney's father, an entertainment attorney who represented him for most of his life, who died last October. It's a rhythmically complex neo-classical meditation, both "harmonically jazzy," but with a finger-snapping hip-hop pulse. "The Loop" takes a drumbeat from touring drummer Omari Williams and "detours" into a winding, twangy Wes Montgomery-esque blues guitar solo that gently waxes and wanes like a rolling tidal wave.
Nicknamed by bandmates while on tour in Oslo, Norway, after jokingly threatening to starve himself on a threadbare per diem, Boney or Bones or Boneman (though his wife calls him Jimmy) has put in his proverbial 10,000 hours as a musician, performer, writer, and producer. At age 10, the New Rochelle, NY native picked up the sax after 2 years on the clarinet and never looked back, parlaying his love of R&B --Motown, Stevie Wonder, Earth Wind & Fire, Curtis Mayfield and Grover Washington, Jr. -- into a musical aesthetic. He turned pro before his 20th birthday and became an in-demand touring sax and keyboard player for Morris Day, the Isley Brothers, Teena Marie, Bobby Caldwell, Randy Crawford, and many others.
Increasingly frustrated by playing other people's music, Boney launched his own solo career with 1992's Trust on the indie Spindletop Records. His subsequent 17 studio albums – including a pair of Christmas records – have been released by Warner Bros., Verve and Concord, with 1995's Seduction, 1997's Sweet Thing and 1999's Body Language all RIAA certified gold. In 2015, Boney's futuresoul spent 11 weeks atop the Billboard Contemporary Jazz Chart and was the best-selling Contemporary Jazz Record of 2015.
During his 30-year career, Boney has earned four Grammy nominations, two NAACP Image Award nominations and a Soul Train Award, while a dozen of his albums have landed at #1 on Billboard's Contemporary Jazz Album chart. His collaborators in the past include a who's who of R&B and soul: Raheem DeVaughn, Faith Evans, George Benson, George Duke, Dwele, Al Jarreau, Philip Bailey, Anthony Hamilton, Jaheim, Eric Benét, Dave Hollister, Stokley Williams, Kenny Lattimore and Angie Stone.
"What drives me is my love of making music and my desire for people to hear what I've made," he says. "I still love the communal aspect of playing live. There's nothing else like it."
Event

Times
April 7, 2023

8:00 PM

Add
bergenPAC provides access to the arts for over 30,000 school children regardless of ability to pay. In these times of spending cuts and so many places in need of support, please remember the Arts inspire us and enrich our world.
Donate Now