Music
The music program is rooted in the history of the facility, which formerly housed GRAMMY-winning Bennett Studios. Students are encouraged to take private music lessons while also taking group classes and jam sessions to create a music community. All students have the opportunity to record their pieces. The curriculum is tailored to the individual instrument and educational needs of the student, and focuses on building technical skills as a foundation for performance.
Powered By:
Registrations accepted throughout the year on a rolling basis.
For more information contact an education associate at
201-482-8194 or email education@bergenpac.org
Enroll Now

Earn College Credit!
Learn more about the Dual Enrollment Program at Bergen Community College. High school juniors and seniors can receive college credit for just $73.25 per credit plus a one-time registration fee of $15.25! There are currently six classes at The Performing Arts School at bergenPAC where students can receive college credit from Bergen Community College: The Performing Arts School Show Chorus, Advanced Jazz Dance, Teen Acting Technique, Summer Musical, Private Voice Lessons and Private Piano Lessons. These college credits are transferable to many colleges in the state of New Jersey!
Application form/Registration instructions here.
Class Schedule (September 12th - June 5th)
Early Childhood Music

Schedule

Monday: 9:30–10:15am & 10:30–11:15am
Wednesday: 9:30–10:15am & 10:30–11:15am
Friday: 9:30–10:15am & 10:30–11:15am

About Early Childhood Music

The classes are designed to introduce musically driven activities such as chants, fingerplays, and small and large movements using a variety of age-appropriate musical instruments. Our classes allow children and their parents/caregivers to explore, learn and discover the wonders and benefits of music.

Young Voices (Ages 6–12)

Schedule

Saturday (Ages 6–12): 11:00–11:45am

About Young Voices

Students in the Young Voices will build confidence through performing in an ensemble. The singers will learn the basics of proper posture, breathing and vocal techniques. These young singers will engage in their experience through vocal imitation and basic musicianship. Their repertoire will include songs in unison and 2 part harmony. ​

Young Professionals Vocal Academy at bergenPAC

Schedule

Tuesdays & Sundays: By Appointment Only

| Lesson Length | Single | 5 Lessons | 10 Lessons |
| --- | --- | --- | --- |
| 30 minutes | $65 | | |
| 45 minutes | $95 | | |
| 60 minutes | $125 | $550 | $1,050 |
| 75 minutes | $135 | | |
| 90 minutes | $160 | | |
| 1 hour & 45 minutes | $190 | | |
| 2 hours | $210 | | |

$40 annual registration fee

About Young Professionals Vocal Academy

For over two decades, Amelia DeMayo has been operating a vocal technique program for professional youth; specifically those wishing to pursue a career in musical theatre or classical performance, as well as various forms of media for over 20 years. While her studio is in New York City, she has satellite locations in New Jersey and Westchester, NY, and her student base reaches from coast to coast.

Together with her skilled co-teachers Liliana Sotirova, Gulnara Mitzanova, and Glenn Gordon, Amelia focuses on children aged five through college, preparing young singers using a holistic approach. Focus is on vocal technique, body alignment, breathing, intonation, diction, expression, and building repertoire. Both the recreational singer and those on a professional track are mentored and given career guidance to reach their full potential as a vocal performer.

Instruction is not limited to young children; her musical theatre and classical students have been accepted into the most prestigious pre-college, college and conservatory programs, including NYU's Tisch School of Performing Arts, The Manhattan School of Music, The Royal Conservatoire of Scotland, Northwestern University, The University of Michigan and Pennsylvania State University's B.F.A. program at State College, PA. They have also won innumerable international competitions, and perform locally in community theatre and at sports venues in the tri-state area.

Amelia's students (both current and graduates) have appeared, and appear in, countless theatrical productions on Broadway, regional theatre and national tours, including current Broadway productions of Dear Evan Hansen, School of Rock, Kinky Boots, Once On This Island, and A Bronx Tale, and the current international tour of Les Misérable, and the upcoming Anastasia tour. Former Broadway productions include Annie, Matilda, On Your Feet, Fiddler on the Roof, Newsies, and Billy Elliot, and too many more to list. The lead male vocal voiceover in the film, Boychoir, performers in the televised live production of A Christmas Story, and a second-place X-Factor winner are among her students past and present. Her students are also actively engaged in voice-over work for children's animated features (including Pinkalicious and Nella the Princess Knight), appear on national commercials and television series, and have also been featured on CD recordings of The Polar Express and Gertrude McFuzz, featuring opera stars Nathan Gunn and Isabel Leonard.

Private Lessons (Ages 5+)

Schedule

Private Lessons: Mondays, Tuesdays, Wednesdays, & Thursdays: 4:00–7:00pm; By Appointment Only

About Private Lessons

Private lessons are offered ages 5 and up for voice, violin, drums, guitar, bass, DJing, recording and production, dance and more! Lessons will be 60 minutes, 45 minutes, and 30 minutes. Curriculum will be customized according to the needs of the student, deemed necessary by the teacher. The teachers will be responsible for making sure content for Group Jam Sessions is learned as well.

Music Production: Logic and Pro Tools for Teens

Schedule

Music Production: Logic for Teens: Mondays 6:00–8:00pm; By Appointment Only
Music Production: Pro Tools for Teens: Thursday 6:00–8:00pm; By Appointment Only

About Music Production: Logic and Pro Tools

This class teaches you how to write and produce music using Pro Tools and Logic Pro X. We work with students to help them understand the techniques the professionals use to create music using these programs, from tracking to mixing and all the way to mastering. Learn on real analog and digital equipment.

The Performing Arts School Show Choir (Ages 7–18)

Schedule

Rehearsals and Performances as Scheduled.

Tuition: $200

To register please email education@bergenpac.org.

About The Performing Arts School Show Choir

Students in The Performing Arts School Show Choir will build confidence through performing in an advanced ensemble. Students will be auditioned for this ensemble. They will learn proper posture, breathing, and proper diction. Students will perfect their rhythm, sight-singing, and ear training skills. This ensemble will learn a vast majority of repertoire, while also preparing for major performance opportunities on the Taub Stage at bergenPAC. High school juniors and seniors can receive college credits!
Tuition

Lesson Cancellations

If a student needs to cancel a lesson, 24-hour notice must be given. In this case, it is the student/parents' responsibility to reschedule the lesson within 2 weeks. If 24-hour notice is not given, or for students that do not attend, there will be no make-up lessons. Missed lessons are non-refundable and non-transferable between family members, spouses, students, etc.

Withdrawal Policy

If a student wishes to discontinue study, a 30-day written notice is required. To withdraw, please email Alexander Diaz directly at adiaz@bergenPAC.org. Informing your instructor does not constitute written notice. There are no refunds. The semester will be finished as scheduled.

Scheduling

Once a lesson time is established, it is important that we maintain his or her lesson time. Please respect our time, and we will do our best to accommodate any changes in the student's schedule.

Teacher Substitutions

Due to unexpected circumstances, your instructor may be absent. Lessons may be cancelled or a qualified substitute will be present for your lesson. If the lesson is cancelled, a make-up lesson will be provided. bergenPAC reserves the right to replace the current instructor with a new qualified instructor.

Extreme Weather Conditions

In the event that the weather is unfavorable for travel, lessons will be cancelled. Students will be notified via telephone/email or by checking our website. Students will be invited for private or group make-up lessons at the earliest convenience.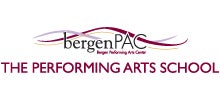 The Performing Arts School provides arts education to students age 3 months to 21 years throughout Northern New Jersey. With classes in all types of performing arts, outreach programs throughout the state, and programming for children with special needs, every donation helps create more opportunities for new artists.