Auditions
bergenPAC offers a number of opportunities for students to perform live at bergenPAC or in the surrounding community. Don't see an audition coming up? Call (201) 482-8194 to find out how you can join one of our ensemble groups or live productions.
Dance Competition Team*
Audition Dates:
TBA
Competition Team Age groups:
Ages 6 - 8
Ages 9-13
Ages 14-18
Competition team led by Performing Arts School Teaching Artist, Tabitha Boulding. A dance combination will be taught at the audition. Auditioners should bring headshot and resume. Ballet, Jazz, and Tap shoes, and Hip Hop Sneakers should be brought to auditions. Be prepared to learn choreography. Please come warmed up and ready to dance. Those accepted will perform in several competitions throughout the year. Routines will include Jazz, Tap, Contemporary, and Musical Theater.
Competition Fee is based on competition and will be charged per competition. A schedule of classes and rehearsals will be provided at the first rehearsal. 15 Slots available per age group.
All auditions will take place at the performing arts school located at 1 Depot Square. Please call (201) 482-8194 or email [email protected] for more information.
*Classes are tuition based programs with auditions for placement.*
Musical Theater Orchestra*
Auditions:
Call (917)-414-2697 to schedule an appointment.
FOR STRINGS, WOODWINDS, BRASS, PIANO/KEYBOARD, and TUNED PERCUSSION:
Prepare a short piece (or a section of a larger piece), no longer than a minute in length. Pick something comfortable for you to play. It may be memorized, but it does not have to be. Either way, bring the piece of music to the audition. You will also be asked to sight-read a short musical passage.
For piano/keyboard players, a keyboard or piano will be provided at the audition.
We recommend that tuned percussion players email the school at [email protected] prior to their audition.
FOR RHYTHM SECTION: DRUMS, GUITAR, and BASS
Drummers will be asked to play common beats/grooves such as Pop/Rock, Funk, Latin, and Swing as well as a show-tune two-beat and a simple waltz. Drummers will also be given short passages to sight-read.
Guitarists will be asked to play a short piece, demonstrate a few styles, and sight-read.
String Bass or Electric Bass Players will only be asked to sight-read.
ABOUT THE ORCHESTRA:
Led by GLENN GORDON (conductor, composer/orchestrator, pianist). Some credits include
Music Director/ Pianist at Forbidden Broadway 2001-2004, bergenPAC staff since 2013, performer at bergenPAC since 2009.
Play special arrangements of Broadway Show music, movie musicals, and animated musicals.
Learn music from the actual shows (For accompanying singers/dancers in other BPAC departments)
Work on dance music sequences from shows in coordination with the dance and musical theatre departments.
And much more….
*Classes are tuition based programs with auditions for placement.*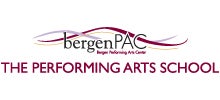 The Performing Arts School provides arts education to students age 3 months to 21 years throughout Northern New Jersey. With classes in all types of performing arts, outreach programs throughout the state, and programming for children with special needs, every donation helps create more opportunities for new artists.