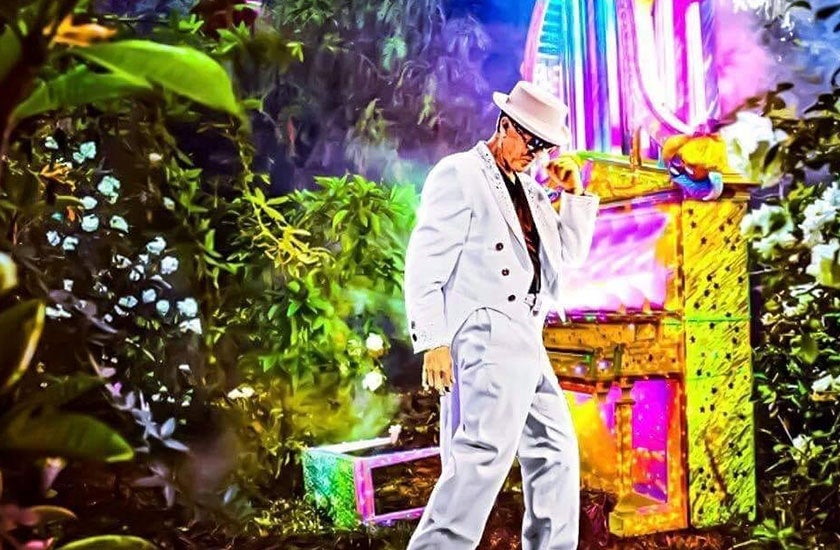 Elton Dan & The Rocket Band
Elton Dan & The Rocket Band
Event Details
Elton Dan Seeks to Carry the Candle for Experiencing the Live Concert Experience of Elton John
From his teenage years learning classical music on piano, Elton Dan Gasser always held Elton John as his greatest influence. Through decades of improvising and singing on thousands of stages from bars to cruises to amphitheaters – Dan thrives on playing live. With the popularity of tribute bands on the rise, Dan is fulfilling his destiny and leads a project paying homage to the greatest songbook in rock music.
At an Elton Dan concert, you will be enveloped into the magic of Elton's music through a multimedia production, over-the-top costume changes, the incredible musicianship of the Rocket Band and the high-energy performance that Elton Dan brings to the stage like Elton John of the days past. Maybe Dan's greatest talent is his love of people and ability to share the spotlight such that the audience feels like they are the rock stars!
Elton classics including "Rocket Man," "Goodbye Yellow Brick Road," "Bennie and the Jets," "I'm Still Standing," "Philadelphia Freedom," "Tiny Dancer," and "Saturday Night's Alright For Fighting." The band also chooses some songs from deeper in the catalog.
The Rocket Band features 7 musicians of virtuoso calibre - they bring the songs to life with brilliance and joy. Vocalist Karen Backes-Douthage has performed since the age of 9, including tours with the Capitol City Symphony Choir and she often brings out a few guest songs as Cher! Her husband, Guitarist CJ Dothage studied at Berklee College of Music and has played more than 2500 live concerts. Bassist Paul Greenlease is a graduate of the Bass Institute of Technology and has performed with Buddy Guy, Carmine Appice and Percy Sledge. Drummer William Graham BA in Music Performance from Missouri Western State University and is a member of the Percussive Arts Society. Percussionist Wes Faulconer earned a BA in Music at the Kansas City Conservatory; he also owns one of the largest percussion stores in the US, Explorers Percussion, so he has all kinds of instruments to add color and excitement to the music. Guitar/Keyboard/Vocalist Dean Christoper who made his mark in the New York music scene performing recitals, being signed by Warner Brothers, as well as leading the Tommy Bolin Music Festival in Iowa each year.
VIP package is often offered which gives the concertgoer the best seats, an opportunity to meet, greet, and be photographed with Elton Dan onstage, and other bonuses that all add to the ultimate Elton Dan experience.
Additional Ticket Information
No elevator access to the mezzanine and balcony