bergenPACCESS Membership
As a bergenPACCESS member, you will have access to VIP benefits to enhance your theater experience. Whichever level you choose, your donation will allow bergenPAC to keep the arts alive in our community, improve quality of life, promote arts education, and support the local economy.
If you have any questions about bergenPAC's membership program, please call us at (201) 503-8327 or email [email protected].
Memberships are valid for one full year from the month in which you join and are fully tax deductible as allowed by law.
Join Now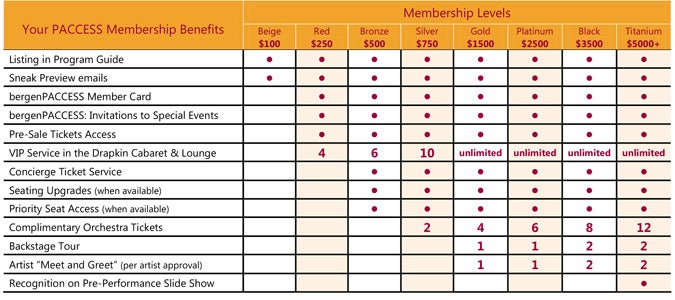 **Entrance to the Drapkin Cabaret & Lounge is Located in the lobby**
What your gift supports?
As a non-profit organization, bergenPAC relies on your generosity to help bridge the gap between ticket sales and operating costs.

WORLD-CLASS PERFORMANCES
bergenPAC is one of the busiest arts education and performing arts institutions in the state with 190 shows and events this season. bergenPAC strives to create a dynamic schedule of artistic and educational programming.


ARTS EDUCATION
From its new home at One Depot Square, The Performing Arts School at bergenPAC will reach more than 30,000 children throughout Northern New Jersey yearly. In keeping with our mission to make the arts accessible to all, bergenPAC is committed to ensuring that no student is turned away because of an inability to pay.


Community Outreach
bergenPAC is dedicated to our ongoing efforts to enhance the quality of life of the residents in our diverse community. Through our Arts Access Program, bergenPAC provides thousands of free tickets to organizations and community members who, despite physical or financial limitations, are now able to experience the live performing arts.Each year, bergenPAC gives away more than 10,000 free tickets to community members and organizations that, because of cultural, physical, or financial limitations, are unable to experience the live performing arts.


INTERMEZZO ART GALLERY
Public space dedicated to providing opportunities for local artists to display their original work.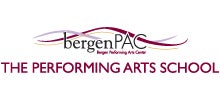 The Performing Arts School provides arts education to students age 3 months to 21 years throughout Northern New Jersey. With classes in all types of performing arts, outreach programs throughout the state, and programming for children with special needs, every donation helps create more opportunities for new artists.