RENTALS
Looking for a multi-purpose, state-of-the-art theater for your concert, dance recital, corporate meeting or school event, the 1,367-seat bergenPAC is the perfect place! The bergenPAC also features rehearsal spaces, a 80-capacity Cabaret great for entertaining, multiple studio spaces and an art gallery. All can be used for your event! For more information, contact the bergenPAC administrative office at 201-816-8160, ext. 31 or email [email protected].
FACILITIES AVAILABLE
Auditorium: Seating Capacity – 1,367 seats
Entrance lobby: Tables available to distribute Information, sell CDs or promotional Items relating to performance/event.
The Drapkin Cabaret & Lounge: Charming 40′ × 25′ room adjoining lobby is available for pre and post event receptions, refreshments or private meetings. Room Capacity - 42/60/80
Sandy Bennett Art Gallery: 60′ × 20′ balcony mezzanine level gallery offers post-event refreshment area amid art exhibit of NJ artists.
The Performing Arts School at bergenPAC: 8-studio building at One Depot Square perfect for rehearsals, classes, auditions, recording, and photo/video shoots.
Black Box Theater: 46' x 24' space on Van Brunt Street available for performances/events, tech rehearsals, classes, auditions, and more. Room Capacity - 49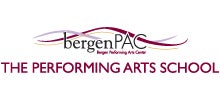 The Performing Arts School provides arts education to students age 3 months to 21 years throughout Northern New Jersey. With classes in all types of performing arts, outreach programs throughout the state, and programming for children with special needs, every donation helps create more opportunities for new artists.