Patron Services
bergenPAC is committed to ensuring that the live performing arts and arts education is accessible to all. For general inquiries about bergenPAC's Patron Services, please contact our ADA Coordinator at [email protected] or (201) 816-8160, extension 31.
Mobility Access
bergenPAC offers barrier-free access for patrons using wheelchairs, walkers or other mobility devices. All seats on bergenPAC's orchestra level can be reached without the use of stairs.
A limited number of wheelchairs and raised arm seats are available, and must be reserved when purchasing your ticket through the Box Office. Contact the Box Office directly for more information at (201) 227-1030.
Hearing Assist Systems
Infrared hearing devices are available to provide hearing amplification for patrons with hearing loss in the venue. Patrons can sit anywhere in the theater and use the headsets.
Hearing devices are available upon request the day of the performance by asking either an usher or a House Manager upon entrance. You can also reserve a device in advance by contacting our ADA Coordinator at (201) 816-8160, extension 31.
Sign Interpretation
Sign Interpretation is available upon request for any performance. Please make your request a mininum of two weeks in advance. Sign Interpretation is American Sign Language unless otherwise noted. Contact our ADA Coordinator at (201) 816-8160, extension 31 to make your request or for more information.
Audio Description
Audio Description is available for select performances for patrons who have vision loss. Describers provide a live, objective, descriptive delivery of the visual elements of a performance in between the dialogue and/or music via a small FM receiver. Reservations for this service may be made online when purchasing tickets or by contacting the Box Office. Contact our ADA Coordinator at extension 31 with questions.
Bergen Performing Arts Center, Inc. does not discriminate on the basis of disability in admission or access to, treatment of or employment in, its services, programs or activities. Upon request, accommodation will be provided to allow individuals with disabilities to participate in Bergen Performing Arts Center Inc.'s services, programs and activities. Bergen Performing Arts Center, Inc. has a designated coordinator to facilitate compliance with the Americans with Disabilities Act of 1990 (ADA) as required by Section 35-107 of the U.S. Department of Justice regulations, and to coordinate compliance with Sections 504 and 508 of the Rehabilitation Act of 1973. While the above laws mandate equal access to people with disabilities, Bergen Performing Arts Center, Inc. makes it a priority to establish a work place and environment that embraces the spirit of the law ensuring an optimal experience for all. Upon request, information will be made available in alternative formats such as Braille, large print, and/or digital file.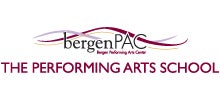 The Performing Arts School provides arts education to students age 3 months to 21 years throughout Northern New Jersey. With classes in all types of performing arts, outreach programs throughout the state, and programming for children with special needs, every donation helps create more opportunities for new artists.