Theater
Capacity: 1,367
License Fees:
Monday-Wednesday
• $3,500 (Nonprofit)
• $4,000 (Commercial)
Thursday - Sunday
• $4,000 (Nonprofit)
• $4,500 (Commerical)
Rent includes use of the hall, website listing and placement on the marquee 1 week prior to the show.
Proof of nonprofit status must be presented to bergenPAC in order to qualify for the nonprofit rate.
Rates are for one standard length event or performance on one day, maximum 3 hours. Each additional event or performance on the same day is 50% of the rental license fee only. There is an additional $500 per hour for any event over 3 hours.
Rental Fee on a holiday is $6,000, regardless of the day of the week.
Payment terms:
Desposit: 50% of the total estimated costs with signed contract
Balance: Due 1 month prior to the event date
Drapkin Cabaret & Lounge
Capacity: 42 people with tables and chairs (comedy club set-up)
60 people with dais and rows of chairs (town hall set-up)
80 people with no tables or chairs (standing room only)
Fee: $500 per day
Setup/restore: $150
Cleaning: $100
Bartender: $150
Staff: $20 per hour
Alcohol: Contact Aly at aadamopoulos@bergenpac.org or call 201-816-8160, x15.
Box Office Fees
Box Office Services: 2% of gross ticket sales vs. $1,000, whichever is greater
Ticket Printing: $1 per ticket printed by the box office
Credit Card Charges: 3% of gross credit card sales
Consignment: $4 per ticket on all tickets
Seat Map Customization: $500 (If not using existing bergenPAC seat maps)
Temporary Seats: $300 (Additional 60 temporary seats)
Restoration Fee: $4 per ticket
Front Of House
House Staff: $800 per performance including house managers, ushers, and ticket takers (Mandatory fee)
Cleaning: $500 per performance (Mandatory fee)
Security: $800 per performance (Mandatory fee)
Police: $400 per officer per performance ($100/hr x 4 hr minimum as needed)
Production Costs
Technical Director: $350 (Mandatory for All Events)
Stagehands: All labor provided by IATSE Local 632*. Artist/Event rider must be provided in advance for quote. Hours between midnight and 6:00 am and all Holidays are double time. Any video, filming or broadcasting is subject to a recording rate.
Piano Rental: $400 (Steinway 9 ft. Concert Grand, Model D)
Piano Tuner: $100 (Mandatory with Piano Rental)
Basic Sound Package: $500 (See Technical Specs for Package)
Premium Sound Package: $2,000 (See Technical Specs for Package)
Broadcasting/Recording: $500 Use Fee plus Labor and Equipment. Call for details.
Risers: $25 per 4' x 8' section
Spotlight: $200 per spotlight
Spotlight Operator: See stagehands.
Marley Floor: $200 (4 rolls @ 6'W x 42'L)
Video Projection Rental: $1,000 (Christie 14k projector)
Runner: $150 per runner
Yamaha Recording Drum Kit: $150
SWR 800 Bass Head w/4 10"5: $50
Roland JC 120 Amplifier: $50
50 Music Stands: $10 per stand or $250 for 50 stands
60 Orchestra Chairs: $15 per chair or $500 for 60 chairs
Thrust / Apron: $300 plus additional stagehand cost
Additional Equipment/Labor: Cost plus 17%
Merchandise
Artist Sells: 75% Gross Sales retained by Artist
bergenPAC Sells: 65% Gross Sales retained by Artist
Recorded Materials: 90/10 Gross Sales retained by Artist
***All Rates are subject to change without notice***
---
For more information, contact Aly at aadamopoulos@bergenpac.org or call 201-816-8160, x1015.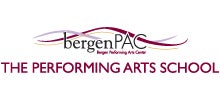 The Performing Arts School provides arts education to students age 3 months to 21 years throughout Northern New Jersey. With classes in all types of performing arts, outreach programs throughout the state, and programming for children with special needs, every donation helps create more opportunities for new artists.