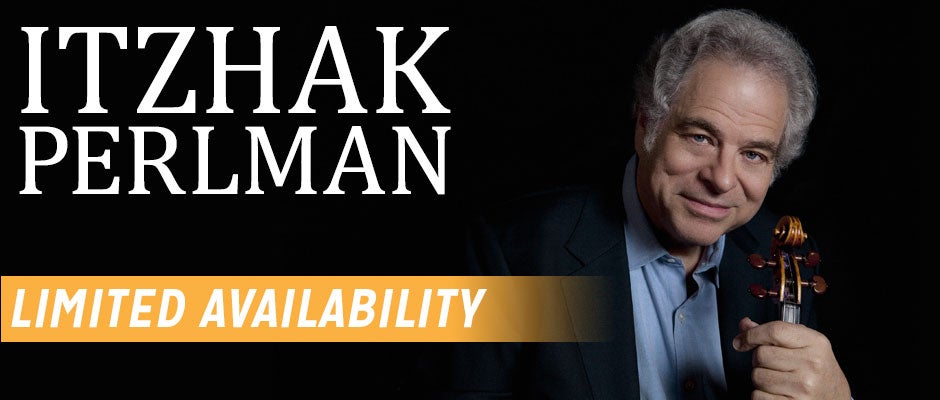 Oct

21

, 2017

$159, $129, $99, $79, $59
bergenPAC provides access to the arts for over 30,000 school children regardless of ability to pay. In these times of spending cuts and so many places in need of support, please remember the Arts inspire us and enrich our world.
Donate Now
Itzhak Perlman
with Rohan De Silva; Benzel-Busch Concert Series
Special apperance by The Elisabeth Morrow School Orchestra performing a prelude concert opening
Undeniably the reigning virtuoso of the violin, Itzhak Perlman enjoys superstar status rarely afforded a classical musician. Beloved for his charm and humanity as well as his talent, he is treasured by audiences throughout the world who respond not only to his remarkable artistry, but also to the irrepressible joy of making music.
A major presence in the performing arts on television, Itzhak Perlman has been honored with four Emmy Awards, most recently for the PBS documentary Fiddling for the Future, a film about Mr. Perlman's work as a teacher and conductor for the Perlman Music Program. In February 2008, Itzhak Perlman was honored with a Grammy Lifetime Achievement Award for excellence in the recording arts. His recordings regularly appear on the best-seller charts and have garnered fifteen Grammy Awards.
Having performed with every major orchestra and at venerable concert halls around the globe, Itzhak Perlman was awarded a Presidential Medal of Freedom, the Nation's highest civilian honor, in November 2015 by President Obama for his meritorious contributions to cultural endeavors of the United States and for being a powerful advocate for people of disabilities. In June 2016, he received the 2016 Genesis Prize in recognition for his exceptional contributions as a musician, teacher, advocate for individuals with special needs and dedication to Jewish values. In 2003, he was granted a Kennedy Center Honor by the John F. Kennedy Center for the Performing Arts in celebration of his distinguished achievements and contributions to the cultural and educational life of the United States. President Clinton awarded him the National Medal of Arts in 2000 and President Reagan honored him with a Medal of Liberty in 1986.
Known for his generous spirit, Perlman has worked as a teacher at Juilliard, and in 1998 co-founded the Perlman Music Program, an educational, multifaceted resource for young, developing musicians, with his wife Toby, also a classically trained violist.
Rohan De Silva began his piano studies with his mother, the late Primrose De Silva, and with the late Mary Billimoria. He spent six years at the Royal Academy of Music in London as a student of Hamish Milne, Sydney Griller and Wilfred Parry. Alongside Mr. Perlman, Mr. De Silva has performed multiple times at the White House, most recently in 2012 at the invitation of President Barack Obama and Mrs. Obama for Israeli President and Presidential Medal of Freedom honoree Shimon Peres; and at a State Dinner in 2007, hosted by President George W. Bush and Mrs. Bush for Her Majesty The Queen and His Royal Highness The Duke of Edinburgh. A native of Sri Lanka, Mr. De Silva was invited in 2015 by the Prime Minister of his country to perform at a luncheon for U.S. Secretary of State John Kerry on his historic visit to Sri Lanka.
bergenPAC is excited to once again partner with The Elisabeth Morrow School to give performing experience to these talented individuals. "It is part of our mission to give young musicians this kind of learning opportunity and we are pleased to provide the platform for them to showcase their talents," said Becky Hinkle, Managing Director of The Performing Arts School at bergenPAC.
There will be between 40 and 90 students, ages 6 through 14, performing. The students have opened for Itzhak Perlman, Joshua Bell 2 times at bergenPAC, Andre Watts with the NJ Symphony and Midori. They have been featured on NBC Today Show, CBS, ABC, HBO, NY 1 and NJ 10 and NJ 12. They have performed at venues such as Carnegie Hall, Radio City Music Hall, and Alice Tully Hall.
Download the program here.
Event

Times
October 21, 2017

8:00 PM

Add
Group

Sales

Group sales discounts vary on a show by show basis and some artist restrictions may apply. Group discounts are available ONLY through our group sales manager. Please contact Rosalie at [email protected] or 201-816-8160, ext. 14 for more information.
bergenPAC provides access to the arts for over 30,000 school children regardless of ability to pay. In these times of spending cuts and so many places in need of support, please remember the Arts inspire us and enrich our world.
Donate Now