2018-19 School Times Series
Visiting a professional performing arts center for the first time is an extraordinary experience for a young person. Through our strategic partners, we established a School Time Series at bergenPAC that brings classroom lessons to life in a fun way, as students get to interact with the performers. There are also opportunities for post-show Q&As.
Ticket prices are $8 per student and parent chaperone, while teaching faculty are FREE.
---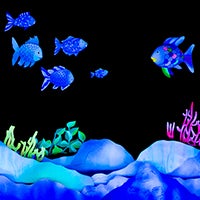 The Rainbow Fish
SOLD OUT!
Wednesday, December 5, 2018 • 10AM
(Grades PreK–2) Curriculum: Language Arts; Puppetry
Marcus Pfister's colorful story comes to life in an original stage adaptation, along with two of his companion tales, Rainbow Fish Discovers the Deep Sea and Opposites. The Rainbow Fish tells the story of the most beautiful fish in the sea, whose scales shimmer in all the colors of the rainbow. Resentment and isolation ensue when he is unwilling to give any of them away. He learns that the more he shares his scales with others, the happier he becomes. Rainbow Fish Discovers the Deep Sea and Opposites highlight further adventures using striking images to introduce very young children to the concept of opposites.
presented by:

---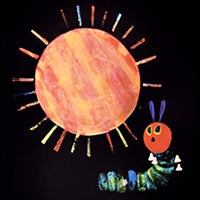 The Very Hungry Caterpillar & Other Eric Carle Favorites
SOLD OUT!
Monday, January 28, 2019 • 10AM
(Grades PreK–2) Curriculum: Language Arts; Theater
The Very Hungry Caterpillar and Other Favorites is a colorful puppetry show that includes the classic children's book story about the character's metamorphosis into a beautiful butterfly; the fanciful account of Little Cloud's travels through the sky; and The Mixed-Up Chameleon's discovery of his own unique nature. The show incorporates evocative original music by Nova Scotian composer Steven Naylor and innovative "black light" staging techniques.
---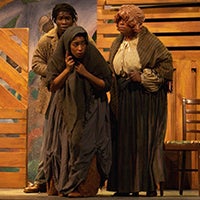 Harriet Tubman & the Underground Railroad
Limited Seating Available for 10AM
2nd show added - 12:30PM
Monday, February 11, 2019 • 10AM & 12:30PM
(Grades 3–8) Curriculum: History; Language Arts; Biography; Multi-Cultural; Music; Family Ties; Self-Esteem; Women's Studies
This stirring drama with music is a tribute to the great American who freed herself and hundreds of her people from the bonds of slavery. As Harriet and her friend Sarah Bradford narrate her adventurous life, we share in the joys, sorrows and challenges faced by this brave woman who changed the world through her courage. This accurate and deeply moving musical history lesson is at turns inspiring, heart-warming, and comical, full of the good humor and determination. The audience will find a new appreciation for Harriet Tubman and a deeper understanding of her times.
---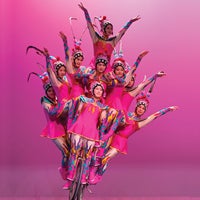 The New Shanghai Circus
SOLD OUT!
Wednesday, February 27, 2019 • 12PM
(All Ages) Curriculum: Cultural Awareness; Chinese Acrobatics; Music
The Chinese acrobatic tradition dates back to 700 B.C. – more than 2,000 years of tumbling, balancing and juggling. The art of Chinese acrobatics developed out of the Lunar New Year harvest celebrations, where the village's peasants and craftsmen would hold a kind of Chinese Thanksgiving. Acrobats would use household tools and common items found around the farm and workshop as part of their exciting feats. Founded in 1951 as the Shanghai Acrobatic Theatre, The New Shanghai Circus have their roots in everyday lives of the village peasants, farmers and craftsman of the Han Dynasty.
presented by:

---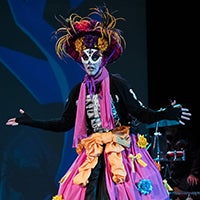 Sugar Skull! A Día de los Muertos Musical Adventure
Tuesday, March 19, 2019 • 10AM
(Grades 2–5) Curriculum: Cultural Awareness; Mexico; Music; Traditions
Sugar Skull, a charismatic candy skeleton dreams of riding the exclusive train to Who-Knows-Where. Can an ordinary girl like Vita help him in time? Mexico Beyond Mariachi presents Sugar Skull!, a colorful, musical family adventure celebrating the rich traditions of Día de los Muertos and the vibrant heart of Mexican culture. The show is entertaining and educational.
---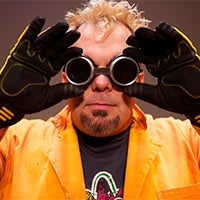 Dr. Kaboom & the Wheel of Science
Limited Seating Available
Monday, April 8, 2019 • 10AM
(Grades 2–5) Curriculum: Physical Science; Math; Scientific Method; Character Education
Doktor Kaboom wants to bring his favorite science demonstrations to all the kids, but unfortunately there are way too many to do them all in one show. The solution: The Wheel of Science! Doktor Kaboom has built a great big spinning wheel and labeled it with everything from optical illusions to chemical reactions to a homemade hovercraft. No two shows will be the same, so, step right up, and let's spin that wheel!
presented by:

---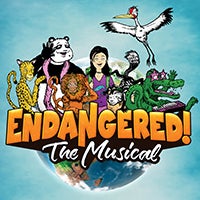 Endangered! The Musical
Monday, April 29, 2019 • 10AM
(Grades PreK–7) Curriculum: Science; Character Education
Endangered! is a multi-cultural, multi-species Off Broadway musical about a social media Whiz Kid reporter and a group of endangered animals from around the globe who must survive an unexpected superstorm. This Kid and the animals must learn to get along with each other so that they can build a bridge – to reach Higher Ground! With live updates from ZNN – the Zoological News Network – and S.O.S. selfies from the field, old and new media help kids follow the fate of our endangered heroes.
---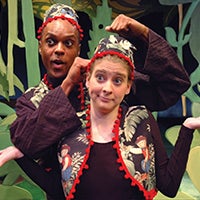 The Jungle Book
10AM PERFORMANCE SOLD OUT!
2nd show added - 12:30PM
Wednesday, May 1, 2019 • 10AM & 12:30PM
(Grades K–5) Curriculum: Language Arts; Literary Classic; Reading; Science; History; Music; Character Development
Join young Mowgli as he learns the "laws" of the jungle in this time-honored adventure. With the help of friends like the black panther, Bagheera, and Baloo the lovable bear, Mowgli learns about friendship and survival. Cheer as Mowgli faces his fear and foils his nemesis the tiger Shere Khan. This musical version of Rudyard Kipling's classic will delight both the young and the young at heart.
presented by:

---
To reserve your tickets or for more information, please contact our Assistant Director of Outreach at

[email protected]

or 201-482-8194 ext. 71.
---
This program is made possible through support from: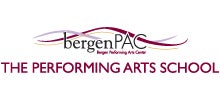 The Performing Arts School provides arts education to students age 3 months to 21 years throughout Northern New Jersey. With classes in all types of performing arts, outreach programs throughout the state, and programming for children with special needs, every donation helps create more opportunities for new artists.