2017-18 School Times Series
bergenPAC is now offering a School Time Series for students and teachers to come and enjoy shows at bergenPAC during the school day. Like any field trip, we want the students to have fun and engage with the performances. This is why we have chosen a line up this year that is sure to please!
Click on any performance title to see descriptions, times and more information about our upcoming School Time Series Performances for the 2017-18 school year.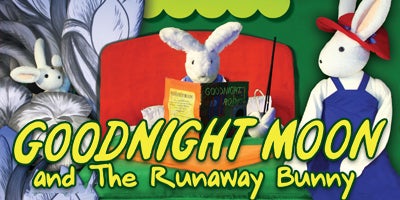 Goodnight Moon

Friday, February 2, 2018 at 10am
$8 Tickets
Grades: preK - 2nd grade
Duration: 1 hour
Curriculum: Night-time Rituals / Puppets / Theater / Music
Video

Adapted from Margaret Wise Brown's sixty-year-old classic, GOODNIGHT MOON is a celebration of familiar night-time rituals, while THE RUNAWAY BUNNY's pretend tale of leaving home evokes reassuring responses from his loving mum. Both feature the endearing animal puppets, stunning scenic effects and evocative music that have earned international recognition for Mermaid Theatre. The hour-long staged adaptation brings a fresh appreciation of the stories and images that have delighted several generations.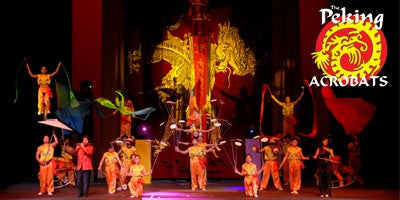 Peking Acrobats

Thursday, February 15, 2018 at 12pm
$8 Tickets
Grades: All Ages
Duration: 1 hour
Curriculum: Chinese Acrobatics / Traditions / Theater / Music
Video

For the last 30 years, the Peking Acrobats have redefined audience perceptions of Chinese acrobatics. They perform daring maneuvers atop a precarious pagoda of chairs; they are experts at trick-cycling, precision tumbling, somersaulting, and gymnastics. They defy gravity with amazing displays of contortion, flexibility, and control. They push the envelope of human possibility with astonishing juggling dexterity and incredible balancing feats, showcasing tremendous skill and ability. They are masters of agility and grace. Often accompanied by live musicians skillfully playing traditional Chinese instruments and high-tech special effects that coalesce with the music and awe-inspiring feats to create an exuberant entertainment event featuring all the excitement and festive pageantry of a Chinese Carnival!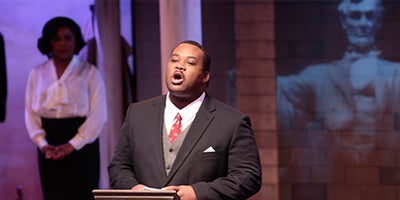 I Have A Dream

Wednesday, February 28, 2018 at 10am
$8 Tickets
Grades: 3-12
Duration: 1 hour
Curriculum: Martin Luther King Jr / Civil Rights / Social Change / Theater / Music
Download the Study Buddy
Video link here

The phenomenal impact of Dr. Martin Luther King, Jr. is chronicled in this compelling dramatization of the life and times of one of the most influential and charismatic leaders of the American Century. Inspired by the arrest of Rosa Parks, Dr. King puts his philosophy of nonviolent protest to work. He gains recognition and becomes the dominant force in the Civil Rights Movement during its decade of greatest achievement.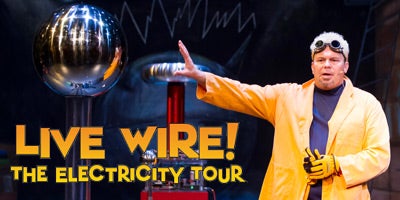 Doktor Kaboom: Live Wire, The Electricity Tour

Tuesday, March 13, 2018 at 10am
$8 Tickets
Grades: 4-8
Duration: 1 hour
Curriculum: Science / Improv / Comedy / Interactive / Theater
Download the Study Buddy
Video link here

Doktor Kaboom is an over the top German physicist with a passion for science that knows no bounds. Sporting chrome goggles, orange lab coat, motorcycle boots, and wicked cool hair, Doktor Kaboom travels the world, thrilling adults and children alike with an explosive comedic style that is guaranteed to please every crowd. His improvisational skill promises no two shows will ever be the same, and his character driven comedy will entertain audiences of every age. Nothing says science like KABOOM!

Doktor Kaboom will explore the fundamentals of electrical energy and the history of humanity's adventures into its potential. At the dawn of the 19th century mankind first harnessed the power of electricity, the world changed and the journey still continues.

Topics covered include: safety; Tesla; Edison; Faraday; lightning bolts, current; voltage; conductive and non-conductive media; electrical arcs; light emission; sparks; resistance; magnetic fields, electric generators: mechanical energy to electrical energy; electromagnetic coils and conductors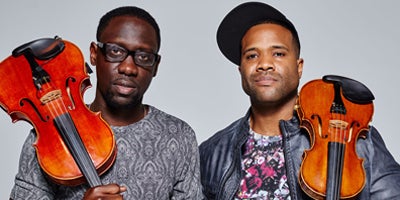 Black Violin

Wednesday, April 11, 2018 at 10am
$8 Tickets
Grades: 4-12
Duration: 1 hour
Curriculum: Hip Hop / Violin / Viola / Music
Video link here

Kev Marcus and Wil B were classical violin sensations at Florida's famed Dillard Performing Arts High School. Together with DJ SPS and a drummer, they set out to merge their classical music training with their love of hip-hop, bringing the two genres together with a backbeat and four strings apiece. Above all, these ridiculously talented musical innovators have dedicated themselves to inspiring musicians of all ages to investigate the world of classical music, as well as the nearly 40 years of hip-hop history. The New York Times said "…Sometimes they play with the intense seriousness of orchestral soloist; …fiddle as if at a hoedown…strum the violin and viola like guitars." Their work is unlike anything you've heard before and a unique experience for all ages.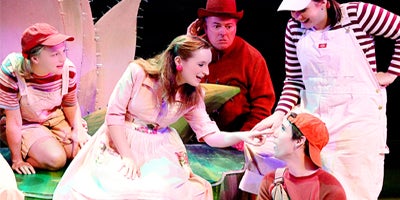 Three Little Pigs

Monday, April 16, 2018 at 10am
$8 Tickets
Grades: K-5
Duration: 1 hour
Curriculum: Language Arts / Friendship / Teamwork / Theater
Download the Study Buddy

Three Little Pigs is a lighthearted musical with a twist on the classic tale. In this adaptation, the Wolf is not evil, but misunderstood. The Three Little Pigs are very frightened of the Wolf and don't want to be friends. The Wolf wants to be their friend and decides to invite them to his birthday party. The Wolf accidentally destroys the houses of the Three Little Pigs while delivering invitations to his birthday party. Wolf is surprised that he has the strength to blow down the houses, and feels badly about it. Luckily, Mother Pig is an understanding pig, and she helps Wolf deliver the party invitations. In the end, all is forgiven and the Pigs and Wolf can celebrate their new friendships together.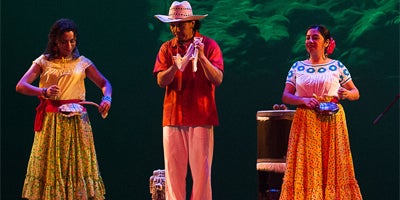 Mexico Beyond Mariachi

Monday, April 30, 2018 at 10am
$8 Tickets
Grades: K-8
Curriculum: Mexico / Traditions / Culture / Music
Download the Study Buddy
Video link here

Entertaining, educating and exciting, the Mexico Beyond Mariachi experience is a journey that ignites the imagination and opens the senses. Expand your perception of Mexico through enchanting pre-colonial instruments and vibrant interpretations of music and dance as we reveal the story of Mexico. Through our captivating live performances and in-depth education programming, audiences of all ages come away with a fresh perspective of Mexico beyond the news, beyond the headlines, beyond the beaches, beyond the guys with big hats and trumpets… Mexico Beyond Mariachi!!!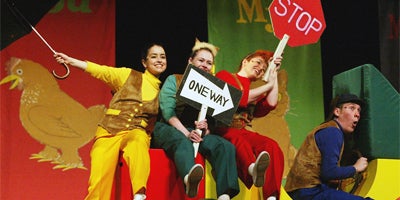 Are You My Mother?

Tuesday, May 15, 2018 at 10am
$8 Tickets
Grades: K-2
Duration: 55 minutes
Curriculum: Family Relationships / Historical / Literature-Based / Values-Based
Download the Study Buddy

At long last, Baby Bird emerges from her shell and expects to be greeted by her mother's song. But her mother is not there. Where is she? Why isn't she home? With the help of Dog, Cat, and Hen, Baby Bird sets out in search of Mother Bird in this colorful musical adventure based on P.D. Eastman's whimsical and well-loved picture book.
This program is made possible through support from: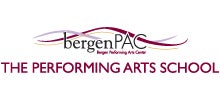 The Performing Arts School provides arts education to students age 3 months to 21 years throughout Northern New Jersey. With classes in all types of performing arts, outreach programs throughout the state, and programming for children with special needs, every donation helps create more opportunities for new artists.