Music Speaks
The classes run for 45 minutes, and are designed to introduce musically driven activities such as chants, finger plays, and small and large movements using a variety of age appropriate musical instruments. Our classes allow children and their parents/caregivers to explore, learn and discover the wonders and benefits of music.
2015-2016 School Year
FALL SESSION
Dates: September 16, 2015 - December 8, 2015
Free Trial Class: September 10, 2015
WINTER SESSION
Dates: January 4, 2016 - March 13, 2016
Free Trial Class: December 17, 2015
SPRING SESSION
Dates: March 28, 2016- June 5, 2016
Free Trial Class: March 24, 2016, 9:30AM & 10:30AM
Registrations accepted throughout the year. To enroll now or for more information, contact the school at (201) 482-8194 or at [email protected]
Register
Mixed Ages: 2mos. – 4½ yrs old with parent or caregiver

Schedule

Mondays: 9:30am, 10:30am, 11:30am, 12:30pm, 3:45pm
Tuesdays: 9:30am, 10:30am, 11:30am, 1:00pm, 3:45pm
Wednesdays: 9:30am, 10:30am, 11:30am, 1:00pm
Thursdays: 9:30am, 10:30am, 11:30am, 1:00pm
Sundays: 9:30am, 10:30am

About Mixed Age Classes

Classes are held weekly for 10 weeks, all classes are 45 minutes. Classes for 2 mos – 4 ½ years old w/parent or caregiver.
Registration

Class placement will be confirmed upon payment. Spots will only be held when full payment is received. Classes may be canceled due to insufficient enrollment. All best efforts will be made to fill your second choice.

Tuition

Make-Ups

You are welcome to make-up any missed classes based on availability. All make-ups must be completed by the end of each current session. Please call Arlene Grunfeld, Administrative Director, to schedule any make-ups at 201-816-8160 ext 35.

Refunds

Tuition is fully refundable before the first day of class. There are no refunds once classes begin. Refunds are not given due to changes in nap schedules or work schedules. *Should there be a prolonged absence due to illness or unusual circumstances, adjustments and/or partial credit can be put toward future classes.

Food/Toys

Please do not bring snacks or toys into the class. They are very distracting to other children.
*Our current families are given the courtesy to hold a place in the next session with a $50.00 non-refundable deposit.
PLEASE NOTE: NO SHOES ARE ALLOWED TO BE WORN INSIDE THE STUDIO.
By registering, you are authorizing your child to participate in all class activities. You assume all risks normal to these activities and absolve Music Speaks LLC/bergenPAC of all present and future liability in the event of accident or injury.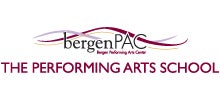 The Performing Arts School provides arts education to students age 3 months to 21 years throughout Northern New Jersey. With classes in all types of performing arts, outreach programs throughout the state, and programming for children with special needs, every donation helps create more opportunities for new artists.