Sandy Bennett Art Gallery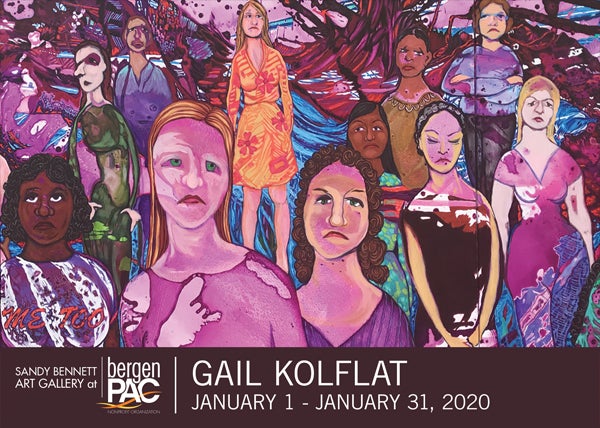 About the Exhibit
GAIL KOLFLAT
Impact: Issues Big and Small
Exhibit Dates: January 2 - January 31, 2020
Location: Sandy Bennett Art Gallery
Painter Gail Kolflat is the January featured artist in The Sandy Bennett Gallery at bergenPAC with her exhibitionIssues Big and Small.
Born and raised in the Midwest, Kolflat earned a BFA with Honors from Parsons School of Design in New York City. Her artistic career blossomed after developing a signature style of large-scale colorful canvases that meld abstract and representational principles. After moving to Monmouth County during the 1990s, Kolflat exhibited frequently, gave artist talks and demonstrations, wrote a column for the county art council's bimonthly newspaper and maintained a robust studio practice.
She later took a break from art while raising her daughters, but 15 years later an invitation from a local university to participate in an exhibition in their gallery sparked a complete revival in her artistic practice. Since then, she has produced a fresh body of work, a renewal of earlier paintings but evolved – encompassing expanded topics, modified techniques and a distinct, mature sensibility.
The paintings in this exhibit deal with events and situations affecting the world. Some subjects are of considerable significance, others less so. Hurricane: Sandy aftermath portrays the effect of the hurricane's destruction along a segment of the New Jersey shoreline. Environmental Concern: fewer butterflies is a reminder of the worrisome decline in Monarch butterflies. A cultural movement pressing to instill change in society, Hands Across The Sand: a peaceful protestfeatures an annual gathering of people stressing complaint against ocean drilling and oil spill accidents. Stop The Madness is a large painting with scattered vignettes of global terrorist episodes, and Me Too: echoes from every corner examines a collection of survivors.
Some works are multi- panel, large format compositions and several have irregular shaped borders. All are painted in oil and acrylic on canvas.
A portion of the proceeds from sales of the artwork support bergenPAC's nonprofit mission.
Upcoming Shows
Janaury: Gail Kolfat – Impact: Issues Big and Small
February: Tony Seker
March: Yari Ostovany
April: Marcy Cagan
May: Youth Consultation Services – Blossoms Art Exhibit
June: Louise Hafesh – Still Life
July: Lynn Breitfeller
November: Tobe Roberts
December: Jeremy Lebled
About the Gallery
The Sandy Bennett Art Gallery at The Bergen Performing Arts Center is dedicated to exhibiting the work of artists of all ages and backgrounds and enriching the community through the fine arts. It is funded through the support of patrons. Many exhibited pieces are for sale and 30% of the proceeds go to further the mission of bergenPAC and the gallery.
Gallery Hours:
Monday-Friday: 11am-6pm
Saturday: 12pm-4pm
Exhibits displayed in the Sandy Bennett Art Gallery are held to the highest professional standards. If you are interested in exhibiting in the Sandy Bennett Art Gallery please email [email protected].
For purchasing inquiries please contact Helene, at [email protected] or 201-816-8160, ext. 18.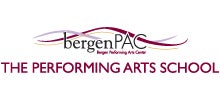 The Performing Arts School provides arts education to students age 3 months to 21 years throughout Northern New Jersey. With classes in all types of performing arts, outreach programs throughout the state, and programming for children with special needs, every donation helps create more opportunities for new artists.