Sandy Bennett Art Gallery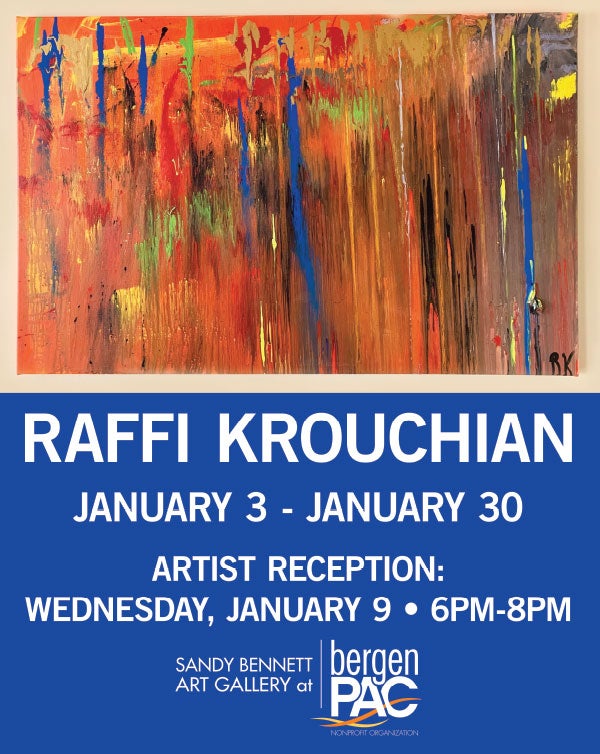 About the Exhibit
Raffi Krouchian
Exhibit Dates: January 3 - January 30, 2019
Reception: Wednesday, January 9 • 6PM-8PM
Location: Sandy Bennett Art Gallery
Raffi Krouchian, a self-taught conceptual contemporary abstract artist, will display his acrylic paintings in the Sandy Bennett Art Gallery during January with a reception on Wednesday, Jan. 9 from 6-8 p.m.
Now living in Fort Lee, Raffi was born in 1975 to an Armenian family in Beirut, Lebanon. He was inspired to start painting at a young age by watching his grandfather, who was a well-known artist in the community. The colors of the Mediterranean and the French Riviera were huge influences on his style of painting.
"The story begins when the colors meet the canvas," is Raffi's motto, as he always leaves a piece of inspiration for the art collector to enjoy.
With an education background in international business & marketing, he started his furniture gallery, Raffsonni Galleries, in 2009 where his art is displayed. He sells pieces to private art collectors and friends and has a following from around the world and in social media.
"My art is a story," Raffi says. "It also can be yours. Inspirations are everywhere."
A portion of the proceeds from sales of the prints support bergenPAC's nonprofit mission.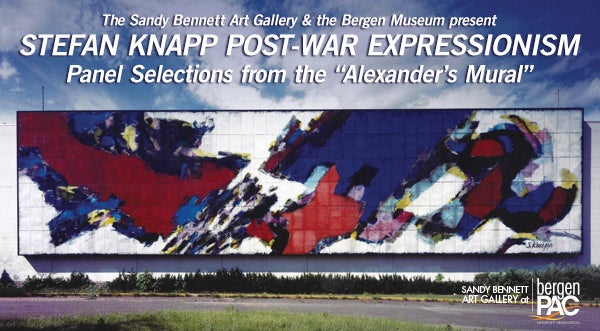 About the Exhibit
ON EXTENDED LOAN FROM THE BERGEN MUSEUM!
Stefan Knapp Post-War Expressionism
Panel Selections from the "Alexander's Mural"
Location: Drapkin Cabaret & Lounge
Please contact Helene before visiting at 201-816-8160 x18 or [email protected].
Experience a part of Bergen County history when the "Alexander's Mural" is put on display in the Sandy Bennett Art Gallery in bergenPAC. They are part of the Bergen Museum's collection.
The mural by artist Stefan Knapp was installed on the Alexander's building in Paramus in 1964. Today each panel is an example of Post-War Expressionism that can be enjoyed as individual works of art. The exhibit provides an up-close view of Knapp's unique firing technique – the panels were assembled and painted with stunning combinations of transparent, opal and opaque patented enamels of vibrant colors.
Stefan Knapp, a Polish holocaust survivor, said the mural was inspired by his experiences escaping to England where he became a WWII RAF pilot. He is the only Polish national ever to receive the Churchill Fellowship for military service, which allowed him to pursue his art.
He worked with Rothko, Dali, Pollock and architects including Denys Lasdun. His works are in MOMA, Dallas museum, Poland's Katowice museum among others. Knapp is considered one of the greatest post-war visionaries of the possibilities of integrating art and architecture. Knapp became internationally renowned for his monumental projects that transformed urban landscape into vibrant environments.
For more information the exhibit, visit bergenmuseum.com.
Upcoming Shows
2019
February: Wilton Jackson
March: Patti Lewis
May: YCS Award Art Show
July-August: Teaneck Camera Club
About the Gallery
The Sandy Bennett Art Gallery at The Bergen Performing Arts Center is dedicated to exhibiting the work of artists of all ages and backgrounds and enriching the community through the fine arts. It is funded through the support of patrons. Many exhibited pieces are for sale and 30% of the proceeds go to further the mission of bergenPAC and the gallery.
Gallery Hours:
Monday-Friday: 11am-6pm
Saturday: 12pm-4pm
Exhibits displayed in the Sandy Bennett Art Gallery are held to the highest professional standards. If you are interested in exhibiting in the Sandy Bennett Art Gallery please email [email protected].
For purchasing inquiries please contact Helene, at [email protected] or 201-816-8160, ext. 18.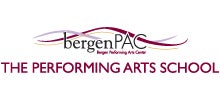 The Performing Arts School provides arts education to students age 3 months to 21 years throughout Northern New Jersey. With classes in all types of performing arts, outreach programs throughout the state, and programming for children with special needs, every donation helps create more opportunities for new artists.