Sandy Bennett Art Gallery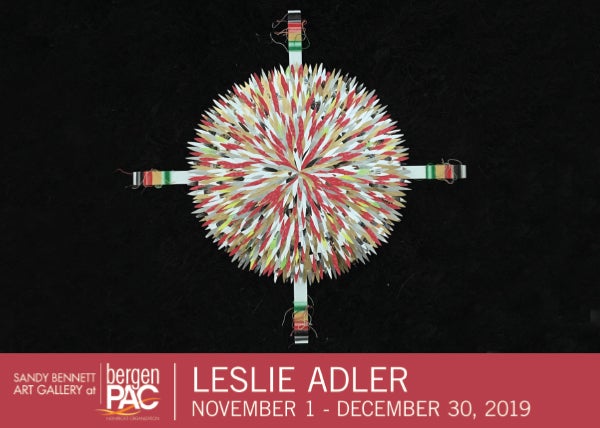 About the Exhibit
LESLIE ADLER
Spiritual Geographies
Exhibit Dates: November 1 - December 30, 2019
Reception: Thursday, December 12 • 6PM-8PM
Location: Sandy Bennett Art Gallery
Artist Leslie Adler presents "Spiritual Geographies" in the Sandy Bennett Gallery in bergenPAC during November and December. An artist reception will be held Thursday, December 12th from 6 to 9 p.m.
This body of work contains several representations of direction including spiritual and spatial directions. These are directions of nature and the nature of the posthuman. The nature we perceive is what we accept, the nature of the posthuman is the non-material, the unknown. These symbols and marks help to organize the disparity that humans experience between the known and unknown. The process of creating repetitive shapes, tying string or rubbing the spiral of a tree trunk for a mono print is a meditative practice. In this action there is no effort, nothing and at the same time everything. This space, between thoughts, contains all possibilities. Here there is no separation between the material realm and the realm of the non-material. This is what makes each piece unique, one of a kind.
A portion of the proceeds from sales of the paintings support bergenPAC's nonprofit mission.
Upcoming Shows
2019
November & December: Leslie Adler (in the Sandy Bennett Art Gallery)
December: Jeremy Lebled (in the Drapkin Cabaret & Lounge)
2020
Janaury: Gail Kolfat – Impact: Issues Big and Small
March: Yari Ostovany
April: Marcy Cagan
May: Youth Consultation Services – Blossoms Art Exhibit
June: Louise Hafesh – Still Life
About the Gallery
The Sandy Bennett Art Gallery at The Bergen Performing Arts Center is dedicated to exhibiting the work of artists of all ages and backgrounds and enriching the community through the fine arts. It is funded through the support of patrons. Many exhibited pieces are for sale and 30% of the proceeds go to further the mission of bergenPAC and the gallery.
Gallery Hours:
Monday-Friday: 11am-6pm
Saturday: 12pm-4pm
Exhibits displayed in the Sandy Bennett Art Gallery are held to the highest professional standards. If you are interested in exhibiting in the Sandy Bennett Art Gallery please email [email protected].
For purchasing inquiries please contact Helene, at [email protected] or 201-816-8160, ext. 18.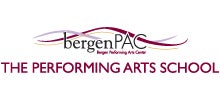 The Performing Arts School provides arts education to students age 3 months to 21 years throughout Northern New Jersey. With classes in all types of performing arts, outreach programs throughout the state, and programming for children with special needs, every donation helps create more opportunities for new artists.