Sandy Bennett Art Gallery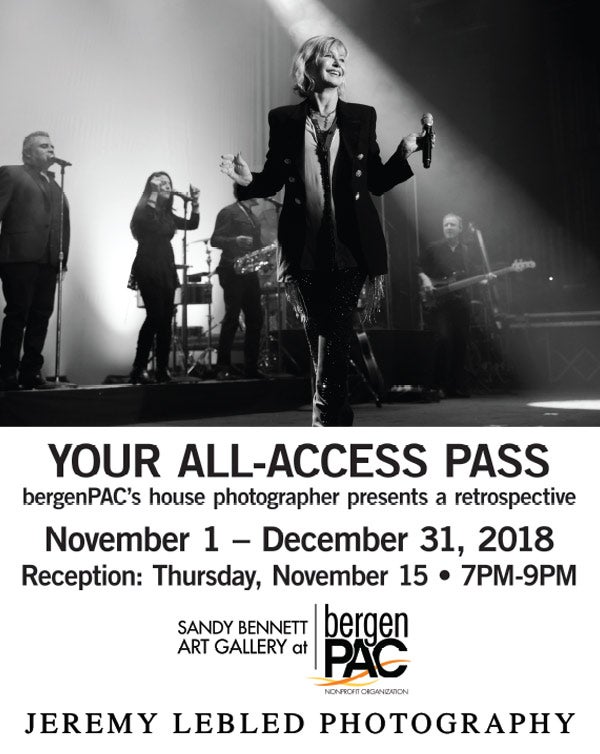 About the Exhibit
Your All-Access Pass
House Photographer, Jeremy Lebled, presents a retrospective
Exhibit Dates: November 1 - December 31
Reception: Thursday, November 15 • 7PM-9PM
Location: Sandy Bennett Art Gallery
Relive the excitement from this year's headliners when bergenPAC's house photographer, Jeremy Lebled, exhibits images from his favorite concerts in The Sandy Bennett Art Gallery. He will talk with guests about his show experiences at an artist reception on Thursday, Nov. 15 from 7 to 9 p.m.
"I feel most alive the moment the lights go down. The stage is pitch-black, and the show is about to start. There is an electric atmosphere buzzing through the crowd in anticipation of the band about to hit the stage," Jeremy said. "It can give you chills all the way up your spine. It's the most exciting feeling in the world. Then suddenly, in the blink of an eye, the show has begun."
Jeremy can remember when he was a little boy sitting in the backseat of his mother's car, cruising down the three-lane highway to the Jersey Shore with the windows rolled down, wind blowing back against his hair and his mother blasting music from so many of the greats. Peter Frampton, Debbie Harry, Alice Cooper, Pat Benatar, Cheap Trick, Lynyrd Skynyrd and George Thorogood, just to name a few. Ironically, Jeremy would go on to photograph many of them years later.
"I still remember my first concert as a new photographer. I realized quickly the words that my favorite high school teacher, Dennis Covello, told me was true, 'If you love what you do, you'll never have to work a day in your life,'" Jeremy said. "This didn't feel like work to me. It was something I truly loved. I smiled from ear to ear the whole car ride home. God planted a seed in my heart that has continued to harvest over the past seven years over my photography career."
Jeremy has also been published in Vogue Italia multiple times for his photography and other notable publications. Baron Wolman, Rolling Stone Magazine's first Chief Photographer told Jeremy "You've got a great eye and a way with people. Follow your bliss. Stick with your passion. You've got a wonderful future in photography."
A portion of the proceeds from sales of the prints support bergenPAC's nonprofit mission.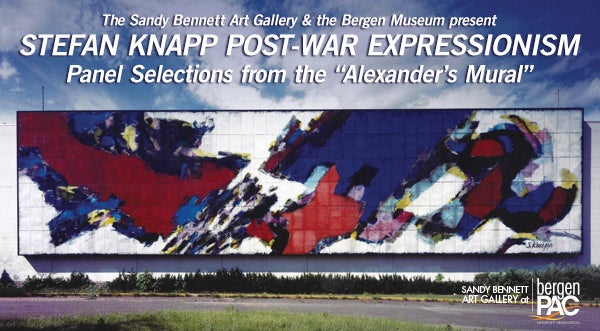 About the Exhibit
ON EXTENDED LOAN FROM THE BERGEN MUSEUM!
Stefan Knapp Post-War Expressionism
Panel Selections from the "Alexander's Mural"
Location: Drapkin Cabaret & Lounge
Please contact Helene before visiting at 201-816-8160 x18 or [email protected].
Experience a part of Bergen County history when the "Alexander's Mural" is put on display in the Sandy Bennett Art Gallery in bergenPAC. They are part of the Bergen Museum's collection.
The mural by artist Stefan Knapp was installed on the Alexander's building in Paramus in 1964. Today each panel is an example of Post-War Expressionism that can be enjoyed as individual works of art. The exhibit provides an up-close view of Knapp's unique firing technique – the panels were assembled and painted with stunning combinations of transparent, opal and opaque patented enamels of vibrant colors.
Stefan Knapp, a Polish holocaust survivor, said the mural was inspired by his experiences escaping to England where he became a WWII RAF pilot. He is the only Polish national ever to receive the Churchill Fellowship for military service, which allowed him to pursue his art.
He worked with Rothko, Dali, Pollock and architects including Denys Lasdun. His works are in MOMA, Dallas museum, Poland's Katowice museum among others. Knapp is considered one of the greatest post-war visionaries of the possibilities of integrating art and architecture. Knapp became internationally renowned for his monumental projects that transformed urban landscape into vibrant environments.
For more information the exhibit, visit bergenmuseum.com.
Upcoming Shows
2019
January: Raffi Krouchian
February: Wilton Jackson
March: Patti Lewis
May: YCS Award Art Show
July-August: Teaneck Camera Club
About the Gallery
The Sandy Bennett Art Gallery at The Bergen Performing Arts Center is dedicated to exhibiting the work of artists of all ages and backgrounds and enriching the community through the fine arts. It is funded through the support of patrons. Many exhibited pieces are for sale and 30% of the proceeds go to further the mission of bergenPAC and the gallery.
Gallery Hours:
Monday-Friday: 11am-6pm
Saturday: 12pm-4pm
Exhibits displayed in the Sandy Bennett Art Gallery are held to the highest professional standards. If you are interested in exhibiting in the Sandy Bennett Art Gallery please email [email protected].
For purchasing inquiries please contact Helene, at [email protected] or 201-816-8160, ext. 18.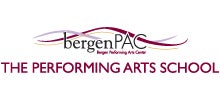 The Performing Arts School provides arts education to students age 3 months to 21 years throughout Northern New Jersey. With classes in all types of performing arts, outreach programs throughout the state, and programming for children with special needs, every donation helps create more opportunities for new artists.